Crossover Appeal is a weekly feature that challenges the idea that you have to choose a side between YA and adult fiction. Each week we'll feature a book that has been marketed as YA and a book that has been marketed as adult and tell you why everyone should be reading them, no matter what happens to be your comfort zone.
__________________________
YA Books for Adult Lit Readers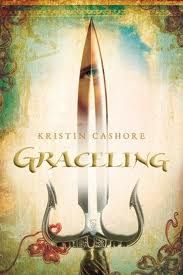 Graceling
by Kristin Cashore
In Katsa's world, there are people who are born with "graces" or an extreme skill. Ever since her childhood, she has been able to kill quickly and quietly with nothing more than her bare hands. She is forced to work for her uncle, the king, to protect her land, but when she meets Prince Po, she learns about a dangerous secret.
Why You'll Love It
Graceling is as much fantasy as it is romance and adventure story. Katsa is one kick-ass heroine and her relationship with Prince Po, despite their slightly awkward names, is one of my favorite romances in Young Adult literature. With the third companion novel, Bitterblue, following Fire, on its way in May, now is the best time to catch up on this YA fantasy favorite.
Adult Lit Books for YA Readers
Fingersmith
by Sarah Waters
Set in Victorian England, this novel is full of two things: romance and plot twists. In order to pay back her caretaker Mrs. Sucksby, Sue Trinder finds herself at the center of a scam that completely changes her life.
Why You'll Love It
Fingersmith is one of the most exciting, surprising novels I've read. Not only is it a joy to read, but it keeps you guessing. Don't be turned off by its length: this nearly 600 page novel can be read in a few afternoons. It's just that engrossing.
____________________________

Leslie Fannon is a blogger, crocheter, graduate student and, most recently, an assistant at a publishing company. She writes about poetry, graphic novels, and Spanish literature at Regular Rumination. Follow her on Twitter: @lulu_bella