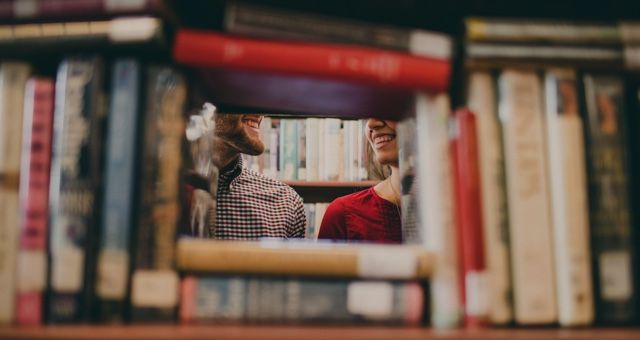 How To
50 Bookish Halloween Couples Costume Ideas
This content contains affiliate links. When you buy through these links, we may earn an affiliate commission.
Halloween is fast-approaching and if you've got yourself a boo (pun intended) this year, you might be looking for a couples costume. Or maybe you're looking for the perfect pair to dress as with your BFF. We've got you covered. Find 50 bookish Halloween couples costume ideas below, with everything from romantic partners to siblings to bookish puns.
If you choose to go as a disabled character or character of color and are not disabled or of color yourself, be especially thoughtful and respectful of how you go about building your costume.
If you spend All Hallows Eve as any of the ideas below, we hope you'll tweet us a picture @BookRiot.
Classics
This works best with twins, but anyone can do it! Wear the same or similar clothes, but make one set disheveled. Bonus points for Victorian-era doctor's garb to reflect the literature's actual era.
Another great choice for twins but workable for anyone. Dress in your dandiest clothes. One person should also carry or wear a picture frame and age both the clothes and themselves with makeup, spiderwebs, tears, and other spooky details.
Elizabeth Bennett and Mr. Darcy from Pride and Prejudice
by Jane Austen
Get your Regency era fashion on! Grab an empire waist dress for Miss Bennett's look, some high-waisted pants and a cravat for your Darcy, and you're halfway to happily ever after!
Daisy Buchanan and Jay Gatsby from The Great Gatsby
by F. Scott Fitzgerald
Use Gatsby as an experience to live out your 1920s fashion dreams. Whether you go with a more demure look including a cloche hat or a sassier, flapper girl dress, your Gatsby will look the part with a suit—though white will really drive the costume home.
Anne Shirley and Gilbert Blythe from Anne of Green Gables
by L. M. Montgomery
Grab a simple, modest dress and consider either an apron or puffy sleeves. Red hair in two braids is ideal for pulling off younger Anne, while Gilbert will be well-served by a white shirt, suspenders, and brown pants.
Anne Shirley and Diana Barry from Anne of Green Gables
by L. M. Montgomery
Anne's look is the same as with Gilbert Blythe and Diana may wear a similar style. Black hair is best for this costume.
Captain Ahab and Moby Dick from Moby Dick
by Herman Melville
Captain Ahab canonically has a peg leg, so if you've got two legs, consider a paper wrap or other material that suggests whale bone. A ship captain's uniform will work for Ahab, though just a hat to suggest it should go long enough for last-minute costume builders. As for Moby himself, a white whale costume will do.
Carmilla and Laura from Carmilla
by Sheridan Le Fanu
Perhaps a little more obscure for the general population, Carmilla and Laura might best be portrayed with Georgian-era clothing paired with tell-tale fangs for Carmilla herself.
Ideal for people who, like me, are vertically challenged. Earth-toned clothes are perfect for these hobbits. Add a cloak and some shoes that look like furry feet, and you're good to go!
Dr. Frankenstein and his monster from Frankenstein
by Mary Shelley
Although not historically accurate, a white doctor's coat might best suggest Dr. Frankenstein. For his monster, because we cannot cobble together body parts, consider mismatched clothes and other details to make your body look as if it had been pieced together. Drawn-on stitches will help with this.
Didi and Gogo from Waiting for Godot
by Samuel Beckett
Follow the lead of theater productions of the two waiters and don early 20th century–inspired clothes that are dingy and beat. Consider hats and, to help indicate your characters, wear watches and glance at them meaningfully throughout the event. Consider responding to questions of what you are doing with, "Waiting."
There's little in the way of meaningful physical description of these characters in their novel. Take cues from the recent adaptation and adopt a tomboyish early 1960s look for Merricat with added witchy vibes and perhaps a book of poisons and, for Constance, a pretty and delicate domestic style will work.
Baseball catcher and rye as The Catcher in the Rye
by J. D. Salinger
Grab your baseball catcher gear and a mitt to dress as the player. For the rye, consider wearing beige or brown and stick rye-like bits to yourself to suggest a stalk.
Children's and Young Adult Literature
Frog and Toad from Frog and Toad
by Arnold Lobel
Greens and other earthy hues are your friend in dressing as Frog and Toad. If you can ride in on a bicycle for two, all the better!
There are lots of great Lara Jean costumes to pull from thanks to last year's Halloween. Staples include skirts, striped sweaters, florals, scrunchies, and, of course, five envelopes with Lara Jean's crushes' names on them. For Peter, try some athletic wear or a full on lacrosse uniform.
Hermione Granger and Ron Weasley from Harry Potter and the Cursed Child
from J. K. Rowling, Jack Thorne, and John Tiffany
For all the black Hermiones out there! Really, these two need no description—feel free to go with their more traditional school looks or consider wearing outfits more inspired by the stage production.
Ronan Lynch and Adam Parrish from The Raven Boys
by Maggie Stiefvater
Find your inner Ronan with jeans, a leather jacket, and a simple white T-shirt. Ramp it up with a raven figure on your shoulder and a shaved head. For Adam, consider a Coke shirt and jeans.
Emily Elizabeth and Clifford from Clifford the Big Red Dog
by Norman Bridwell
Emily Elizabeth wears a simple black shirt, long sleeve pink shirt with black buttons and a peter pan collar, and pink and black striped socks with flats. To become Clifford, wear all red and add puppy face paint.
Natasha Kingsley and Daniel Bae from The Sun Is Also a Star
by Nicola Yoon
Both characters' clothes play fairly large roles in the story, given that the plot takes place in one day—get a jacket and add Deus Ex Machina to the back of it for Natasha. Add jeans and a grunge band T-shirt and oversized headphones. For Daniel, find what you'd wear to a college interview (that's probably a suit!) and go with that.
Kaz Brekker and Inej Ghafa from Six of Crows
by Leigh Bardugo
Kaz is a sharp dresser, favoring a black tie on a crisp white shirt and a vest, paired often with a jacket. You'll also need, of course, his crow-headed cane (but don't make this into a caricature of disability!). You'll find Inej in cloaks of black and purple with hoods and draping fabrics. Be sure to complete the look with a dagger.
Classic Gryffindor robes will do the trick for Neville, and a remembrall would be a great addition (perhaps a plastic Christmas ornament with red tissue paper inside?). To be a mandrake, fashion a terra cotta plant pot from cardboard to wear like a sandwich board, and paint yourself as you would a tree with leafy detail.
Comics
Gomez Addams and Morticia Addams from The Addams Family
by Charles Addams
For Gomez, start with a pinstripe suit, white shirt, and bowtie. Morticia should wear a form-fitting black dress with bell sleeves. Don't forget Gomez's signature mustache and Morticia's signature black mane!
Peppermint Patty and Marcie from Peanuts
by Charles Schulz
Athletic shorts and a green vertically striped shirt with brown sandals will make the look for Peppermint Patty. For Marcie, try white sneakers, jeans, a red shirt, and a pair of glasses.
Calvin and Hobbes from Calvin and Hobbes
by Bill Watterson
For the boy and his tiger friend, start with a red, horizontally striped shirt and dark pants paired with red Chuck Taylors. Hobbes is a tiger, so any tiger costume will get the general idea across, but a friendlier look will drive it home.
Luke Cage and Misty Knight from Luke Cage
by Marvel
Become Luke Cage with a bullet hole riddled sweatshirt or T-shirt, jeans, and a pair of boots. Misty wears skin-tight red in the comics, but for a more practical and comfortable look, go with the Netflix adaptation and consider a red T-shirt with a blue canvas jacket and jeans. You might also wish to paint your arm to appear like a bionic arm—just remember to do so respectfully.
Nick Fury and Natasha Romanova from The Avengers
by Marvel
Black's the word for this pair. Be your own Nick Fury with an all-black ensemble, keeping in mind a high collar and a leather jacket. Don't forget the eye patch (but again, respect is key). Natasha, meanwhile, requires a skin tight black jumpsuit of sorts with a Black Widow belt buckle detail and a few weapons. Natasha, of course, also has her signature red hair.
Cheryl Blossom and Toni Topaz from Archie Comics/Riverdale
by Archie Comics
Another redhead that would make an excellent costume is Cheryl Blossom. Use the comics or Riverdale to inspire your look with high fashion, bouncy locks, and perhaps a cherry accessory or two. For Toni, consider bubblegum pink hair, a pageboy cap, and a pink jacket to match the comic look or go with something a little bit more lowkey for the TV show style.
Thor and Valkyrie from The Avengers
by Marvel
Come on, now, do I need to spell out the God of Thunder's look for you? Get a red cape and a sweet hammer and you're pretty much done if you're really cutting it close. Valkyrie might go with a black armor suit, arm cuff details, and some killer face makeup.
Jem and Rio from Jem and the Holograms
by IDW Publishing
Become Jem with pale pink hair, and a rockin' pink stage outfit—but don't forget star details! Rio will look best with wild purple hair and a decidedly '80s style with a graphic tee and a colorful jacket and pants.
Miles Morales and Spider-Gwen from Spider-Verse
by Marvel
If you've been looking for an excuse to get a Spidey suit, this is your chance! Miles can get away with most Spider-Man suit iterations, though you can always try to match his version exactly. Gwen's suit has a style of its own with a mostly-black suit punctuated by white top pieces, a mask, and a hood.
Clint Barton and Kate Bishop from Hawkeye
by Marvel
Become Clint with sleeveless shirt armor and a bow and arrows with a quiver. Kate will have the same accessories, but you'll find her in a tight purple jumpsuit with cutouts and purple boots.
Wolverine and Jubilee from X-Men
by Marvel
If you don't want to go all out for Wolverine, grab a white ribbed tank top, tuck it into some jeans, and tape some scissors to your hands (kidding! Maybe try some paper claws. Sounds safer.). To be Jubilee, throw on some denim shorts, a pink tee, and a yellow jacket. Top off the look with some pink shades.
Storm and Cyclops from X-Men
by Marvel
Another woman superhero, another skin tight black jumpsuit. (Although you could also choose a leotard for Storm!) Keep some gold detailing around for trim and add a cloudy white wig. Consider white contacts to polish off the look. For Cyclops, it's time for a man's skin tight jumpsuit! Go with blue and add a yellow utility belt and, yes, yellow underwear. Add some cyclops sunglasses and voila!
https://www.instagram.com/p/B3YR3g3DLaG/
Deadpool and Domino from Deadpool
by Marvel
Though perhaps not exactly skin-tight, Deadpool wears a full, form-fitting bodysuit with black armor detail. Don't forget his katanas and raunchy attitude to complete the look. Your Domino might be inspired by the comics or the films, but in either case, she wears a dark blue and black sleeveless bodysuit and carries some impressive guns.
T'Challa and Shuri from Black Panther
by Marvel
T'Challa can be represented either with his Wakandan garb or his Black Panther armored bodysuit, complete with claw-like collar detail. For Shuri, consider a casual futuristic look or go with her blue and black armor, completed with her spear and war face paint.
T'Challa and Killmonger from Black Panther
by Marvel
Same as above for T'Challa. Like T'Challa, Killmonger wears a good bit of armor, but it's decidedly more American in its style. Try a long sleeve blue shirt under a stylized bulletproof vest and pair it with cargo pants.
T'Challa and Nakia from Black Panther
by Marvel
T'Challa continues to be the same as above. Nakia's look consists of her red and gold uniform. She uses ring blades made in part from glowing blue Vibranium.
In the comics, Harvey tends to favor a jock style with khaki pants and a letterman jacket (though there are variations depending on the iteration of the story). Sabrina typically wears her hair in a tight, blonde-verging-on-white bob with a black headband. Miniskirts and simple shirts tucked into the waistband are Sabrina's jam, and you can't go wrong carrying a stuffed black cat as Salem with you.
Fiction
Use Regency era–inspired clothes for this pair. Prunella may wear her hair up with a delicate headband detail. Lean towards purples.
Rachel and Nick from Crazy Rich Asians
by Kevin Kwan
Time to glam up! If you can score some luxury clothes at a discount department store like TJMaxx, you can totally nail this look—but don't be afraid to mock it a bit with faux luxury items, like a hilariously oversized jewelry, clunky watches, and other details that just scream "wealth" for both characters.
Stella and Michael from The Kiss Quotient
by Helen Hoang
With the simple and gorgeous illustrated cover, you've got it made with Stella and Michael from this hit novel. A pink button down and simple, black pencil skirt with black pumps and glasses will do it for Stella while a similarly simple white button down untucked with blue slacks or jeans will take care of Michael.
Crowley and Aziraphale from Good Omens
by Neil Gaiman and Terry Pratchett
Now that we've got Michael Sheen and David Tennant, modeling costumes after Crowley and Aziraphale of Good Omens is easy! Crowley should stick to dark colors, sunglasses included, with a thin, gray, knit sort of tie. Consider a rich red hair dye with a jacket and vest over a gray T-shirt. Aziraphale can be found in whites and beiges and a punctuating plaid bow tie. A pocket watch on a chain is the cherry on top.
Westley and Princess Buttercup from The Princess Bride
by William Goldman
See yourself as Westley either in his earthy, peasant farm boy clothes or as the Man in Black (recycle that old Zorro mask!) in a flowing black shirt and fitting black pants with black boots. For Buttercup, consider a flowing red dress and a crown. Long blonde locks will help get your point across, but consider also carrying an oversized stuffed rodent to serve as an ROUS.
Gillian and Sally Owens from Practical Magic
by Alice Hoffman
If you have either strawberry blonde or black hair and a friend with the other, you're in luck! Go as sisters Gillian and Sally Owens. Dress in decidedly '90s attire or go with the traditional witchy look of a long black dress, stereotypical black witch hat, and a broom.
Rob Ryan and Cassie Maddox from In the Woods
by Tana French
As the adaptation of this hit mystery is fast-approaching, these costumes are not only simple but timely. Put on your best detective gear (professional wear with a longer coat) for both characters. Bring along a small notepad and ask lots of pointed questions of your fellow revelers. You might also make up a detective badge to drive the point home for folks who might ask who you're supposed to be.
Niche and Punny
Simon and Schuster
Perhaps one of the easiest on this list, simply grab a friend and add the names Simon and Schuster to "Hello, my name is" tags. That's it! You're a publishing powerhouse.
Penguin and Random House
Want something a little more complicated? Decide who will wear the penguin suit (or wear a tuxedo if you want to be extra clever) and who will be a house. Walk around together and see how many folks add two and two to get Penguin Random House!
Book and bookmark (not Oreos!)
Look, for whatever reason, people evidently need to be reminded that Oreos are not a suitable bookmark. Recycled cardboard could be great material for both of these costumes, and be as punny as you like with the title.
---
Need more bookish Halloween treats? Check out our archives and find bookish costumes for kids here.