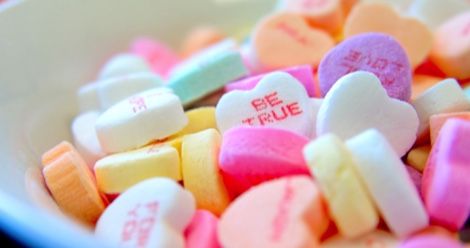 This content contains affiliate links. When you buy through these links, we may earn an affiliate commission.
I am not a big Valentine's Day person. I know there are people who love it, but for me, it's always felt forced and overly commercialized. That being said, love is certainly something to celebrate—any day of the year—but sure, if you feel so inclined to celebrate it on the 14th of February, okay. What I do love, however, are comics.
People focus on romantic love on Valentine's Day, but there's also Galentine's Day on February 13th: that day we honor our kickass female friendships. In my list of comics to read for Valentine's Day, I've included a bunch of different kinds of love: family love, friendship love, and of course, romantic love. Because when it comes down to it, that's what really matters, right? Love. Of all kinds.
Bingo Love Volume 1 by Tee Franklin, Jenn St-Onge, Joy San, Cardinal Rae, Cover by Jenn St-Onge
Hazel and Mari meet at church in 1963 and fall in love immediately…but things were a lot different then, and their families did not approve, to say the least. They both eventually married men, raised families, and led lives of their own. Meeting by chance again in their 60s, they realize not much has changed since they first met each other. Simultaneously heartbreaking and heart-warming, you'll love this comic.
Moonstruck Volume 1: Magic to Brew by Grace Ellis, Shae Beagle, Kate Leth, Caitlin Quirk, Clayton Cowles
Described by Image Comics as a "middle-grade/all-ages lesbian-werewolf-barista romance adventure," how can you go wrong with that? Romance, monsters, magic…coffee…I love the art in this comic, and it has a fun, whimsical quality that makes it really fun to read.
Prince Sebastian is on the market for a bride…but he also has quite the secret nightlife as Lady Crystallia. Francesca, his dressmaker and friend, is one of the only people who knows about this part of his life—but how long will she keep his secret?
I have not read this one, but this manga was recommended by several of my fellow Rioters. Yaichi is a single dad in Tokyo with a daughter, and one day, a Canadian named Mike shows up at his door, saying he's the widower of Yaichi's estranged twin brother, Ryoji, who was gay. Mike is there because he's trying to find out more about Ryoji's past. Every Rioter who read this eagerly recommended it, which is always a good sign.
Saga by Brian K Vaughan, Fiona Staples
I chose this series (yes, read them all) because though there is romantic love in it, the familial love between Marko, Alana, and their daughter Hazel is heartbreakingly tender. The family dynamics with in-laws and the love that develops with friends they meet along the way—this is a comic that gets to the heart of humanity. There's a reason so many people love it, especially people who "don't really read comics."
I admit; I am biased with this comic, and I've written about this run before. Jessica Drew is pregnant and has a baby, as a single mom by choice. This comic perfectly captures those early weeks of parenthood, when you don't know which end is up, whether you've brushed your teeth or put on deodorant, can't remember the last time you peed, and are delirious from lack of sleep. But watching Jessica navigate the complicated feelings of early single motherhood with her son…gets me in the feels every time.
If you haven't read Lumberjanes, what are you waiting for? This is such a fun series about a bunk of young women at a camp for "hardcore lady-types," with some magic thrown in. Love, friendship, growing up—it's all in these stories, and though there's some romantic love here and there (or at least flirtation), what really shines through is the love these friends have for each other.
What are you planning to read to get into the Galentine's or Valentine's Day mood?