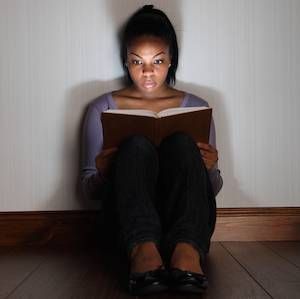 Fiction
Here We Come A-Haunting: 5 Scary Stories to Read During the Holidays
'It's the most wonderful time of the yearrrrrrrr…there'll be scary ghost stories and tales of the glories and back that ship up, much-beloved Christmas carol. Take a minute and get your shit together.
We just DID scary ghost stories like two months ago. We are DONE with scary ghost stories. It is time for warm-hearted love stories where Snape buys a necklace for his secretary and Professor Trelawney thinks it's for her until she finds out it isn't and is crushed (sooooooer romantic).
But AS IT TURNS OUT, scary stories are as festive as Yule logs and rum nogs. The proximity of Christmas Eve to the longest night of the year makes it a ripe night for terror. This tradition comes to us from those wacky Victorians, who were into all the best shit (Suffragettes! Inexpensive literature for the masses!) and the worst (Corsets! Imperialism! Poems about daffodils!), yule ghosts obviously falling into the former camp.
Here are some festive terrors in the public domain to spook you into a holiday mood.
You're familiar with A Christmas Carol because you have a brain and eyes, but Charles Dickens has written a number of ghost stories set at Christmastime. You can download a trio of them here, but skip the first two for being Dickens at his long-winded boringest, and go straight to The Signal-Man.
The Nutcracker and The Mouse King isn't all sugar plum fairies and eight-year-old girls marrying their godfather's nephews (wait, what?). Written by the same man who brought us The Sandman (about a dude who steals your eyes while you sleep omg), The Nutcracker features a seven-headed mouse and his army who stream out from the floorboards while the household is sleeping and do battle with the toys and like eat half of them, and an entirely different mouse who, enraged at the murder of her children, avenges them by giving an infant princess a beard.
My daughter STRONGLY DISLIKES the excellent version illustrated by Maurice Sendak on account of scariness and because toddlers have had terrible taste since forever. A translation from the German can be read here.
I feel like I end up recommending The Turn of the Screw disproportionally to the amount that I actually like it.
Anyway. A group of friends telling scary stories around the fire around Christmas leads to one reading aloud the manuscript of a dead governess, all of which we are told about by an unnamed narrator, all of more which frame narrative is never returned to once the story ends, because Victorians love to complicate their narrative shit. Can be downloaded here.
Notable horror writer M R James began his writing career dreaming up festive frights for his friends and students. I haven't read any of them because I'm afraid they'll be legit scary, and (as previously established) I am a wuss. But the BBC thought they were good enough to adapt five of them for their A Ghost Story for Christmas series. All of James' stories can be found here so somebody read them and get back to me w/r/t/ actual scariness.
Jerome K. Jerome's Told After Supper, a collection of ghost stories told (by an increasingly drunken collection of gentlemen) after supper on Christmas Eve, is exactly what you'd expect from the author of Three Men in a Boat (To Say Nothing of the Dog). It's rich in Victorian silliness and whiskey punch, and surprisingly readable. You can download it here.
How do you feel about scary stories at Christmas time? Do they put you in a celebratory mood, or are they two months too late?
Save