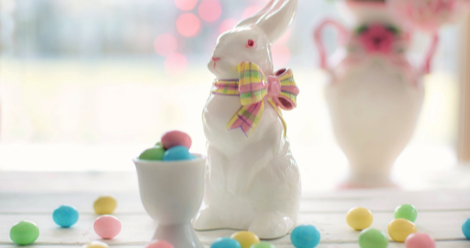 Children's
8 Christian Picture Books to Fill Your Easter Baskets
This content contains affiliate links. When you buy through these links, we may earn an affiliate commission.
Egg hunts and baskets full of chocolate are wonderful ways to celebrate Easter, but for many Christian parents, it's important to make sure their kids know the religious significance of the holiday. These Christian picture books are a colorful and fun way for parents to teach their kids theology and Christian history! (Yes, I did just say "fun way to teach your kids theology and Christian history"! This is a website for nerds, and we wouldn't want to exclude the theology nerds, now would we?)
This bright picture book gives a brief survey of the Bible (from the garden of Eden, the curtain in the temple, and Jesus's cross) and teaches kids the story of Easter with some historical/biblical context.
This adorable picture book breaks the Gospel message down into four words that little kids use every day: Wow! Uh-oh. Yes! and Ahh…It's a great way to teach kids about grace, redemption, and sharing their faith! This is a great tool for parents who are looking for a clear way to explain the basics of their faith to their kids. The illustrations are done by Annabelle Tempest, best known for her work on the BabyLit books! (Full disclosure: I work for the publisher who produced this book.)
The Biggest Story is more like a Bible storybook than any other the other books on this list. It breaks the biblical account into ten chapters and features modern illustrations by acclaimed designer Don Clark. Also available: The Biggest Story ABC, a board book featuring the same content a bit scaled back. I've heard some complaints that the board book doesn't really age the content down for the 0–3 crowd, though.
This beautiful book of poems uses clever wordplay to walk children through the whole Passion week. The woodcut illustrations evoke traditional icons or stained glass windows while still being accessible for older kids.
This is a super cute rhyming book that answers some of the questions kids might ask about God, like: Does God take naps? Does God have pets? How old is God? The childlike illustrations are engaging and fun and a little silly. It's theology, but it's also fun and accessible. Full disclosure: I work for the publisher who produced this book.
If you're looking to fill a basket for some tinies, check out the Baby Believer board books! Following the BabyLit model, these books take big theological concepts and combine them with the things your wee one is starting to learn. First Bible Basics Counting Primer teaches counting (1 God, 2 Natures of Jesus, 3 Persons of the Trinity) and Psalms of Praise pairs different types of movement (walk, kneel, stand) with Bible verses.
The Ology by Marty Machowski
Systematic theology for kids! Just like you always wanted! It's like Grudem's text book, but with a fantastical framing device (two kids discover the tome in an old castle). The book is arranged topically, covering theological concepts such as the Law, the Holy Spirit, and the Church.
Now, go forth and fill your Easter baskets, and make sure you don't forget those chocolate bunnies. And, make sure to hit the comments to tell us about your favorite Christian picture books.