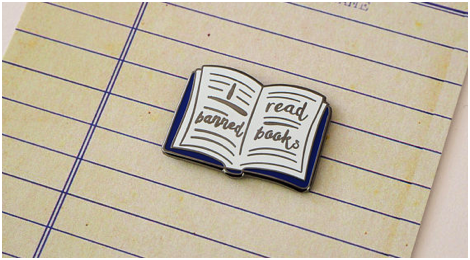 Quizzes
Quiz: Can You Guess the Banned/Challenged Book By the Complaint?
This content contains affiliate links. When you buy through these links, we may earn an affiliate commission.
It's Banned Books Week!
Banned Books Week is an annual event where members of the bookish world —librarians, booksellers, publishers, journalists, teachers, authors, and readers—come together to celebrate the freedom to read without censorship.
Here's some quick info about Banned Books Week:
What does "Banned Book" really mean? What's the difference between a "banned" book and a "challenged" book?
A book is "banned" when someone decides it is inappropriate, and the book is removed from the shelves of a school or library. If someone questions or requests that a book be removed, that is called "challenging" a book.
Why are books banned/challenged?
There are a variety of reasons, but really it falls into the "4S"s: Swearing, Savagery, Sex, or Satanism. For example, Harry Potter is a commonly challenged book, with requests it be pulled from library shelves due to its portrayal of magic (i.e. witchcraft, i.e. Satanism).
But, is it still a THING? I mean, banning books isn't something that still happens, right?
Oh, it totally is still a thing. For example, in just the last year, Angie Thomas's incredibly popular book The Hate U Give was banned from the Katy Independent School District in Texas (due to the book's discussion of drug use and explicit language) and challenged by a police union in South Carolina they believed that the book is "almost an indoctrination of distrust of police."
OK, but…so what?
Book banning/challenging matters because it is a form of censorship and in direct violation to our Right of Intellectual Freedom. Censoring what can be read means censoring what can be learned and what can be known.
Now that you're in the know about Banned Books Week, let's test your skills. Can you guess which book is being challenged/banned by the (real) complaint?

Books mentioned:
The Grapes of Wrath, by John Steinbeck
Catcher in the Rye, by J.D. Salinger
Where the Wild Things Are, by Maurice Sendak
1984, by George Orwell
A Farewell to Arms, by Ernest Hemingway
50 Shades of Gray, by E.L. James
Lady Chatterley's Lover by D. H. Lawrence
The Handmaid's Tale, by Margaret Atwood
Beloved, by Toni Morrison
Carrie, by Stephen King
The House of Spirits, by Isabel Allende
And Tango Makes Three, by Justin Richardson
Speak, by Laurie Halse Anderson
Gossip Girl, by Cecily von Ziegesar
Brave New World, by Aldous Huxley
The Lord of the Flies, by William Golding
Slaughterhouse Five, by Kurt Vonnegut
The Kite Runner, by Khaled Hosseini
Fun Home, by Alison Bechdel
One Flew Over the Cuckoo's Nest, by Ken Kesey
Paper Town, by John Green
Nickel and Dimed, by Barbara Ehrenreich
Captain Underpants, by Dav Pilkey
Of Mice and Men, by John Steinbeck
The Giver, by Lois Lowry
I Know Why the Caged Bird Sings, by Maya Angelou
Has all this talk of Banned Books sparked your rebel reader spirit? Take this quiz to find out which banned book you should read next!