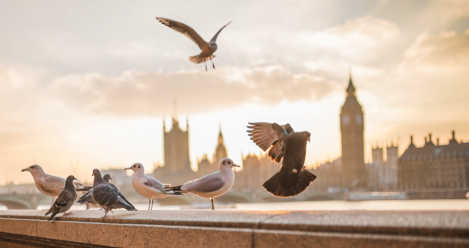 Lists
5 British Books to Look out for in the U.S. in August
This content contains affiliate links. When you buy through these links, we may earn an affiliate commission.
It seems incongruous for August, when many of us will be dangling our feet in a pool and flicking through a fun story while sipping rosé, but the notable books I've found crossing the pond this month all seem quite serious. Then again, if you're someone who enjoys spending chunks of unadulterated holiday reading time diving deeply into a topic, you'll find plenty here to engage your brain.
Country by Michael Hughes (John Murray, August 9th 2018, audiobook only)
It's 1996, and negotiations between the IRA and the British to end decades of violence are bearing fruit. But not everybody is happy about it: if it's all to end in handshakes and smiles, what was the point of all that fighting? This "vivid and brutal" novel sets the Northern Irish story as a retelling of the Iliad.
The description of this book reminds me a little of Humans of New York: "Tamsen Courtenay spent two months speaking to people who live on London's streets, the homeless and the destitute – people who feel they are invisible. With a camera and a cheap audio recorder, she listened as they chronicled their extraordinary lives, now being lived four feet below most Londoners, and she set about documenting their stories, which are transcribed in this book along with intimate photographic portraits."
State of Play: Under the Skin of the Modern Game by Michael calvin (Cornerstone Digital, August 23rd August, 2018, ebook only; hardback available from Random House on December 1st, 2018)
If you've got any Brits on your Twitter timeline, you've probably seen a lot of excited tweets about the England football/soccer team lately; we're very excited about how well we've done in the 2018 World Cup. And with just eight years to go until the U.S. hosts the competition alongside Canada and Mexico, now's as good a time as any to find out more about the sport that's had even disinterested non-sport fans like me glued to their TVs on beautiful summer evenings.
The Way of All Flesh, by Ambrose Parry (Canongate Books, August 30th, 2018, ebook and audiobook; hardback available October 2nd, 2018)
In Old Town Edinburgh in 1847, young women are being gruesomely murdered. Will Raven is starting his medical apprenticeship with Dr Simpson, whose house is "full of visiting luminaries and daring experiments in the new medical frontier of anaesthesia". Simpson's housemaid, Sarah Fisher, immediately dislikes Will. But when they're both "propelled headlong into the darkest shadows of Edinburgh's underworld", she'll have to get over that.
Rise: Life Lessons in Speaking Out, Standing Tall & Leading the Way by Gina Miller (Canongate Books, ebook and audiobook only, August 30th, 2018)
Gina Miller is a heroine of the British resistance to Brexit, and as a result has had to endure racist and sexist abuse as well as physical threats. But that's nothing new: she's fought injustice all her life, and always encountered fierce opposition and pain. This memoir looks at how she found confidence and the strength to use her voice and to live a life that clearly demonstrates that one person can make a difference.