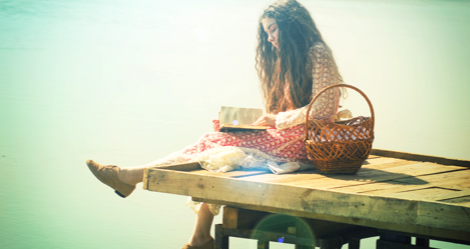 Lists
Books by Muslims to Read During Ramadan
This content contains affiliate links. When you buy through these links, we may earn an affiliate commission.
Ramadan is well underway, which means that millions of Muslims all across the world are spending this month observing fasts from sundown to sunset. It's both a rewarding and difficult time for Muslims, but can definitely be aided by—well, books! So whether you're Muslim or not, fasting or not, make sure you pick up some of these books by Muslim authors to show them some support this Ramadan.
This is a totally immersive fantasy inspired by Islamic history. Con-artist Nahri dabbles in something that she doesn't quite understand and ends up summoning a powerful Djinn. Together, they travel to Daevabad, a city full Djinns and magic. But there is unrest brewing within the gates of Daevabad, and Nahri's unexpected presence might set off events that she could have never imagined. The City of Brass is a brilliant fantasy with complex characters and a richly-developed world that is almost too easy to get lost in.
Pakistani British Muzna Saleem is caught between her life in Britain, and the Pakistani and Muslim culture of her strict parents that often seem at odds. After a gorgeous Muslim boy from school shows interest in her, she finds herself swept up by Arif and his brother's more extreme ideologies. I Am Thunder is an important novel about religious extremism and what radicalises young people.
Maya Aziz is a young Indian American Muslim teen caught between two worlds. While her parents want her to go to a college close to home and marry a good, Muslim boy, Maya wants to go to film school in New York City and dreams of being with a boy she's had a crush on since she was a kid. However, a terror attack turns Maya's life upside down, changing the supportive community around her into one filled with suspicion and bigotry. Love, Hate, and Other Filters is a novel that brilliantly tackles Islamophobia, and the effects of it, in modern-day America.
Amal lives in a small Pakistani village with her family and dreams of someday becoming a teacher. When one day she runs into her town's powerful landowner's son, her life turns upside down. She's forced to become a servant at the Khan estate in order to pay for her family's debt. Amal must somehow find a way to expose the corrupt ways of the Khan family so that she can return to her family and achieve her dreams. Amal Unbound is a heartfelt MG novel that draws inspiration from Malala Yousafzai and other young girls in Pakistan for whom education is not easily accessible, nor prioritised.
Persepolis is the graphic memoir of Satrapi's childhood and coming-of-age in Tehran. The book deals with both Satrapi's private life, including her relationships with family and her love life, along with the politics of Iran during the Islamic Revolution. It's a book that holds historical and political significance, but is also witty and hilarious.
Muslim Girl by Amani Al-Khatahtbeh
Amani Al-Khatahtbeh is the founder of the website Muslim Girl. Her memoir details her own coming-of-age in post–9/11 America, where Islamophobia has become a common occurrence. Muslim Girl is a timely and important book that gives insight into the lives of modern-day American Muslims.
Janna is a Muslim teen who is involved in the Muslim community in her town. When a boy from her community (someone whom everyone trusts) sexually assaults her, Janna is faced with a difficult choice. Does she tell everyone about the Monster and risk alienating herself from her community? Or does she keep this secret hidden, even though it's eating her up inside? Saints and Misfits is a powerful and moving novel about the aftermath of sexual assault. It's also one of the rare books I've found that focus on the victim, Janna, and how she chooses to deal with her trauma.
God Smites and Other Muslim Girl Problems has sometimes been described as the Muslim Nancy Drew. It has a clever, bad-ass Bengali, Muslim protagonist who must struggle against her strict parents in order to try and absolve her friend and crush, Michael, of a murder that she's sure he didn't commit.