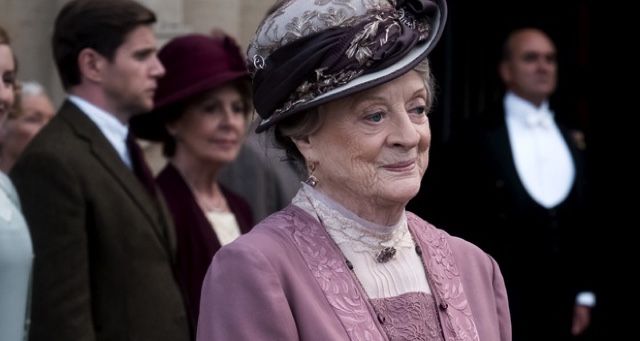 Lists
A Reading List Inspired by DOWNTON ABBEY: THE MOVIE
This content contains affiliate links. When you buy through these links, we may earn an affiliate commission.
If we were living in a manor house in the English countryside in the 1920s, we may have this news delivered to us via letter on a silver tray or in a newspaper recently ironed by the butler in order to dry the ink. Instead, I bestow this exciting information to you through an internet post. The Downton Abbey movie premieres in the United States on September 20, 2019! If you have not had a chance to do so, revisit the Crawley family, their staff, and Downton itself in this trailer:
The trailer speaks for itself and you do not need me to restate the various events and story lines that we have to look forward to on the big screen. Instead, I have many questions going into viewing the film. Will Lady Mary and Carson pull off a visit from the King and Queen? What does Carson do in his spare time? Will the Dowager Countess have an appropriate number of one liners? Most importantly, will the Crawley family be able to stay at Downton in a very rapidly changing society?
I am counting down the days until September 20 when we can return to Downton again. Until that time, here are three books that evoke the story, spirit, themes, or time period of Downton Abbey that even Lady Violet might find amusing.
A Downton Abbey–Inspired Reading List
In 1950s Vermont, girls who are unwanted by society are sent to Idlewild Hall, a boarding school with uncaring teachers, dilapidated facilities, and rumors of a malicious ghost who haunts the school and grounds. Without families to care for them, the girls at the school learn to rely on and love each other. When one of the girls disappears, her roommates devise a plan to find her.
In 2014, a mysterious investor plans to remodel and reopen the shuttered Idlewild Hall. Local journalist Fiona Sheridan's wants to know why. Her sister was found murdered in one of Idlewild's fields. Why would someone want to reopen a haunted school that was also a crime scene? With many chilling twists and turns, this is book is a thriller, a mystery, and a piece of page turning historical fiction all in one.
At first glance, this book and Downton Abbey do not have a lot in common. But, after devouring the book during a weekend beach trip, I began noticing lots of similarities between it and my favorite Edwardian soap opera. Both stories are about buildings that require much upkeep during changing times. These buildings become characters themselves and the stories would not exist without them.
Furthermore, both The Broken Girls and Downton Abbey touch on the question of what did women do in the past who either became pregnant out of wedlock, did not choose to have children, or did not marry. Lady Edith's Marigold and Housemaid Ethel's illegitimate son could have ended up at a schools similar to Idlewild Hall. These stories provide peeks into a past where rocking the social order and expectations was not tolerated.
Following World War II, Georgian manor house Hundreds Hall is in ruins. Living among the crumbling finery are the Ayres family. The family has lived at Hundreds Hall for centuries and now struggles to tend the overgrown gardens, the once magnificent facade, and the countless rooms filled with decaying treasures. When the local doctor pays a visit to Hundreds Hall to treat an ailing maid, he is caught up in the strange and possibly supernatural events that begin happening there.
When I first watched the trailer for the Downton Abbey movie, I immediately thought of The Little Stranger. I heard Mary ask Anna, "Should we really go on with this?" and Anna replies, "You mean leave Downton?" The possibility of selling Downton or leaving Downton will most likely be a major plot point in the film. In The Little Stranger, this is a question with which the characters constantly wrestle. The Ayres family has always lived at Downton's equivalent, Hundreds Hall. Should they solve many of their financial, social, and family troubles by leaving Hundreds? This is a question I am sure many aristocratic families asked themselves as society shifted.
Stevens is the butler at Darlington Hall. Descending from a line of butlers, Stevens embodies loyalty, class, and decorum. Following World War II, Stevens takes a trip through the English countryside. During this trip, he begins to remember his life as the butler at Darlington Hall and questions his choices regarding love, servitude, two world wars, and if the binds of loyalty should ever be broken.
While reading this book, it is almost impossible not to think about the similarities between Stevens and Carson. Both men served in their respected houses for their entire lives. Both strove to be the best butlers that they could be while running a household and staving off love. While I will not give away happens to Stevens in regards to romance, I will say that I am still elated that Charlie Carson and Elsie Hughes married each other and then lived in a beautiful cottage on the grounds of Downton. I can picture Stevens and Carson sitting together in the servants' hall discussing the importance and details of their shared career.
Viewing Downton Abbey: The Movie
Don't forget to book your tickets for Downton Abbey–inspired teas, don your most becoming cloche hat, and purchase your tickets for the Downton Abbey movie! As the trailer insists, "We've been waiting for you."
Are you interested in more books that harken back to the days of Downton Abbey? Peruse this list entitled A Diverse Reading List for Downton Abbey Fans and this one called Books for Downton Abbey and Upstairs, Downstairs Fans.