This content contains affiliate links. When you buy through these links, we may earn an affiliate commission.
Teen romcoms are a hit right now. I am a big fan of them because most of the time they end up being sweet love stories with good dialogue and adorable characters. Netflix is doing a good job with them and they really did good when it came to To All The Boys I've Loved Before. It's not a secret I loved and am in love with To All The Boys I've Loved Before adaptation, with Lana Condor and Noah Centineo as leads, so I'm always in the search for more. (If you are searching, too, here are more books like To All The Boys).
So when it came to my attention that there was a new 2018 Netflix movie named Candy Jar, about dueling high school debate students who happen to also be rivals and sort of don't like each other, I was so into it already. And then I watched it and absolutely loved it. But because I'm also a bookish fan, I wanted to find books like this film! Rivals to lovers, teaming up together for a greater good, and more good themes…so get ready for 13 books to read after watching Candy Jar.
if you love the prep school setting…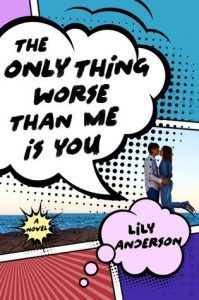 Trixie Watson and Ben West are always fighting their way to number three in school. One minute Trixie is there, the next there is Ben. A Much Ado About Nothing retelling, The Only Thing Worse Than Me Is You is a fun love story between two rivals, two best friends falling in love, those rivals having to spend more time together, and maybe…developing feelings?
Filled with geek culture and amazing dialogue, this title will surely become your new favorite book ever.
Harper has rules to follow, to have her life all in control. But when one Sterling Lane transfers into her boarding school, everything turns upside down. First of all, she hates him. And he hates her right back. Second of all, he is spending so much time with her twin brother, doing pranks and schemes, that he nearly gets expelled.
But when her twin is in serious trouble, Harper and Sterling will have to team up to save him.
Andrea is junior class valedictorian at this exclusive prep school. But her whole world crumbles down when her parents disappear. Soon enough she's forming an alliance with the juvenile delinquents at Justice Academy to save the day.
If you love and enjoy Heist Society by Ally Carter, Perfect Liars will appeal to you so much.
if you love the rivalry between the two main characters…
Seventeen-year-old Carter has always wanted to be a chef. And when a prestigious scholarship competition happens to be soon, she takes that chance! The prize is a full-ride to one of the best culinary schools in the country. Her only obstacle to that goal: Reid Yamada, her opponent.
They soon become bitter rivals, but when they have to work together to win, her thoughts become a mess! Even though she wants to smack his mouth, it doesn't erase the fact that she also wants to kiss him.
It's definitely not the right time for Carmen to fall in love. Especially not Jeremy. He can't be the one she falls for! He's infuriating, arrogant and the only obstacle for her to achieve her ultimate goal: to win the prestigious Guarneri competition. Until Jeremy, her whole life has been violin, but now kissing him has become part of her life as well. Still she cannot tell him her secret…
Finn and Willa have been picked as team leaders in the future leader camp game. Both nervous about it! On one side, Finn, the always confident Finn, doesn't know what is making her more nervous, the fact that she is leading a team of overachievers or competing against Willa. And for Willa, she doesn't know if it's harder to leave her responsibilities behind or opening up to someone.
Written in both perspectives, this lovely and sweet F/F YA romance will catch your attention so easily and will make you crave that summer vibe.
if you love overachievers…
She's always been good, working at her family's restaurant and getting really good grades. But when she messes up so badly that she almost loses her family's restaurant, she has to ask for help. And the person she is asking for help is no other than Camden King, hot, popular boy.
With the goal to save the restaurant involves this evil/genius plan Camden thought of: doing kids' homework for cash. She knows it's wrong, but it's better than facing her family's wrath! And something is also changing with Camden. That lopsided grin is making her weak in the knees!
Like Bennet and Lona in Candy Jar, Jules in an overachiever, wanting so badly her early acceptance into her first choice Ivy League college. This is her dream and her mind is set. That's before Alex Powell, former boy band sensation, transfers to her school.
Desi Lee is student body president, varsity soccer star. Her ultimate dream is getting into Stanford. But the thing that is missing from her life is…a boyfriend. She has never had one! With the help of Korean dramas, she will find guidance and write a step-by-step formula to getting a boyfriend. More specifically, Luca Drakos, the cute artist boy who just transferred to her school.
if you love that they know each other since childhood…
From an outside point of view, Alex dela Cruz has everything: money, popularity, beauty. But when the boy she knows from childhood, Adam Cordero, calls her selfish, she decides to transform a girl from her school to prove to him that that's not right.
Pitched as Jane Austen meets Gossip Girl, Prom Queen Perfect is just the kind of fun you need in your life. Alex and Adam really never stop bantering and the way Alex grows from the beginning to the end is really the center of this story.
Nathan Bird doesn't believe in happy endings even though he is a film buff and wants to be a screenwriter. He has seen far too many relationships crumble down to believe in them anymore.
His best-friend-turned-girlfriend-turned-best-friend again, Florence, is set on finding him someone. And with a worthy romcom move, someone does come along: his childhood best friend, Oliver James Hernández.
if you love the SHIP teaming up…
Joel and Cat really dislike each other. They want to be far away from each other as possible. But fate has other plans. Due to an unfortunate incident, they are forced to sit next to each other in Extension English. To make everything a little bit worse, they also have to team up to do a writing assignment.
A&B by J.C. Lillis
Eighteen-year-old Barrie wants to secure a slot on Pop University, a reality show for singer-songwriters helmed by her #1 idol. But then circumstances happen and she loses the spot to smug balladeer Ava Alvarez. Though never a quitter, she user this loss to shape up a new direction to her music. And when a secret collaboration creates sparks between these two, neither girl will expect what comes next.