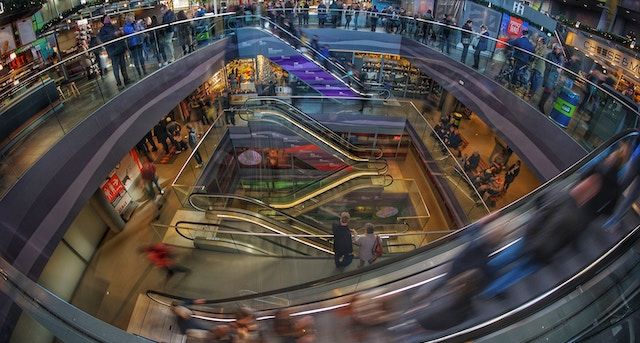 Horror
Shopping Can Be Murder: 6 Dangerous Books for Black Friday
This content contains affiliate links. When you buy through these links, we may earn an affiliate commission.
Look, maybe you think you absolutely need that new discounted TV. Or maybe you're looking for an escape from familial togetherness. I get it. The capitalist bonanza of Black Friday can be alluring.
But here's what I'm saying: be careful.
I'm not talking about avoiding those elbows to the face while jockeying over toys marked down 70%. Nor am I referring to the damage you might do to your wallet. I'm talking about murder.
If fiction tells us anything, it's that shopping can be deadly and those bargains you seek may be the last things you find on this mortal coil.
It's not too late. You can stay home, perhaps with some bookish alternative plans. But if you must go out on Black Friday, at least take a moment to learn some safety lessons from a few favorite reads about stores, malls, murder, and mayhem.
Where else to start but with a cozy mystery, the genre in which no can own a bookshop or even enter one without finding a corpse? In the first novel of the Mystery Bookshop series, newly minted bookstore owner Samantha Washington becomes the main suspect in the murder of her awful realtor—when his body is discovered in her backyard. Subsequent novels find her grandmother (leader of a senior center sleuthing club) and a beloved tenant each accused of murder, while death stalks her mother's wedding and her own bus trip home. Did I mention Sam is also a cozy mystery writer herself? Murder, She Wrote was a documentary.
Perhaps you have been to a certain Scandinavian furniture store, clutching a throw pillow with a heavily punctuated name and wondering if your significant other's body would fit in one of those reasonably priced under-the-bed drawers. Is it comforting to know something far worse is happening in the retail aisles of Hendrix's Orsk? Each night, someone or something wreaks havoc on the store floor. To unravel the mystery, several Orsk employees volunteer to stay overnight in the showroom, which is when they learn that their workplace is haunted. And it is no friendly ghost.
In 1984, Kate Meaney is Birmingham, England's precocious 10-year-old detective. She spends her free time on stakeouts at the local shopping mall. Until she goes missing. Flash forward to 2003 at the same mall. Amid the usual retail melodramas and frustrations, security guard Kurt and record store assistant manager Lisa become intrigued by a mysterious little girl caught on the security cameras. Their investigation turns up an unsettling history of events, while also providing a break from their mundane day jobs.
Friday Black by Nana Kwame Adjei-Brenyah
Three of the 12 short stories in this dark and dynamic collection take place in a mall. In a call-to-arms on racism and capitalism (among other topics), these stories play up the absurdity and violence of our own consumerism. (Check out Book Riot's interview with the author for more on that.) Where you should start as you consider whether to pursue your post-holiday shopping plans is with the title story, "Friday Black," which dissects the Black Friday tradition in a fully new, gruesome way. Things do not look up in the remaining mall stories, either, as body counts continue to accrue.
When 16-year-old Sarah wakes up dead at the Mall of America, she identifies two main problems: 1) her murderer remains at large, and 2) she's wearing an ugly dress, apparently now for eternity. In Sheehan's novel, all murdered teens wind up at Minnesota's commercial wonder. The length of their stay depends on just how quickly and effectively they can wrap up their unfinished business. For Sarah, that means nabbing the person who killed her before anyone else she loves gets hurt—all while using a devastating number of shopping puns.
There's something quaint about the custom of store window displays, though that may not be the adjective you'd choose to describe the scene at Mander's Department Store. The London shop was set to reveal its latest display to shoppers as normal, except for one tiny little problem: two of the figures for all to see weren't mannequins, but corpses. The bodies belong to the store's owner and an employee. How they got there and why make up the puzzle the police must solve, in a highly public case.