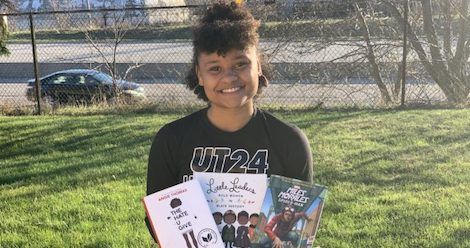 Literary Activism
Help Send 1000 Books By Authors of Color To Milwaukee Public Schools
Nyesha Stone is a Milwaukee journalist with her independent media company Carvd N Stone. But it wasn't until a college journalism class that she finally came face-to-face with fellow authors of color, including books like The Hate U Give by Angie Thomas.
This exposure was at once exciting for her as well as a reminder of how disconnected she was from her own history and from seeing her own experiences reflected in the books she read.
While covering the Girls Day Summit at Milwaukee's Alverno College, Stone had the opportunity to meet Marley Dias. Now 14, Marley was the founder of #1000BlackGirlBooks, which put over 9,000 books featuring black girl main characters into the hands of young readers.
Stone was inspired to do something similar, right in her own town of Milwaukee.
The Authors of Color Book Drive aims to get 1,000 books by authors of color into Milwaukee Public Schools (MPS). Stone is a former MPS student and wants to not only give back, but to raise awareness that these books are out there and that young readers of color deserve to see themselves in books.
Carvd N Stone makes it a mission to give back to low income communities in addition to covering news that can too often be overlooked, and this project gives Stone the opportunity to marry both.
Milwaukee's 88Nine writes up a bit more about Nyesha and her project, providing addresses for both local drop off locations for those wishing to make in-person donations. But for those who aren't local or don't have copies of books by authors of color handy, we've made it possible to send donations directly to the project and help Nyesha donate 1,000 books by authors of color to MPS.
To Donate
Click here to access the Amazon Wish List of books for the Authors of Color Book Drive. When you add a book to your cart and go to check out, make sure that you select "Nyesha Stone, Carvd N Stone Inc.'s Gift Registry Address" for the shipping address. This ensures the items will be sent to her address, rather than your own.
Link: Amazon Wish List of books for the Authors of Color Book Drive
Don't want to use Amazon?
You can be in touch with Nyesha directly for the address to which to send donations either curated personally or from other vendors. Likewise, she will accept cash donations to purchase additional titles for the project.
She can be reached at carvdnstone.cns@gmail.com.
The book drive runs through June 1.