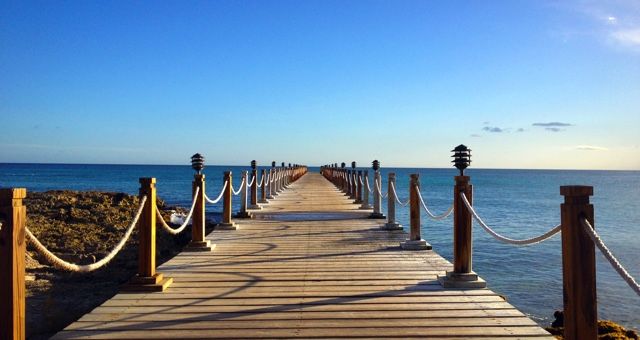 Lists
8 Books Set on the High Seas
This content contains affiliate links. When you buy through these links, we may earn an affiliate commission.
Summer is over (in the northern hemisphere, at least), and I'm mentally kicking myself for not going to the beach while they were still open. Thankfully, there are tons of books set on or around oceans, both literal and abstract. While not all of these books about the sea are exactly lighthearted beach reads, they'll certainly have you yearning for a calm day by the shore. If you've already devoured 50 of the best books to read this summer, here are a few more reads for you as we say goodbye to summer 2019.
Nix has spent her life traveling through time and space on her father's ship, The Temptation. Whether it's mythical lands or modern day wonders, Nix and her father can set sail to any place or time, as long as they have a map to guide them. But when her father steers their course towards Nix's deceased mother, Nix's very existence is in danger.
Kahu is part of Whangara, a Māori tribe in New Zealand descended from the legendary whale rider Kahutia Te Rangi. When the chief—Kahu's great-grandfather—struggles to find a male heir, Kahu must prove herself worthy of taking on a role reserved for men. Things come to a head when hundreds of whales beach themselves, and Kahu must save them and her people as time runs out.
When the Ramsay family visits their summer home on the Isle of Skye, little James is eager to see the nearby lighthouse. However, Mr Ramsay postpones the excursion due to the weather. Tensions rise amidst the family and their guests, and as time goes on, the Ramsays must learn to live with the inevitability of change.
Ayaana lives on Pate, an island off the coast of Kenya, spending her days walking along the sea alone. Her quiet life is upended when she finds out she's the descendant of a sailor from Chinese admiral Zheng He's fleet. Setting sail for China, Ayaana digs deeps for her roots, discovering her place on Pate and in the world at large.
The first novel in the Earthsea Cycle, the book follows a Ged, a young boy born on the island of Gont. He has immense magical talent, and before long, he attends a school for wizards to complete his studies. However, his power feeds his pride and arrogance, and he unleashes a shadow upon the world. In order to restore equilibrium, Ged must embark on a journey across the world of Earthsea.
Women Who Kept the Lights chronicles the stories of 30 female lighthouse keepers along American shores. From lighting the lamps to rescuing shipwrecked sailors, these women helped guide countless souls to safety and solid ground.
Schoolteacher Jumpei Niki misses the last bus home after a trip to a fishing village. The locals allow him to stay overnight, leading him via a rope ladder to a house at the bottom of a sand pit. But Jumpei finds himself trapped when the ladder has disappeared the next morning, stuck with a woman and forced to shovel back the never-ending sand that encroaches on the village.
Tom Sherbourne returns to Australia from the Western Front and becomes the lighthouse keeper on the island of Janus Rock. He and his wife Isabel yearn for a child, and after two miscarriages and a stillbirth, the pair adopt a baby girl they find in a boat. Years later, the couple visit the mainland with their baby Lucy, a choice that plunges their simple island life into chaos.