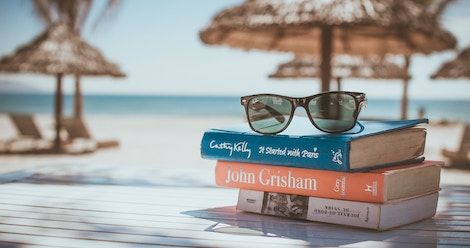 Lists
50 of the Best Books to Read This Summer
This content contains affiliate links. When you buy through these links, we may earn an affiliate commission.
Looking for some quality beach reading? Here are fifty amazing new books to read this summer!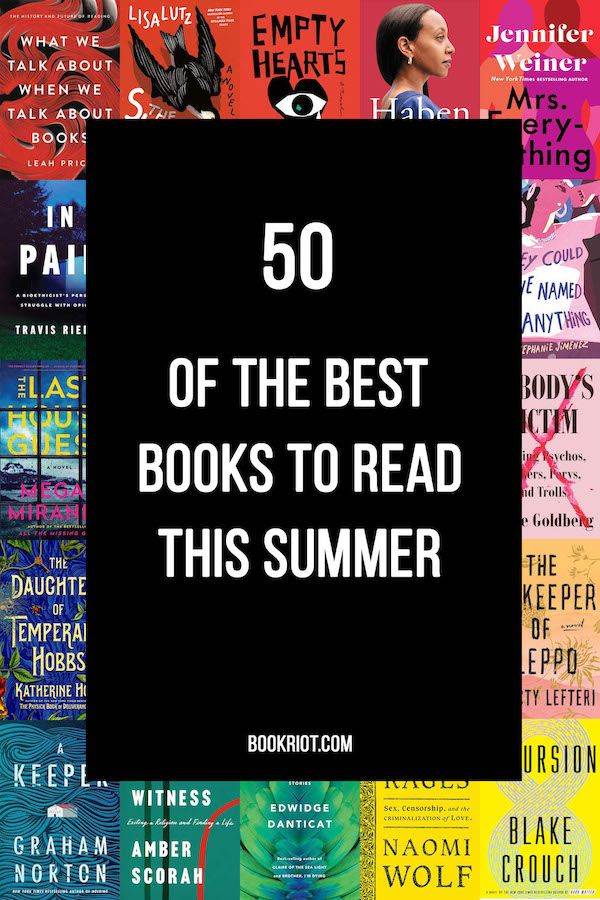 ---
Fiction Books to Read This Summer
---
In City of Girls, an old woman looks back on her adventures at the Lily Playhouse, a "crumbling midtown theater" where she was introduced to a cast of unconventional characters and enticing pleasures in her youth.
In Oates's latest novel, a young woman recalls a life estranged from her family after she testified, at age 12, that her older brothers murdered an African American boy in a racially motivated attack.
A New York City cop and a neuroscientist dedicated to preserving people's memories team up to fight a force that causes False Memory Syndrome, which leaves sufferers with memories of lives they never lived.
Two sisters growing up in 1950s Detroit are perfect opposites: Jo, the tomboy rebel, and Bethie, the perfect picture of American femininity. But as they grow older, they trade places and Jo finds herself married with kids while Bethie steeps herself in counterculture.
This book retells the legend of Antiochus, whose love for his daughter after the death of his wife morphs into something dark and grotesque.
In 1950 Tehran, two young people meet and fall in love in a bookstore, but the political violence and upheaval separate them until 60 years later, when fate finally leads them back to each other.
In the idyllic tourist town of Littleport, Maine, a deep friendship develops between a local girl, Avery, and Sadie, a visitor. When Sadie is found dead, all eyes turn to Avery and she must work fast to clear her name.
As a history professor and descendent of a woman tried in the Salem Trials, Connie Goodwin is an expert on America's history of witchcraft. When an old curse threatens the life of her partner, she must use all her knowledge and resources to solve the mystery behind it.
Mrs. Ford's privileged life on the picturesque Rhode Island coast comes crashing down when the FBI arrives on her doorstep to question her about an Iraqi man from her past who has been arrested in connection with ISIS.
An unlikely friendship forms between a privileged white girl and a Latina girl struggling to fit in to her private Upper East Side high school—but soon their relationship begins to crack as each grows envious of the other's life.
In the Jim Crow south, a young black man with a promising future is unjustly imprisoned at the Nickel Academy, a juvenile detention center where horrors are visited on the children confined within its walls.
A traumatized girl is discovered at the scene of a crime. She won't talk, won't tell anyone her name. Six years later, she still hasn't revealed her identity; when another girl turns up murdered, forensic psychologist Cyrus Haven comes to believe that the two cases are connected.
A teenager breaks into homes and computers to steal secrets in a quiet suburb. Anonymous letters are sent out. A woman is murdered. Who killed her and how far will people go to keep their secrets from being revealed?
Tunde, a Nigerian boy, and his parents, struggle to adapt to their new Midwestern home, until one day Tunde's schizophrenic mother snaps and runs off with him back to their home country.
Two Egyptian sisters part ways. Rose marries an American and goes to live in New York; Gameela, a devout Muslim, stays in Cairo. When Gameela is killed in a suicide bombing, Rose returns to Cairo to sort through her sister's life and discover her secrets.
When a devoted member of Hitler Youth discovers his parents are hiding a Jewish girl in their home, his shock and disgust slowly morphs into love and obsession.
In Ruth Ware's latest mystery, Rowan Caine takes a dream job as a nanny in the breathtaking Scottish Highlands…but it turns into a nightmare when the child ends up dead and Rowan finds herself on trial for murder.
A teacher at a New England prep school uncovers disturbing secrets about the boys at the top of the social pecking order and inadvertently incites a resistance among the girls, leading to an all-out gender war that could have deadly consequences.
A Keeper by Graham Norton
In Graham Norton's sophomore novel, a woman returns to Ireland after her mother's death to discover a collection of letters that reveal the truth about her past.
The Memory Police by Yoko Ogawa, Translated by Stephen Snyder
In an unnamed dystopia, a young writer hides her editor beneath her floorboards to protect her from the memory police, a mysterious force that disappears things and then makes people forget.
From the author of All the Ugly and Wonderful Things comes another unconventional love story about a tough Kansas woman and her unlikely hero: an autistic man who comes to her aid when an abduction rips her family apart.
This story collection follows the lives of the residents of Cross River, a fictional town established by the leaders of the country's only successful slave rebellion in the mid-19th century.
Empty Hearts by Juli Zeh, Translated by John Cullen
Set in the near future, Empty Hearts follows Britta, a wife and mother who works at a suicide prevention clinic, which serves as a front for an operation that recruits suicide bombers for terrorist organizations.
From one of Haiti's most beloved writers comes this collection of eight powerful short stories about love, marriage, death, generational change, and the dream of a better life.
In a post-apocalyptic world, one girl must leave the refuge of her island home and journey to reach the banshees, an all-female army fighting force fighting the menacing flesh-eating creatures known as the skrake.
Topping my personal list of books to read this summer, The Girl Who Lived Twice is the latest installment in the Millennium series about Lisbeth Salander, a brilliant female hacker/vigilante who visits wrath upon men who hurt women.
When the bombs start falling on Aleppo, a beekeeper and his wife must flee their broken country to Britain, where an uncertain future awaits.
In the latest Chief Inspector Gamache novel, the head of Québec's homicide department embarks on an ill-advised search for a man's missing daughter while flood waters rise across the province.
---
Nonfiction Books to Read This Summer
---
Formation by Ryan Leigh Dostie
Struggling to navigate a military culture steeped in toxic masculinity, Ryan Dostie finds herself fighting a war she never expected when she is raped by a fellow soldier.
In this memoir, third-generation Jehovah's Witness Amber Scorah writes about losing her faith and identity while on a mission to illegally proselytize in China.
In this memoir, Mark Boyle shares tales and wisdom from his life without technology—no phone, running water, car, electricity, or wi-fi.
Kingdom of Lies tells the stories of cybercriminals and ethical hackers, exposes the lies we're told about cybersecurity, and illuminates the dark underbelly of modern technology.
In this memoir, New Yorker Persimmon Olive documents her extreme (and often hilarious) efforts to end a five-year sexual dry spell.
This heartfelt memoir documents a Muslim doctor's mission to serve patients in the rural Midwest and heal the toxic divide that threatens America.
This history tells the true story of Maud West, a remarkable woman whose career as a private detective spanned 30 years during the early 20th century.
In Pain by Travis Rieder
In Pain is the story of a bioethicist's brush with opioid dependence after a motorcycle accident and the six surgeries that followed left him in pain and hooked on drugs.
In her latest work, Naomi Wolf reveals the history of how the modern idea of homosexuality and its association with sexual deviancy was first formed in the mid-19th century.
Anita Anand reveals the history behind the legend of Udham Singh, the Sikh orphan who waged a 20 year war of revenge against British colonialists in India after the 1919 massacre that killed hundreds of unarmed civilians.
The Way Through the Woods by Litt Woon Long, Translated by Barbara J. Haveland
In this memoir, Litt Woon Long recounts how learning to hunt for mushrooms helped her heal in the wake of her beloved husband's death.
Beneath the Tamarind Tree tells the story of the girls kidnapped by Boko Haram.
Three Women explores the hidden depths of female desire through the stories of three real-life women.
This darkly funny book chronicles the author's road trip across America to ask women the age-old question, "What do we need men for?"
Haben by Haben Girma
This memoir chronicles the extraordinary life and accomplishments of Harvard Law's first deafblind graduate.
In this memoir, Sarah Valentine recounts what it was like to learn that she was biracial at the age of 27.
Consent by Donna Freitas
In this deeply personal memoir, feminist writer and speaker Donna Freitas shares her experience as the victim of a stalker.
Kochland by Christopher Leonard
This page-turning exposé reveals the full extent of the Koch brothers' influence on American capitalism.
In Nobody's Victim, victim's advocate and legal warrior Carrie Goldberg chronicles her fight to outlaw revenge porn and sextortion, and tells her own nightmare story of being targeted.
From the author of Stamped from the Beginning comes this new book, which asks readers to think about how we can go beyond a vague awareness of racism to create an antiracist society through real action.
Responding to the panic that the digital age is killing in-depth reading, author Leah Price argues that "a golden age of reading never existed" and that books are in no more danger of dying out than they were at any previous point in history.
This book tells the remarkable story of a secret library hidden in a basement room in rebel-held Darayya at the height of the Syrian Civil War.
You may also like…