Lists
10 Books About Sisters
This list of books about sisters is sponsored by Sisters Like Us by Susan Mallery.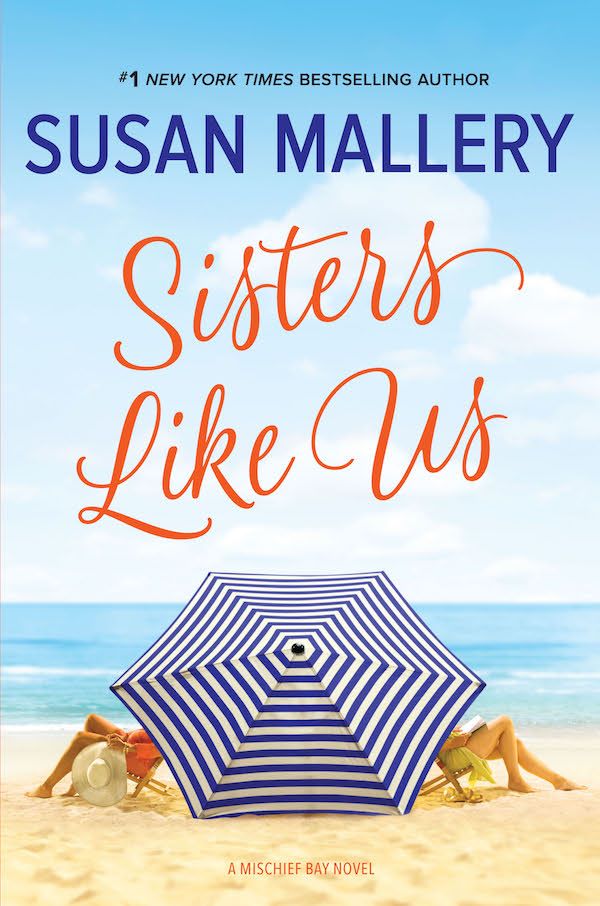 Divorce left Harper Szymanski with a name no one can spell, a house she can't afford and a teenage daughter who's pulling away. She's scrambling to maintain her overbearing mother's ridiculous standards and still pay the bills.
Dr. Stacey Bloom has spent half her life in school, but it didn't prepare her for motherhood. Her mother will be horrified to learn that Stacey's husband plans to be a stay-at-home dad…assuming Stacey can first find the courage to tell Mom she's pregnant.
Separately they may be a mess, but together Harper and Stacey can survive anything.
---
Love them, hate them, or never know what to do with them. Relationships between sisters are often difficult but always unforgettable. Even women and men who don't have a sister can relate to books about sisters. They recognize the bonds they share even during hardship.
The following are some of the most unique sets of sisters in books. They weather travel, life change, and clashing personalities to remain loyal to each other. Books about sisters can be a great choice for a book club. Choosing one of these texts may also be a great way to open up to your own sister about life together, even if the sisters in the story have no circumstances in common with you two.
In the Time of the Butterflies by julia alvarez
One of the first sister-driven books I read in high school, this story is about three brave sisters who choose what they believe is right over safety during a dangerous government takeover. The girls represented so many things for me, especially the conflicts between one's real motivations and the idealism of politics and the bond of women who are going through the same thing even when they see it different ways.
The God of Small Things by Arundati Roy
While sibling love is not always clear in this text, the setting, word choice, and character development is really luscious. Chronicling the story of an extended family that have been brought back to live together in Kerala, India, after tragic and strange lives elsewhere, this story shows that sister relationships are often complex but never static, as the ways life affects each character also makes the bond closer. While tragic in most ways, The God of Small Things is also an unforgettable portrait of family.
Sense and Sensibility by Jane Austen
Romantic stories from Austen are well-known, but the story of Marianne and Elinor has made sisters groan with sympathy and laugh with joy for over two centuries now. Marianne's impetuous and passionate style is contrasted with Elinor's inability to express love outright, but both of them are forced to confront their choices as, in their own ways, love requires them to push their limits. The conclusion is one of those Austen happy endings that you don't dare to hope for, but ends up making the most sense…and the most sensibility!
The Two Princesses of Bamarre by Gail Carson Levine
While marketed as a young adults novel, anyone who loves escaping into a fairy tale will love this tale of courage in the face of fear. Addie and Meryl have that familiar relationship of sisters who are nothing alike. However, they can learn from each other through their differences, while situated in a world of magic, enchanted creatures, and epic quests. A great read for those looking for books about sisters, especially between an adult sister and her teenage sister, to find common ground and to remind each other to be brave.
The Poisonwood Bible by Barbara Kingsolver
Kingsolver's narrative of sisters who travel with their parents to be missionaries in the Belgian Congo combines lush imagery with incredibly intense family and community dynamics. Through it all, the sisters must rely on each other or find themselves torn down by their circumstances. The assumptions made by the family in a community that doesn't operate according to their pre-determined stereotypes force the sisters to change their modes of thinking even as they are facing down bigger challenges than their sheltered past life in Georgia.
Boy, Snow, Bird by Helen Oyeyemi
This book examines the tumultuous history of race in the United States as well as within a single family. It brings sisters who have been apart for their childhood together in a search for understanding of their origins. Oyeyemi's story roughly follows lines connected with Snow White, while also using those images to create an utterly original tale at the same time. Both transporting and deeply analytical of race relationships, this book shows how culture and the past always impact the way sisters relate to each other.
Her Fearful Symmetry by Audrey Niffenegger
If you and your sister are ghost story fans, Niffenegger's twisting family thriller will provide all the chills and creeps that you are looking for. While the identical twins Julia and Valentina are close and remain so throughout the story, they are beset by the past and the estranged relationship of their mother and aunt, who were also twins. Set in London, this book is the perfect spooky choice when you want to read books about sisters.
Homegoing by Yaa Gyasi
This truly unique story follows the descendants of two daughters of a single matriarch in the Gold Coast (what is now modern-day Ghana). One sister becomes wealthy by a fortuitous marriage and another struggles while imprisoned. The chapters of the book follow important, real historical events while showing how even people who are born to the same mother can experience utterly distinct lives and legacies, with each going through some of the most painful events precipitated by colonialism in the African continent.
The Silver Star by Jeannette Walls
Walls's previous memoir, The Glass Castle, was incredibly well-received and this novel follows some similar themes. When 12-year-old Bean and 15-year-old Liz find themselves alone after their mother takes off for some time to herself, continuing a tradition of chaotic parenting, the two go to visit the family's old home and live with their Uncle. In the narration, we see how the bond between sisters can be an anchor in an otherwise unpredictable life, even when sisters cannot always be everything that each of them needs.
Shanghai Girls by Lisa See
Pearl and May go through so much more than most girls in life. In this novel, they leave war-torn Shanghai, accustom themselves to life in a new country, and adjust to arranged marriages. If you are a history buff, you'll see how world events and important historical locations play out in the story of the sisters and their divergent and convergent lives.
Still want to read more books about sisters? Check out our 100 Must-Reads About Sisters or our Buy/Borrow/Bypass on novels about sisters.