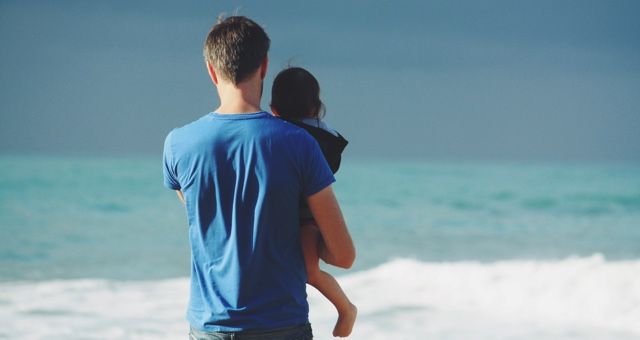 Fiction
10 Books About Complicated Father-Daughter Relationships
This content contains affiliate links. When you buy through these links, we may earn an affiliate commission.
Healthy father-daughter relationships are loving, supportive, and encouraging, but not every relationship is positive. Sometimes these relationships are strained, or worse, abusive. Some fathers are absent in their daughters' lives, and others are barely present. Father's Day is on the horizon, which means the girls and women with complicated issues with their fathers (*raises hand*) may be having a difficult time dealing with another "Dads and Grads" season.
With Father's Day and a few of my latest reads top of mind, I was inspired to round up some books featuring the ups and downs between father and daughter, because father doesn't always know best.
Hanna wants nothing but to live happily ever after with Daddy, who is the only person who understands her, but Mommy is standing in the way. Suzette loves her daughter, but after years of Hanna's trouble and tricks, Suzette fears that something is seriously wrong while her husband remains oblivious.
At the heart of this sequel to Crazy Rich Asians is Rachel Chu finally meeting the man she has been waiting for her entire life to meet, her birth father. On the day Rachel is to marry Nicholas Young, the heir to one of the greatest fortunes in Asia, the shocking revelation of her father brings Rachel and Nick into the elite circles of Mainland China and introduces them to the cast of characters who are not just crazy rich, they're China rich!
Matthew King is dealing with his two uncontrollable daughters and the fact that his comatose wife will soon be taken off life support. The family can hardly picture life without her, but coming to terms with it spurs them into surprising actions.
Anna lives the life of luxury in Shanghai, where her father enjoys doting on his only daughter. When Shanghai becomes occupied by the Japanese during World War II, Anna and her mother flee to California, but her father stays behind, believing his connections and luck will keep him safe.
If you loved the iconic and righteous Atticus Finch in To Kill a Mockingbird, then the Atticus Finch in this story may be the rude awakening you didn't ask for. When 26-year-old Scout returns to Maycomb from New York City to visit her aging father, she learns some disturbing truths about her family, her hometown, and the people she holds most dear.
Although the father-daughter relationship is not the main focus of this story, it is the thread woven throughout this story of Nadia Turner, who is mourning her mother's death by suicide and takes up with the local pastor's son during the summer before she goes off to college.
Although this story chronicles disgruntled college professor Howard Belsey's relationship with all three of his children, the complicated relationship Howard has with his studious daughter Zora may be what keeps you engulfed in this book.
Sisters Sonya, Trisha, and Marin return home after their father falls into a coma. For years, Sonya has lived free of any family ties as a photographer. Trisha has created the perfect suburban life, and Marin has built her own successful career. As these women come together, they must cope with their own demons and buried family secrets.
After years on the run, Samuel and his teenage daughter, Loo, move to his late wife's hometown. As Loo grows curious about her mother's mysterious death, the truth about her death and Samuel's criminal past will come to haunt them both.
Follow Ruth Cole through three pivotal times of her life: her childhood on Long Island during the summer of 1958, the fall of 1990 as an unmarried woman with a successful literary career, and finally as a widow and mother about to fall in love for the first time in the fall of 1995. Adult Ruth must grapple with the fallout of being the daughter of womanizing children's book writer Ted Cole.
Have you read any books with complicated father-daughter relationships lately? Share them in the comments!