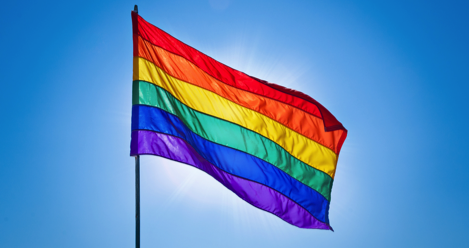 LGBTQ
4 Books About Bisexuality that Made Me Feel Seen
This content contains affiliate links. When you buy through these links, we may earn an affiliate commission.
Today is Bi Visibility Day. Last year, I didn't really know it was a thing. If I did, I didn't really apply it to myself or consider its value. This year is another beast entirely. Now I understand how important it is. See, the thing is, I recently came out as bisexual (Hi! I'm bi! See me!). It took me a long time to understand this about myself and to be able to articulate it. I've always felt attraction to more than one gender, but I didn't know what it meant. I didn't know that bisexuality was something I could claim. Sadly, internalized biphobia and bi erasure are very real. As the book nerd that I am though, I turned to books about bisexuality

If you're like me and didn't (maybe still don't) know that much about bisexuality, biphobia, or bi erasure, I welcome you and ask that you join me on the journey of understanding bisexuality. It isn't another "kind of gay." It's its own orientation. It's real, it's not a phase, it doesn't mean I'm confused, it doesn't mean I'm straight if I'm dating a man or a lesbian if I'm dating a woman. I'm bi. Bi people are just as varied as any other group, but we're real and we often go unseen. Here are four books about bisexuality helped me understand it and claim it for myself.
Here's the thing about Jen Wilde: She's utterly amazing and I will read anything that she writes. These two books were not only adorable and compulsively readable, but they also made a huge impact on me. I read both of these while I was struggling to come to terms with my own sexuality. Seeing these adorable stories with bisexual characters unapologetically doing their thing was awesome. These books made me feel seen in a way I didn't even know I needed. While Queens of Geek has solid queer representation, The Brightsiders is next level awesome about it. There's a female bisexual main character (huzzah!), but also a bisexual male secondary character, a genderqueer pansexual character, and tons of awesome gay and lesbian characters. These adorable, quirky young adult books felt like home to me at a really crucial moment!
Honeybee
by Trista Mateer
Honeybee is a beautiful collection of poetry by bisexual poet Trista Mateer. There are love, sex, and heartbreak poems about both genders, and there is poem specifically about bisexuality and biphobia. When I first read it made me sad, and now when I read it it makes me both a little sad but feel seen. This book was especially awesome for me because lately when I'm experiencing any sort of emotion, I turn to poetry. Like Audre Lorde said, "Poetry is the way we help give name to the nameless so it can be thought." Honeybee helped me on my way to articulate my feelings so they could be thought.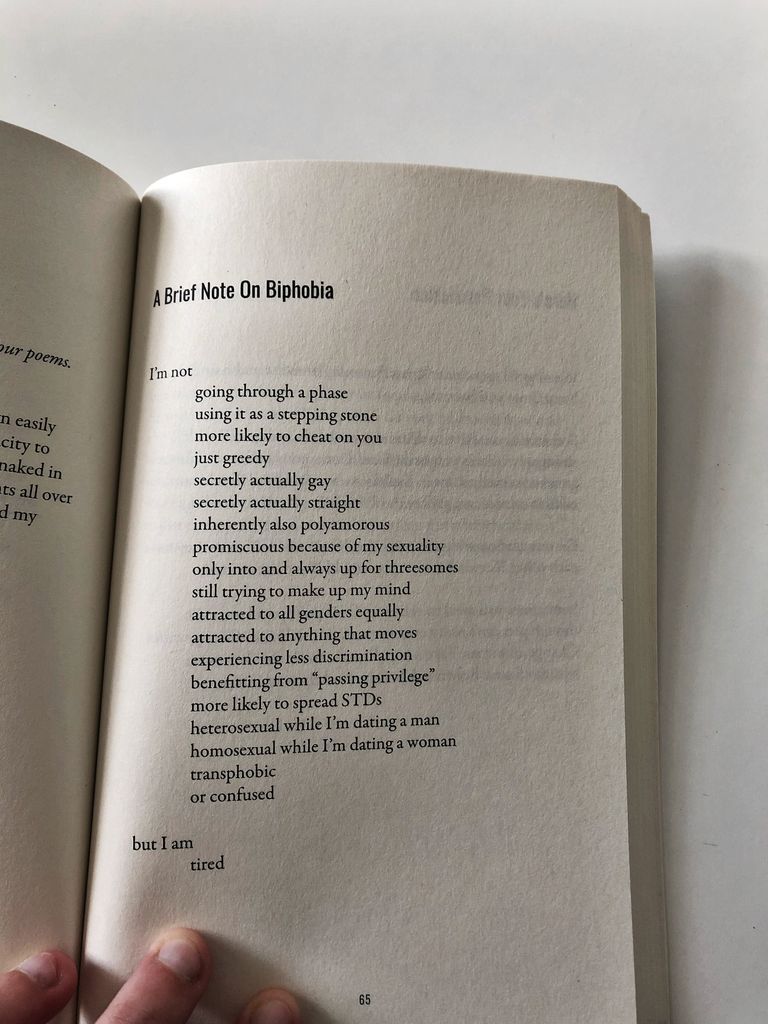 For this one, it's not just the book that helped me, but how I came across it. I saw a copy of this book at the new queer cafe that opened a couple months ago in my city. The cafe, Glitter Bean, held a "Big Gay Concert." Essentially, it was a coffee house with amazing queer talent from around the city. I went with a new queer friend I made earlier in the year. There was a pretty big turn out and lots of great performers. Something about being in this crowd with this friend listening to these performers made me feel so at home–in a way I didn't even know I was missing. After the show was over, I poked around the cafe looking at some of the neat things they have. One thing was a collection of books (I obviously gravitated toward this). There were tons of great looking ones, but I connected with this title by Shiri Eisner. A whole nonfiction book about bisexuality! I was so new to this I had never seen one before (and really, there's not exactly a plethora of readily available ones). I knew I had to get my own copy of this book. Bi is a little dense and more academic a read than I was expecting, but I kind of love that. It covers a ton of bisexual issues from a radical perspective and it was just what I needed.
Looking for more awesome posts and books about bisexuality? Check out these 2018 Bi YA titles, these Bisexual Romance Novels, and these 100 Most Read Bisexual Books.