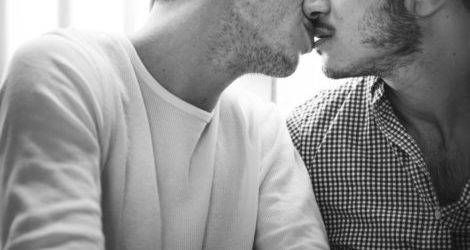 LGBTQ
Great Bisexual Representation in Romance
This content contains affiliate links. When you buy through these links, we may earn an affiliate commission.
Today is The Human Rights Campaign's National Coming Out Day, and to celebrate we are spending the day featuring LGBTQ+ voices. Enjoy all the posts here!
I'm very quiet about my bisexuality, mainly because I've struggled with whether or not I'm a "good" bisexual woman. Have I had enough experience with both genders to qualify? What happens if I'm not equally attracted to men and women? What sort of stats do I need here?! It's taken me a long time (and it's still going) to realize there's no wrong way to be bisexual. And when it comes to my identity, books tend to be a huge help in figuring out things about myself. Not just with my sexual orientation either.
What I find most frustrating about bisexual rep in romance though is the bi-erasure that tends to happen. A man liking women and men is just a phase until he meets the right man, and then swears off women entirely. A woman's interest in other women is often for the pleasure of the hero, usually in some sort of threesome/menage setting. And don't get me started on devil's threeway scenes (two men and a woman) where the two men do whatever they can to avoid brushing skin. It makes me uncomfortable to see a character's past sexual and romantic relationships written off because they've suddenly found "the one" and that "one" deems them heterosexual or gay. It just rankles me. I also find it difficult to find bisexual rep within heroines in romance. Maybe I'm wrong, but it seems more common with heroes in gay romances.
So rather than continually harp on books that get bisexual rep in romance wrong, I'd love to give some recommendations to readers who inhabit all manner of the bisexual spectrum.
A gay romance featuring a bisexual football player and his gay personal assistant.
Hassell writes some great gay romance, but I was exceptionally excited for Illegal Contact because I'm a sports romance fanatic. I think what I love most about this romance, aside from the opposites attract characterization, is that Gavin Brawley is struggling with his bisexuality. I'm sure it's a familiar insecurity for bisexual men that liking other men makes them gay, despite still having an attraction to women. Gavin's also a bit of a reckless, grumpy, bad boy, which is a reading weakness of mine. Noah serves as an amazing foil. He's comfortable with his sexuality and is in no mood to take any nonsense from Gavin. Seriously, give this one a read and you'll be a Hassell fan for life.
A lesbian romance with a modern marriage of convenience between a bisexual woman recovering from an eating disorder and a lesbian workaholic in need of a green card.
Smart, successful Pari Sadashiv is desperate to stay in the U.S., even if that means marrying a sweet stranger she met at a party. Rachel is drowning in student debt, so Pari makes her an offer: marry her so she can get a green card and she'll help Rachel out with her loans. Told from Rachel's point of view, it has a lot of introspective moments as Rachel attempts to figure out where she falls on the sexuality spectrum. Plus, there's the added complication of cultural differences with Rachel and Pari, and Rachel's ongoing battle with besting her eating disorder. It's equal parts adorable and emotional. My only complaint is that I desperately wished it were longer.
After the death of his husband, a bisexual man finds love again with a former actress.
Get ready to cry your eyes out. Michael Warner is a blue collar, electrician hero and a widower, which is a typical start to many a romance novel. But Michael is grieving the loss of his husband, who died in a horrific car accident, the same accident that left their daughter with permanent scars. Rebecca O'Neill is a former actress who survived a traumatic attack from a fan-turned-stalker. She's since given up her time in front of the camera and prefers to work behind it. When the power goes out in Rebecca's studio, Michael is on call to fix the outage. The dark provides Rebecca with enough confidence to talk to Michael and eventually bond with his daughter. I appreciated seeing Rebecca trying to make sense of Michael's attraction to men and women. Meanwhile, it made my heart swell to see Michael show (physically and verbally) that his attraction to a person isn't rooted in gender, but in a connection. Do expect an incredibly emotional read with this one as it's a romance all about healing.
All you really need to know is that the heroine kidnaps the head of motorcycle club and handcuffs him to a bed until he agrees to help her recuse her sister from a cult. Yeah.
What I love about the heroine, Joan, in this romance is that she's so unapologetic and her bisexuality isn't even a main source of the plot. She's just attracted to women and men and that's that. Her relationships with men and women are referenced as part of her past, and they also occur on the page. However, what I do love about Joan's bisexual rep in this book is that to me, it emphasizes how I see myself as a bisexual. I have more of a sexual attraction to women, but I'm more romantically attracted to men. Also, having Joan in a position of power and calling the shots in a physical and sexual sense, is such a great dose of girl power. I will warn that this is a rather gritty, violent romance with a heroine who's doesn't think she's worthy of love, which is a whole 'nother can of worms that makes my heart ache. But honestly, just read this for Joan.
What romances with great bisexual rep would you recommend?