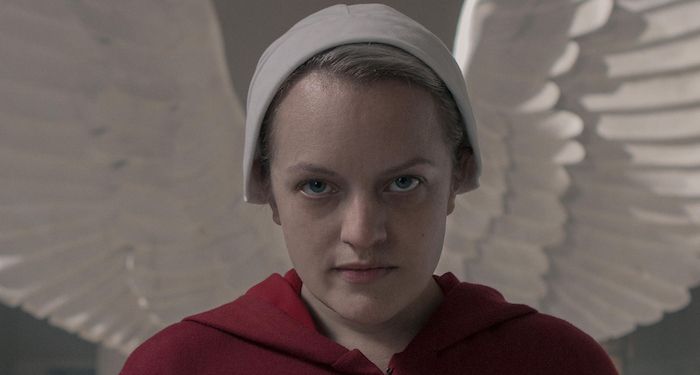 Essays
The Bookish Life of Elisabeth Moss
This content contains affiliate links. When you buy through these links, we may earn an affiliate commission.
My introduction to Elisabeth Moss was her run as the daughter of President Bartlett in The West Wing. She'd already been working for nearly a decade at that point, and has gone on to star in increasingly popular and award-winning shows and movies in the decades that have followed.
Though Moss is very tight-lipped about her life and has let few bookish facts out, the sheer number of bookish projects she's been involved in makes it hard to imagine that she's not a truly bookish person.
Today she's perhaps best known as June Osborne in the Hulu adaption of The Handmaid's Tale, but between these powerhouse roles, she's taken on a handful of other bookish roles and let slip a few bookish facts about her life.
First a New Yorker article titled "The Old Man and the Gun" and later a chapter in the book The Devil and Sherlock Holmes, both authored by David Grann, the movie The Old Man and the Gun was a hit and holds a 93% rating on Rotten Tomatoes. In addition to Moss as Dorothy, it starred Robert Redford, Casey Affleck, Danny Glover, and Sissy Spacek.
Of course, sometimes the book really is better than the movie. This was the case in 1997 when Moss played Linda in the movie adaption of Jane Smiley's Pulitzer-Prize winning novel A Thousand Acres. Despite the best efforts of Michelle Pfeiffer, Jessica Lange, and Jason Robards, it's stinking up Rotten Tomatoes at about 25%, despite near-unanimous positive reviews of the novel it was based on.
Though Moss's part in 1999's Anywhere but Here (based on the novel Anywhere but Here, which was a national bestseller when released) was minimal enough that it didn't warrant a mention on the Wiki page or Rotten Tomatoes, she did just squeak by and show up on the IMDb page. Based on the bomb that was this tear-heavy movie starring Natalie Portman and Susan Sarandon, my guess is that Moss is not losing any sleep over the snub — and I'm going to guess that the book was better, too.
Then we have the fantastic/terrible film that is Girl, Interrupted. Released in all its '90s glory, let me tell you, I paid to put my butt in the theater to see this gem many times. Moss plays Polly Clark (better known as Torch) who has schizophrenia. The book was a runaway success and the movie was somehow both largely paned and largely awarded. Moss's co-star Angelina Jolie won the Oscar and Golden Globes that year in the best supporting actress category while the movie holds just a 53% on Rotten Tomatoes, with one reviewer's take: "Watching a group of teenagers 'tongue their meds' (which does not mean doing something rude with a junior doctor) and sobbing out of windows is boring."
Which of Moss's many literary adaptions are the best? It seems that by the time a person got around to watching them all for a fair rating, another dozen would have sprung up. What is definite to me is that Moss puts everything she's got into the beloved books many of her movies and TV shows are based on.