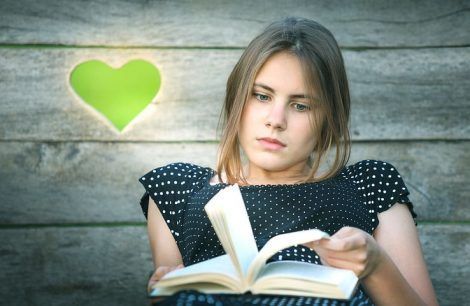 Lists
Our Celebrity Crushes and the Bookish Parts We Want Them To Play
This content contains affiliate links. When you buy through these links, we may earn an affiliate commission.
It's no secret to anyone who's googled me or spent more than 30 seconds with me that my favourite actor is Bradley Whitford. I'm probably not going to be able to bring myself to watch him play a horrible person in The Handmaid's Tale, though I'm delighted he's part of such an important and highly acclaimed drama. I can think of a million other things I'd like him cast in, but that's another post for another day. For now, I asked my Book Riot friends who their celebrity crush is, and what literary role they'd like to see them play.
I've had a crush on Rachel Weisz since I first saw The Mummy almost twenty years ago. I am not convinced the world needs another adaptation of The Haunting, but I am positive Weisz is the actress to play Nell. She would keep the character grounded and relatable and her breakdown (or is it a breakthrough?) would be gut-wrenchingly real to watch. (Bonus: as long as we're casting a little bit older, I'd like to request Cate Blanchett for Theo.)
I know "Mom" isn't a very sexy role, but I adored the mother in Vanderbeekers and would love to see the whole family onscreen. While the family is explicitly mixed race, it is barely implied what races those are. I read the mom, with straight black hair, as being Asian American like the author (though please note Glaser is Chinese American and Ngo is Vietnamese American). I fell in love with Ngo in the five minutes she has onscreen as Paige Tico in Star Wars: The Last Jedi, and I hope to see her a lot more in the future.
Paul Rudd is one of my many celebrity crushes. I've jokingly compared him to Dorian Gray because he looks virtually the same as he did 20 years ago. The 2009 movie Dorian Gray, starring Ben Barnes, was pretty good, but I think Rudd is a perfect choice for a new version. He has a likable, everyman quality that would bely Dorian's corrupt personality. The contrast between his agelessness and the portrait's decrepitude could be very dramatic.
Laurie from
Little Women
by Louisa May Alcott
I want the VERY hot Oscar Isaac to play Laurie, except this time Jo falls in love with him and Amy marries someone also great and also rich. I don't have much more to say except for no one, not even Josephine March (who is great but has terrible taste in men), is immune to Oscar Isaac.
Sheriff Calvin Cooper from
The Blinds
by Adam Sternbergh
Chris Evans was on my crush list pre-mustache. Mustache-Evans makes me think of a cop I'd like to never ever under any circumstances have to deal with. But it's Chris Evans, so he does an interview or tweets and even with the mustache his kindness comes through. Basically, I am conflicted but my eyes are now wide-open to the fact that Evans needs to star in a mystery. And I have the perfect, fantastic book that would be an excellent series on Netflix or HBO and I would love to see Evans (I vote beard-Evans!) as Sheriff Calvin Cooper.
Think a very small isolated town where all the residents were either criminals or witnessed violence, had that one memory erased from their brain, and now have to live here. And they aren't allowed to leave (or if they do, they lose all the protection afforded to them). And then there's a murder and a suicide, and the Sheriff of this town has to figure out what is going on. Somebody please get this novel adapted and get Evans's mustache on the phone because I want to see him play this type of gritty role! OR—yeah, I'm going to pull an or—Tom Welling. Look, my crush list is long and I'm not sorry. While I'm loving Welling as an LAPD Lieutenant on Lucifer, I want to see more of him. He really should be starring in a great series and he's already proven he's fantastic at pulling off a million expressions while standing quietly still, so he'll be an excellent Sheriff. Just picture him standing in the Texas heat trying to solve a mystery.
I first got my celebrity crush on Chiwetel Ejiofor when he played The Operative in Serenity. He was so cool and creepy in that role and I totally had a crush on the bad guy. I would LOVE to see him take that same coolness and redirect it to a good guy role with magic! In a quasi-Victorian England setting! Seeing Prunella get under his skin like she did in the book would be most excellent on screen. Yes, please!
I know there was just an adaptation of Northanger Abbey in 2008 starring the adorable JJ Feild, but we've seen like a billion versions of Pride and Prejudice, so why not more of Austen's other novels? Only this time, I want Dev Patel to play Mr. Tilney. I've enjoyed his acting ever since Skins, but my admiration for him developed into a full-blown crush when Lion came out (me and everyone else—he was highly crushable that year). I've long argued that Mr. Tilney is the Austen hero you'd most want to end up with in real life (he's funny in a sarcastic and wry way! And kind! And level-headed!). Dev Patel just seems like someone who could embody all that, plus do a great job of talking down Catherine from her Gothic-inspired flights of fancy. (P.S. Dev, please keep the beard for this role. Thanks in advance.)
Yousef from
American War
by Omar El Akkad
I tried to cast these characters when I was reading this book because the book itself was so cinematic: Yousef, in particular, though, got my attention. He's the opportunist, undercover genius of the Bouazizi Empire, and for him, I fell back on my man, silver fox Oded Fehr. (You know him as the heartthrob with the face tats from the 1999 Mummy movies.) I feel like it's a matter of time before someone adapts this dystopian novel…I would appreciate it if y'all considered my casting choice when you do it…Aside: also, if Ezra Miller doesn't get cast to play Richard Ramirez, I WILL break this window.
I walked away from Black Panther obsessed with Letitia Wright. She played Shuri with such intelligence and wit, and I've been dream casting her in my favorite books ever since. I would LOVE to see her as the lead in Tomi Adeyemi's Legacy of Orïsha trilogy, which has already been acquired by Fox 2000. I think she could bring warmth and nuance to a badass character. Letitia, if you're reading this, I love you! And Fox 2000, if you're reading this, get on it!
Tyranus Basilton "Baz" Pitch from
Carry On
by Rainbow Rowell
Daniel Radcliffe stole our hearts with Harry Potter. I had a massive crush on him when I was a kid, and to an extent I still do. It's Harry grown up, on Broadway singing and dancing! He could do so much more. Baz in the Simon Snow series is a homage to Draco Malfoy, only with a stronger moral code and sense of courage. It would be hilarious to see Radcliffe play the Malfoy to someone else's Harry, in this case Simon Snow. Could also mean that Tom Felton could play Simon.
Who's your celebrity crush, and what literary adaptation would you like to see them cast in?