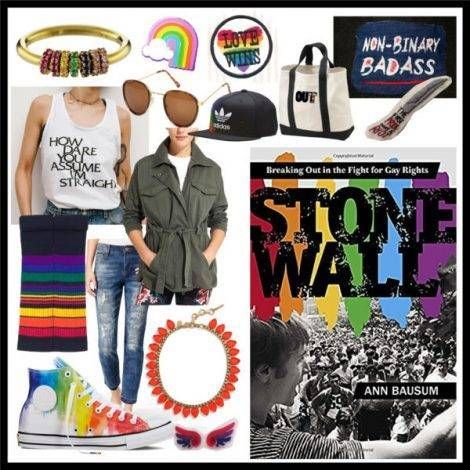 LGBTQ
Book Style: STONEWALL by Ann Bausum
This content contains affiliate links. When you buy through these links, we may earn an affiliate commission.
Today is The Human Rights Campaign's National Coming Out Day, and to celebrate we are spending the day featuring LGBTQ+ voices. Enjoy all the posts here!
---
If we're going to celebrate and encourage each other on National Coming Out Day, we need to remember the people, the acts, the moments that have allowed us this freedom to be ourselves. Publicly. Without apology. The incidents surrounding The Stonewall Inn in 1969 are one of the formative moments for the LGBTQ+ movement. Ann Bausum's Stonewall: Breaking Out in the Fight for Gay Rights is a great introduction to The Stonewall Riots if you're unfamiliar. Written to be accessible to middle and high schoolers, you won't feel bogged down by an overly-academic overview. While, of course, it would be hard to include everything and everyone involved, Bausum does a good job of giving comprehensive coverage to this pivotal moment in LGBTQ+ history.
For this Book Style I wanted something that would be perfect for Pride. I designed the outfit around myself, so I went with bisexual color choices on a few items, and chose slogans and pieces I would be comfortable wearing. For the outfit I had to go with my favorite "How Dare You Assume I'm Straight?" tee paired with distressed denim in "Equality" wash. This "Greenwich" jacket is a great neutral layering pieces that gives a nod towards The Stonewall Inn's home turf, Greenwich Village. Converse's Pride Chuck Taylors and Adidas' Pride snapback cap work well with this laid-back outfit. Retro-perfect knee-high, rainbow tube socks and an Out is In USA tote complete the main outfit.
Onto jewelry and accessories: A vibrant "Sylvia" necklace, for Sylvia Rivera, is first. Next we have a unique rainbow bands ring—I mean, how fun?! For the earrings I chose these LGBTQA Orientation earrings in the bisexual shades, but all orientation options are available. A pair of "Boyce" aviators, for Martin Boyce, round out your ensemble. I also picked out a few (use as many as you'd like!) pins and patches to embellish your hat, jacket, or tote with.
Thank you to the pioneers who participated in The Stonewall Riots. Thank you for all you brave humans who came before to make National Coming Out Day possible, and easier, for future generations.