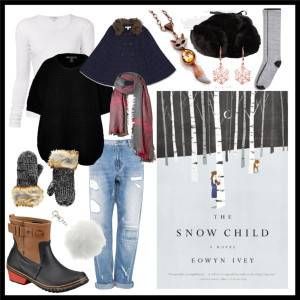 Fiction
Book Style: THE SNOW CHILD by Eowyn Ivey
Eowyn Ivey's soul-stirring debut The Snow Child is the epitome of a winter book for me. The stark Alaskan wilderness, the mystical Russian fairy tale as background noise, and the melancholic tone all lend a bittersweet starkness to the tale of an upper-middle aged couple – Mabel and Jack – barely scraping by on their Alaskan homestead, their marriage in stalemate, when the whimsical Faina drifts into their lives. This book has the ability to wound your soul in one of those oddly beautiful ways; a profound and content happiness even while sobbing your eyes out.
Maybe this is an outfit fit for a modern-day Faina, or maybe it's an outfit for a modern-day Mabel. (Or most likely, an outfit to curl up by the fire in as you read this emotionally evocative stunner.) Distressed Boyfriend jeans make sense for their practicality and for the shifting gender-role dynamics that Mabel and Jack struggle to address following their move to the untapped riches of the Alaskan territory from proper East Coast society. Cozy layers on top with a cuddly sweater layered over a crisp thermal tee pair well with a pair of "Alaska Knits" socks. To be snow angel ready, add in a pair of "Glow" snow boots – did you know "Faina" means "light"? – and we're just waiting on the outerwear. Fur trimmed mittens, a red scarf, and a warm Russian trapper hat go well with a quilted cape. Snowflake earrings, a quirky fox necklace (for Faina's familiar little friend) and a playful snowball key chain round out the look.
Now if you'll excuse me, I'm off to put on all the softest things I own, warm a cup of rum cocoa, and read this beauty through again.
____________________
Want more bookish goodness, but mixed in with pics of booze and also the occasional puppy? Follow us on Instagram!