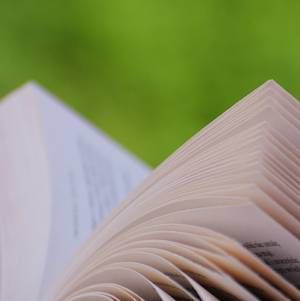 For some reason, whenever I hear that someone writes "great sentences," my ears always perk up. Which is funny because, if pressed I couldn't really tell you what exactly makes a great sentence. For me it's kind of like the Supreme Court and pornography: I know it when I see it.
Or at least I think I do.
Rather than trying to come up with a definition of a great sentence, I thought it'd be more productive to just showcase some. So I asked my fellow Book Riot contributors for some of their favorite sentences. Lucky for me, they were more than up to the challenge.
And as always, we want to hear from you too. So please enjoy and then let us know what some of your favorite sentences are in the comments section.
So, without further ado, I present to you (drumroll please)… Book Riot's Favorite Sentences:
Ali Colluccio
"So then: let it be a matter between women of consequence." – Nick Harkaway, Angelmaker
"When he walked outside again, the sky was shining like a nickel and the air was filled with the smell of sugared nuts." – Michael Chabon, The Amazing Adventures of Kavalier & Clay
"As he read, I fell in love the way you fall asleep: slowly, and then all at once." – John Green, The Fault in Our Stars
"This is my favorite book in all the world, though I have never read it." – William Goldman, The Princess Bride
Alison Peters
"Ships at a distance have every man's wish on board…That is the life of men. Now, women forget all those things they don't want to remember, and remember everything they don't want to forget. The dream is the truth. Then they act and do things accordingly." – Zora Neale Hurston, Their Eyes Were Watching God
"Isn't it pretty to think so?" – Ernest Hemingway, The Sun Also Rises
Amanda Nelson
"But the effect of her being on those around her was incalculably diffusive: for the growing good of the world is partly dependent on unhistoric acts; and that things are not so ill with you and me as they might have been is half owing to the number who lived faithfully a hidden life, and rest in unvisited tombs." – George Eliot, Middlemarch
"I was within and without, simultaneously enchanted and repelled by the inexhaustible variety of life." – F. Scott Fitzgerald, The Great Gatsby
"And it's the wonders I'm after, even if I have to bleed for them." – Catherynne M. Valente, The Girl Who Circumnavigated Fairyland In A Ship of Her Own Making
Aram Mrjoian
"A legion of horribles, hundreds in number, half naked or clad in costumes attic or biblical or wardrobed out of a fevered dream with the skins of animals and silk finery and pieces of uniform still tracked with the blood of prior owners, coats of slain dragoons, frogged and braided cavalry jackets, one in a stovepipe hat and one with an umbrella and one in white stockings and a bloodstained wedding veil and some in headgear or cranefeathers or rawhide helmets that bore the horns of bull or buffalo and one in a pigeontailed coat worn backwards and otherwise naked and one in the armor of a Spanish conquistador, the breastplate and pauldrons deeply dented with old blows of mace or sabre done in another country by men whose very bones were dust and many with their braids spliced up with the hair of other beasts until they trailed upon the ground and their horses' ears and tails worked with bits of brightly colored cloth and one whose horse's whole head was painted crimson red and all the horsemen's faces gaudy and grotesque with daubings like a company of mounted clowns, death hilarious, all howling in a barbarous tongue and riding down upon them like a horde from a hell more horrible yet than the brimstone land of Christian reckoning, screeching and yammering and clothed in smoke like those vaporous beings in regions beyond right knowing where the eye wanders and the lip jerks and drools." – Cormac McCarthy, Blood Meridian
"Life is to be lived, not controlled; and humanity is won by continuing to play in face of certain defeat." – Ralph Ellison, Invisible Man
"A room is a place where you hide from the wolves outside and that's all any room is." – Jean Rhys, Good Morning, Midnight
Cassandra Neace
"She woke, and she was herself." – Hillary Jordan, When She Woke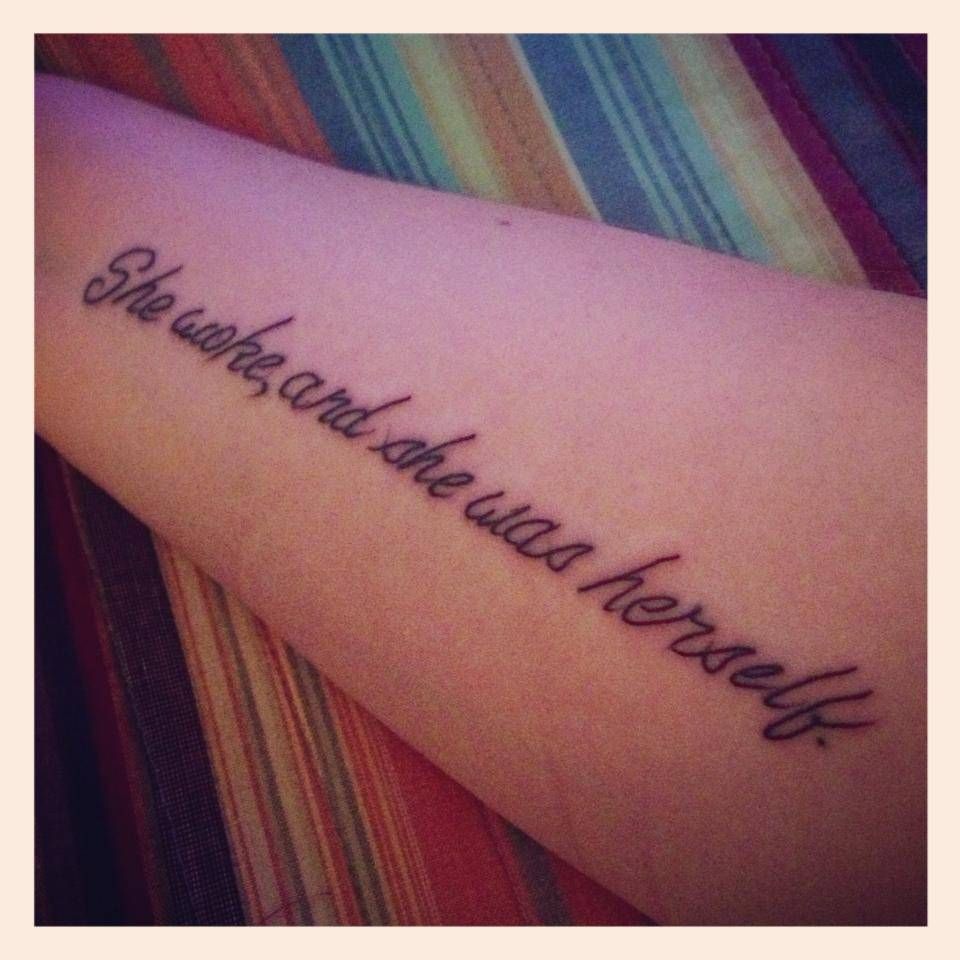 Clinton Kabler
"Then in the Arctic half-light of the canyon, all existence fades to a being with my soul and memories and to the sounds of the Big Blackfoot River and a four-count rhythm and the hope that a fish will rise." – Norman Maclean, A River Runs Through It and Other Stories
"You're not necessarily supposed to believe it…You're just supposed to believe in it." – Daniel Wallace, Big Fish
David Abrams (You should check out David's Sunday Sentence, which highlights other standouts.)
"Francis Marion Tarwater's uncle had been dead for only half a day when the boy got too drunk to finish digging his grave and a Negro named Buford Munson, who had come to get a jug filled, had to finish it and drag the body from the breakfast table where it was still sitting and bury it in a decent and Christian way, with the sign of its Savior at the head of the grave and enough dirt on top to keep the dogs from digging it up." – Flannery O'Connor, The Violent Bear It Away
"It's a crappy coincidence that on the day James asks for my hand in marriage, there is a masturbator loose in the library." – Amanda Eyre Ward, "Butte as in Beautiful" from Love Stories in This Town
Edd McCracken
"After a while I went out and left the hospital and walked back to the hotel in the rain." – Ernest Hemingway, A Farewell to Arms
Elizabeth Bastos
"By the side of the river he trotted as one trots, when very small, by the side of a man who holds one spellbound by exciting stories: and when tired at last, he sat on the bank, while the river still chattered on to him, a babbling procession of the best stories in the world, sent from the heart of the earth to be told at last to the insatiable sea." – Kenneth Grahame, The Wind In the Willows
"Mr Duffy lived a short distance from his body." – James Joyce, Dubliners
"It was inevitable: the scent of bitter almonds always reminded him of the fate of unrequited love." – Gabriel Garcia Marquez, Love In The Time of Cholera
Emily Gatlin
"My mother is a fish." – William Faulkner, As I Lay Dying
"Daddy gave me real useful information to protect me in the real world. If anyone hits me, I'm not to hit them back. I wait until their back is turned, then hit them in the head with a brick." – Fannie Flagg, Daisy Fay and the Miracle Man
"Until I feared I would lose it, I never loved to read. One does not love breathing." – Harper Lee, To Kill a Mockingbird
Eric Smith
"The plain state of being human is dramatic enough for anyone; you don't need to be a heroin addict or a performance poet to experience extremity. You just have to love someone." – Nick Hornby, How to be Good
"Just listen. You hear that? That's market bacon hitting the pan. Today a child is born unto us, and his name will be bacon." Bryan Lee O'Malley, Scott Pilgrim and the Infinite Sadness
Greg Zimmerman (who has previously written about what makes a beautiful sentence)
"I am seated in an office, surrounded by heads and bodies." – David Foster Wallace, Infinite Jest
"The secret to living in the rush of the world with a minimum of pain is to get as many people as possible to string along with your delusions." – Philip Roth, The Human Stain
Jeanette Solomon
"I saw myself sitting in the crotch of this fig tree, starving to death, just because I couldn't make up my mind which of the figs I would choose." – Sylvia Plath, The Bell Jar
"The sad truth is the truth is sad." – Lemony Snicket, The Hostile Hospital
"Are there any questions?" – Margaret Atwood, The Handmaid's Tale
Jennifer Paull
"If we had a keen vision and feeling of all ordinary human life, it would be like hearing the grass grow and the squirrel's heart beat, and we should die of that roar which lies on the other side of silence." – George Eliot, Middlemarch
"A well-waxed paper door slides open." – David Mitchell, The Thousand Autumns of Jacob de Zoet (you kind of had to be there)
Jeremy Anderberg
"And therefore three cheers for Nantucket; and come a stove boat and stove body when they will, for stave my soul, Jove himself cannot." – Herman Melville, Moby-Dick
"Nothing is more painful to the human mind than the dead calmness of inaction." – Mary Shelley, Frankenstein
Jill Guccini
"Many years later, as he faced the firing squad, Colonel Aureliano Buendía was to remember that distant afternoon when his father took him to discover ice." – Gabriel García Márquez, One Hundred Years of Solitude
"Naw, Jem, I think there's just one kind of folks. Folks." – Harper Lee, To Kill a Mockingbird
Jodi Chromey
"Love demands expression. It will not stay still, stay silent, be good, be modest, be seen and not heard, no. It will break out in tongues of praise, the high note that smashes the glass and spills the liquid." – Jeanette Winterson, Written on the Body
"No one has asked me a question yet, but I will not shut up." – Elizabeth McCracken, The Giant's House
"My ambition was to live like music." – Mary Gaitskill, Veronica
Johann Thorsson
"And then I'm going to lead Philip up to the bed by the hand, finding the candles by heat, and blowing them out one by one, as we, one day, will be vanquished with a last puff and then nothing at all – nothing but the fragrance of our lives in the world, as on a hand that once held flowers." – Simon Van Booy, The Illusion of Separateness
"In the sombre beauty of her face that smile was like the first ray of light on a stormy daybreak that darts evanescent and pale through the gloomy clouds; the forerunner of sunrise and thunder." – Joseph Conrad, An Outcast of the Islands
Josh Corman
"He knew only that his child was his warrant. He said: If he is not the word of God God never spoke." – Cormac McCarthy, The Road
"Theologians talk about a prevenient grace that precedes grace itself and allows us to accept it. I think there must also be a prevenient courage that allows us to be brave – that is, to acknowledge that there is more beauty than our eyes can bear, that precious things have been put into our hands and to do nothing to honor them is to do great harm." – Marilynne Robinson, Gilead
"Let us step out into the night and pursue that flighty temptress, adventure." – J.K. Rowling, Harry Potter and the Half-Blood Prince
Josh Hanagarne
"But they put me in mind of trees in November." – Richard Adams, Watership Down
"Towards thee I roll, thou all-destroying but unconquering whale; to the last I grapple with thee; from hell's heart I stab at thee; for hate's sake I spit my last breath at thee. Sink all coffins and all hearses to one common pool! and since neither can be mine, let me then tow to pieces, while still chasing thee, though tied to thee, thou damned whale! Thus, I give up the spear!" – Herman Melville, Moby Dick
"You can find meanness in the least of creatures, but when God made man the devil was at his elbow." – Cormac McCarthy, Blood Meridian
Kelly Jensen
"Being made of liquid and bone, rather than cloth and steel, might make you more breakable, but being breakable, he decided, was a thrilling thing." – Daniel Kraus, Scowler
"In reality I was a pencil drawing of a photocopy of a Polaroid of my sister- you could see the resemblance in a certain light if you were seeking it out because I told you first, if you were being nice." – Nova Ren Suma, Imaginary Girls
Kim Ukura
"The prospect of his future life stretched before him like a sentence; not a prison sentence, but a long-winded sentence with a lot of unnecessary subordinate clauses, as he was soon in the habit of quipping during Happy Hour pickup time at the local campus bars and pubs. He couldn't say he was looking forward to it, this rest-of-his-life." – Margaret Atwood, Oryx and Crake
Liberty Hardy
"What a punishing business it is simply being alive." – Sarah Waters, The Little Stranger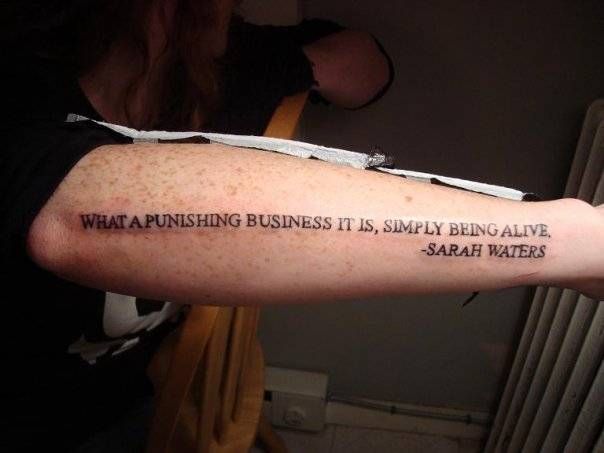 "No doubt all of this is not true remembrance but the ruinous work of nostalgia, which obliterates the past, and no doubt, as usual, I have exaggerated everything." – Michael Chabon, The Mysteries of Pittsburgh
"It does not matter. I have books, new books, and I can bear anything as long as there are books." – Jo Walton, Among Others
"Books remember all the things you cannot contain." – Elizabeth McCracken, The Giant's House
Martin Cahill
"It was the patient, cut-flower sound of a man who is waiting to die." – Patrick Rothfuss, The Name of the Wind
"There are three things all wise men fear: the sea in storm, a night with no moon, and the anger of a gentle man." – Patrick Rothfuss, The Wise Man's Fear
"Strength does not make one capable of rule; it makes one capable of service." – Brandon Sanderson, The Way of Kings
"When a poet speaks of truth to another poet, what hope has truth?" -Steven Erikson, Forge of Darkness
Minh Le
"And who shall say–whatever disenchantment follows–that we ever forget magic; or that we can ever betray, on this leaden earth, the apple-tree, the singing, and the gold?" – Thomas Wolfe, Look Homeward, Angel
"In a hallway I saw a sign with an arrow pointing the way, and I was struck by the thought that that inoffensive symbol had once been a thing of iron, an inexorable, mortal projectile that had penetrated the flesh of men and lions and clouded the sun of Thermopylae and bequeathed to Harald Sigurdson, for all time, six feet of English earth." – Jorge Luis Borges, "Mutations" from Dreamtigers
"Sam said her mother was a mermaid, when everyone knew she was dead." – Evaline Ness, Sam, Bangs & Moonshine
Peter Damien
"Within, walls continued upright, bricks met neatly, floors were firm, and doors were sensibly shut; silence lay steadily against the wood and stone of Hill House, and whatever walked there, walked alone." – Shirley Jackson, The Haunting of Hill House
"Would you be in any way offended if I said that you seem to me to be in every way the visible personification of absolute perfection?" – Oscar Wilde, The Importance of Being Earnest
"The one place Gods inarguably exist is in our minds where they are real beyond refute, in all their grandeur and monstrosity." – Alan Moore, From Hell
"Books don't offer real escape, but they can stop a mind scratching itself raw." – David Mitchell, Cloud Atlas
Preeti Chhibber
"He is at ease, his body sculpted to the music, his shoulder searching the other shoulder, his right toe knowing the left knee, the height, the depth, the form, the control, the twist of his wrist, the bend of his elbow, the tilt of his neck, notes digging into his arteries, and he is in the air now, forcing the legs up beyond muscular memory, one last press of the thighs, an elongation, a loosening of human contour, he goes higher, and is skyheld." – Colum McCann, Dancer
"The Angel has confided in me that he is going to ask the Lord if he can become Spider-Man." – Christopher Moore, Lamb: the Gospel According to Christ's Childhood Pal, Biff
"I smoked and looked down at the bottom of Pittsburgh for a little while, watching the kids playing tiny baseball, the distant figures of dogs snatching at a little passing car, a miniature housewife on her back porch shaking out a snippet of red rug, and I made a sudden, frightened vow never to become that small, and to devote myself to getting bigger and bigger and bigger." – Michael Chabon, The Mysteries of Pittsburgh
"You don't have to stay anywhere forever." – Neil Gaiman, The Kindly Ones (The Sandman, Vol. 9)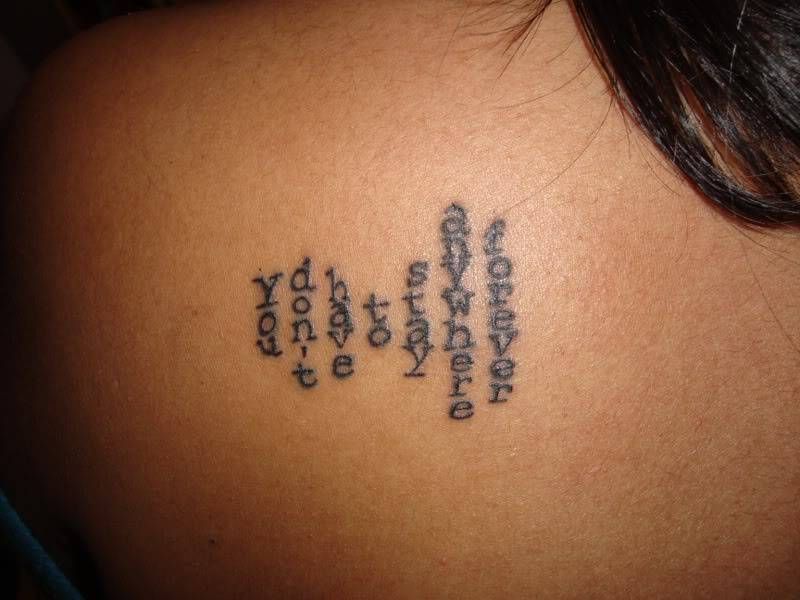 "I am an unstoppable train wreck to their lives." – Andrew Smith, Grasshopper Jungle
Rachel Cordasco
"No one would have believed in the last years of the nineteenth century that this world was being watched keenly and closely by intelligences greater than man's and yet as mortal as his own; that as men busied themselves about their various concerns they were scrutinised and studied, perhaps almost as narrowly as a man with a microscope might scrutinise the transient creatures that swarm and multiply in a drop of water." – H. G. Wells, The War of the Worlds
"It is to the man who rules over minds by the power of truth, not to those who enslave men by violence, it is to the man who understands the universe and not to those who disfigure it, that we owe our respect." – Voltaire, Letters on England
Rachel Smalter Hall
"People do not give it credence that a fourteen-year-old girl could leave home and go off in the wintertime to avenge her father's blood but it did not seem so strange then, although I will say it did not happen every day." – Charles Portis, True Grit
"Because, here's the truth: life is a catastrophe." – Donna Tartt, The Goldfinch
Rebecca Joines Schinsky
"Love is holy because it is like grace–the worthiness of its object is never really what matters." – Marilynne Robinson, Gilead
"How exquisitely human was the wish for permanent happiness, and how thin human imagination became trying to achieve it." – Toni Morrison, Paradise
"Stuff your eyes with wonder. Live as if you'd drop dead in ten seconds. See the world. It's more fantastic than any dream made or paid for in factories. Ask no guarantees, ask for no security, there never was such an animal." – Ray Bradbury, Fahrenheit 451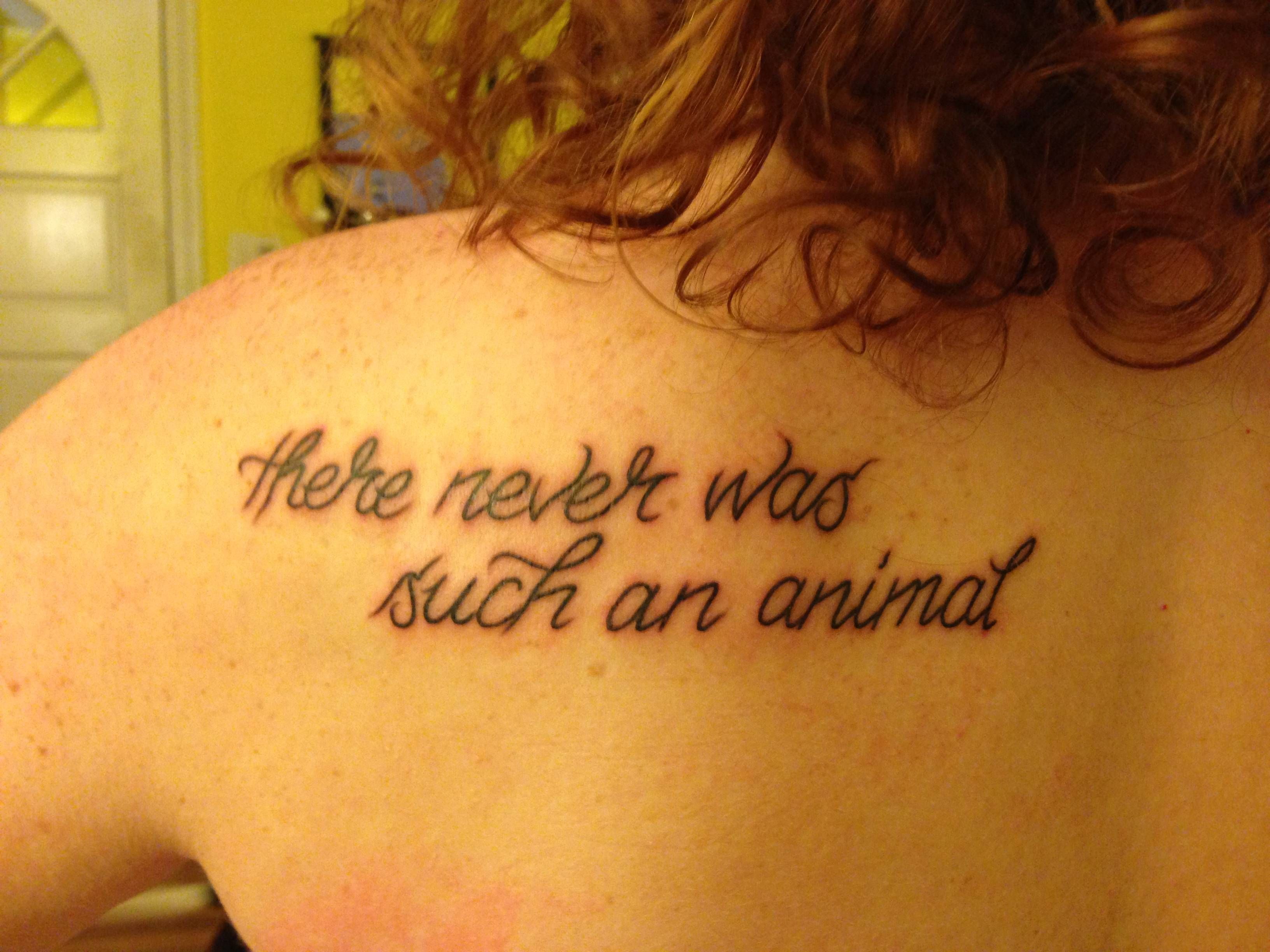 Rita Meade
"From that moment on, the world was hers for the reading. She would never be lonely again." – Betty Smith, A Tree Grows in Brooklyn
Swapna Krishna
"Honesty is not the best policy in life. Only, perhaps, in art." – Salman Rushdie, The Ground Beneath Her Feet
"I fear I am beyond your comprehension." – JRR Tolkien, Lord of the Rings: The Two Towers
Tasha Brandstatter
"He was born with a gift of laughter and a sense that the world was mad." – Rafael Sabatini, Scaramouche
"I'm not sure there's any good sense in imposing questions of ethics upon a profession which has muddled along for centuries without any." – Lawrence Block, Telling Lies for Fun and Profit
"Never trust anyone who has not brought a book with them." – Lemony Snicket, Horseradish
"Finally, from so little sleeping and so much reading, his brain dried up and he went completely out of his mind." – Miguel de Cervantes Saavedra, Don Quixote
"I solemnly swear that I am up to no good." – JK Rowling, Harry Potter and the Prisoner of Azkaban
"You must allow me to tell you how ardently I admire and love you." – Jane Austen, Pride & Prejudice
____________________
We run a pretty sweet little bookish Instagram account, if we do say so ourselves (and we do). Come check it out.