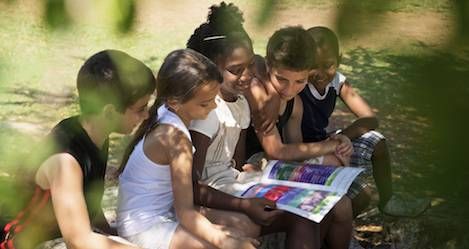 Children's
20 Ideas for Starting a Book Club for Kids
A book club for kids is one of the best ways to combine learning and fun. Many readers are adults here at Book Riot, but when we were kids, I bet we loved book clubs – I know I did! Whether they were through school, the local library, or a bookstore, it was great when someone organized a group of children together who all had the special gleam in their eye when books were the topic of discussion.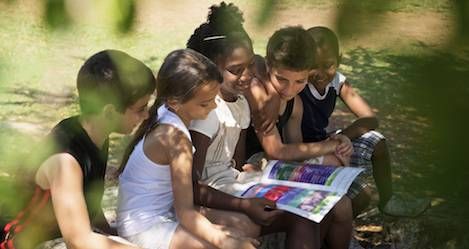 There are options now for kids to participate in entirely online book subscriptions, which are great, but there is something uniquely nice about mixing the fun of a play date with reading a new book. Kids who might otherwise want to read all day or play all day get a mix of both, and get to know each other as a result.
If your kid (or niece, nephew, godchild, etc.) would love such a club but doesn't quite know where to start, make sure they know they can make their own, with or without a book-related organization, and the internet is here with many amazing ideas for getting your book club for kids started!
1. Find great people to join your Book club For Kids
Even if you start with a core of 3 or 4 readers, the club will need avid child readers who will want to continue even if others are more sporadic with their other commitments and the school year's seasons of intense busyness. It's good to see if right after school or later in the evening is better for everyone's schedule as well.
2. Decide on a theme of some kind
A great entry point would be making a comic book club for kids, or maybe your child is really into fantasy literature and want to combine a love for drawing with reading books about fantasy creatures and lands.
Some kids even love using a book club as a way to explore a topic that they can't get into in-depth at school – we've all had our dinosaur phase, or been knee-deep in astronomy for a year or two.
3. Select great books for the first few meetings
With your kids' input and posts from Book Riot, you can select anything from childrens' books for the resistance to books for the in-between years when middle grades and YA are both not quite right. Searching our site for Children's Books will yield even more options, all read and discussed in-depth by Book Riot writers.
4. Figure out how best to meet
These days, your book club for kids aren't limited to face to face meetings! If your kid met a great new friend at summer camp, encourage them to read books and Skype about them, or send letters through the mail or social media about what they thought of the books.
While the rest of these ideas are mostly for in-person play date/book club meetings, you shouldn't be limited by distance if you know of kids who would really love to create a virtual place to read, make crafts, discuss, and share excitement about reading.
5. Consider speed
How fast does your child read? Consult with the other core members: how often is reasonable? There are a lot of monthly book clubs for kids, which is a nice mix of giving them some anticipation, some time to get the book read between homework assignments, and doesn't overburden parents with the need to organize the club all the time.
6. Make your book club for kids special
If you choose an in-person meeting place, make it special and not just another play date. Pinterest and Etsy are great sources for beautiful and crafty inspiration on the book-themed décor of your choice.
7. Take turns hosting
This makes it a more an economical option, and delegating duties to different club members will make them feel like essential parts. If someone brings notepads for jotting things down, or someone else brings a signature item like a gavel to "bring the meeting to order," it'll make each meeting feel like it's part of a continuous book club for kids.
8. Seriously, awesome
Extra points if you can meet in a treehouse or jungle gym.
9. Get the right snacks for your book club for kids
A great book club space is nothing without great book club snacks. When I created a book club in high school, I'm pretty sure that half the people in it chose to participate because there were snacks.
Again, Pinterest can be your guide: my favorite is definitely the gummy worms that are billed as "Book Worms!"
10. Go to online book clubs
While kids have talked about books in school, don't be afraid to seek out online reading guides for a childrens' book club. While they may fight structure a little, if you just provide the questions for them and let them choose what to talk about, they may turn to the questions to get their minds racing. Check out this collection of discussion helpers!
11. Consider reading level
Make sure that the kids in your club are at a similar reading level. While adult book clubs can often get away with assuming their many members will all be able to get a lot out of a book, having radically younger members of a book club with kids who are older is likely to cause friction and maybe hurt feelings. If there are multiple ages of kids, consider an older book and a younger book each time, so that the kids can focus on the book they find most satisfying.
12. Don't make it an adult book club
Just because adult book clubs tend to focus on a long discussion of the book doesn't mean you have to when creating a book club for kids.
Consider adding a book-themed craft, like making cool book covers for your books. Craft time actually ends up being great time for discussion as glue is drying or paper is being cut. Looking at their crafts displayed in their bedrooms can also remind children of how much fun book club is and how much they want to go to the next meeting.
Check out this Magical Treehouse craft when reading the Magic Treehouse books!
13. Mix in plays, movies, and more
Another way to extend the fun is to turn book club into a lead-in for going to see the play version of a book, or a viewing of the movie version. Learning early about how to compare film, theater, and books is great for kids and feels like fun even when they are thinking critically. Don't forget to pop some popcorn and make an evening out of it!
14. Add games
If you want to make the meeting more interactive and engaging for high energy kids, consider adding a game! Having a game in the experience will make the lessons of the book stay with the student for longer and keep everyone from wandering off. Games like Roll and Retell, linked below, can combine discussion with an action of rolling dice.
15. Figure out if you're reading aloud or alone
Younger children may want to have the book read to them, rather than reading alone – there are few ways to make reading come alive for kids better than reading aloud, and if they make a friend while experiencing that joy, even better!
Even for children as developed as 3rd graders, consider starting with these books, guaranteed to keep their attention through different characters and exciting action.
16. Bring in activities
Activities like worksheets and coloring pages can also start the discussion if kids aren't quite sure what to talk about when they first get to a book club session. Kids are often very familiar with workbook-like pages, and if you look up whatever book you are reading, you are likely to find printable pages that allow them to think through the book they have read and chat about it amongst themselves as they work on the pages.
17. Make it easy to choose
When deciding about the books that children will read in the future, it might be helpful to provide a resource or a list of choices with summaries; while some older children will already have their own ideas, younger elementary school children will benefit from a narrowing of their choices to, perhaps, four options that they can later use if different children express different interests.
18. Get Parents involved in your book club for kids
While you're deciding for the kids, consider whether some of the parents who are involved might want to read a book together that they can discuss while in the kitchen or in between checking on the kids' fun. Sometimes, just what parents of book club readers need is their own book to chat about while getting to know the parents of their child's friends.
19. Hand out fun takeaways
When children leave the book club, they can leave with small favors, like these cool printable bookmarks that say "stay curious" – a reminder that they are part of the club! It's nice to remind kids why they are doing their reading at home, so that they will be prepared for the book club meeting that is coming up next.
20. Send reminders with parents
Remember to send the parents home with their own little reminder, either about where the club will be next month or how to get in touch to make the planning happen. It doesn't have to be all the responsibility of one parent, especially if you get that core group of young readers together – a book club for kids can be a good time for parents to connect too, as they share the responsibilities and get their children involved.
What other tips do you have for starting a book club for kids?