Children's
The InbeTWEENers: 25 Great Books for Kids Between Middle Grade and Young Adult
This content contains affiliate links. When you buy through these links, we may earn an affiliate commission.
For many of us, the pre-teen and early teen years were a particularly awkward phase that we look back on and cringe (I'm thinking of 11 to 13 years old, roughly 5th-8th grade in school). Past the cute stages of early childhood and not quite big enough to be a full fledged teen or young adult, kids in their middle years face a very particular set of challenges and experiences: Friendships change and die, interests and hobbies wax and wane, and bodies, well, bodies start changing.
As a youth services librarian, I am constantly talking with parents about the best books for this particular phase of a kid's life. The child in question often doesn't want to browse the "kids" section anymore, but the child's grown up doesn't want them going (in my library's case), upstairs to the young adult area, where the sex and the violence are aplenty. While I am personally all for kids reading whatever they want, I also understand a parent's desire to lead kids to books that mirror their particular experience. Finding these books can be a challenge, since the majority of kid sections both in libraries and in bookstores are divided into Middle Grade and Young Adult. Middle grade, as the fine print on most of the books will tell you, is geared at 8 to 12 year olds. Young adult is 14 and up. Kids in the middle of these ranges tend to vacillate back and forth between the two genres as they see fit, a method that generally works, but could be made more efficient with the help of a friendly librarian or bookseller.
Having recently taken over a middle school book club, I have become particularly obsessed with finding great books for middle schoolers. I look for books with protagonists between 12-14, who may or may not be on the verge of a more independent phase of their lives, possibility starting to consider their peers with romantic interest, and who basically experience a mini coming of age. Here are 25 books that I consider perfect for middle schoolers.
Wednesday Wars by Gary D. Schmidt
Seventh Grader Holling Hoodhood is forced to spend an entire period of his school day, every Wednesday, alone with his teacher, Mrs. Baker. The rest of his class goes to religious instruction, but Holling, as the only Presbyterian student, must stay behind. Mortified and convinced that his teacher hates him for ruining her free period, Holling settles in for a bad time. But over the course of that school year 1967-1968, Holling learns way more than he ever expects to about the lives of grownups, about the changing world around him, and about friendship. Funny and moving, this book sticks with you. Be sure to read the equally excellent Okay for Now, which follows another character from The Wednesday Wars.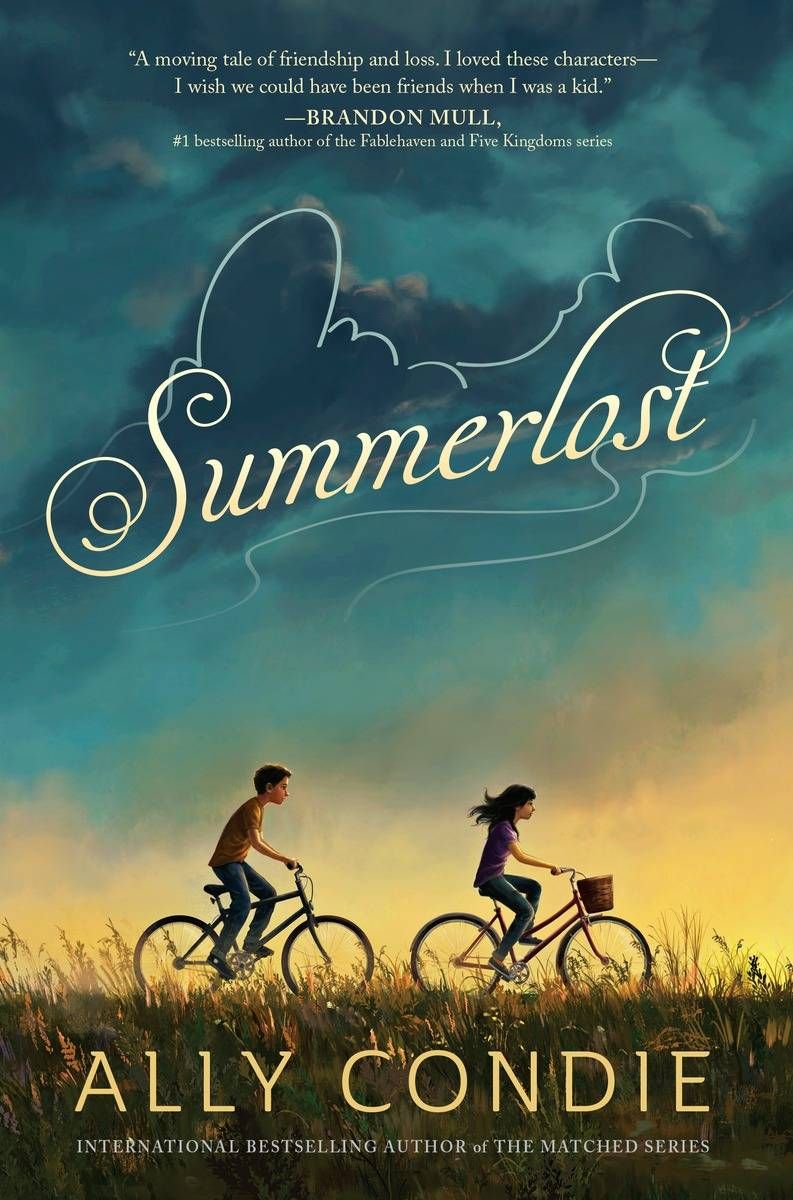 Summerlost by Ally Condie
12-year old Cedar Lee is still reeling from the accident that killed her father and her little brother Ben. Her mother decides to move her and her other little brother, 8 year old Miles, back to her hometown for the summer, where she buys an old house and throws herself into fixing it up. Left to explore the town by herself, Cedar befriends a strangely dressed boy whom she soon learns works at the town's renowned Shakespeare festival, called Summerlost. The two share an understated bond as outsiders and soon become embroiled in minor mysteries and dramas that all serve to highlight Cedar's delicate journey toward moving on and processing her family's new reality. A lovely, affecting story that really captures the sweet spot between childhood and adolescence.
Gone Crazy in Alabama by Rita Williams-Garcia
"Delphine, Vonetta, and Fern are off to Alabama to visit their grandmother Big Ma and her mother, Ma Charles. Across the way lives Ma Charles's half sister, Miss Trotter. The two half sisters haven't spoken in years. As Delphine hears about her family history, she uncovers the surprising truth that's been keeping the sisters apart. But when tragedy strikes, Delphine discovers that the bonds of family run deeper than she ever knew possible."
Schooled by Gordon Korman
Capricorn Anderson grew up on a commune outside of town, where he has been homeschooled by his grandmother for his whole life. When Cap's grandmother gets injured and must spend time in the hospital, Cap is forced to attend a regular middle school for the first time. Optimistic and good natured even in the face of middle school politics and cruelty, Cap still manages to make a positive impact on everyone he meets. An uplifting and hilarious tale that takes on a new significance in our current national turmoil.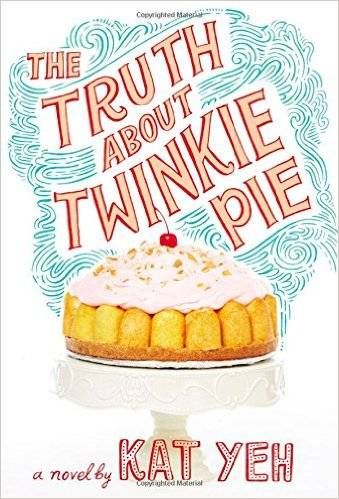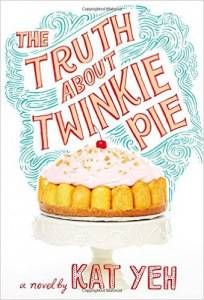 The Truth About Twinkie Pie by Kat Yeh
Two sisters move from their trailer park in South Carolina to the North Shore of Long Island in search of a better life. Big Sister Didi is a junior high drop out turned hair stylist who has recently won a national cooking contest. Twelve-year old Gigi must get used to a new school and new friends. Toss in some family secrets and first crushes and you have the recipe for a sweet, original story narrated by an authentic-sounding middle schooler. I was especially drawn to the emotional depth of the characters in this novel, and how deeply the author obviously respects the middle school, adolescent experience. Plus, there are tons of genuinely great recipes sprinkled throughout.
First Light by Rebecca Stead
Twelve-year old Peter lives in New York City with his biologist mother and his glaciologist father. When an opportunity arises to study in Greenland, the whole family packs up to spend a few exciting months in the arctic. Fourteen-year old Thea has never seen the sun. Escaping from accusations of witchcraft, her people escaped and set up a civilization inside a glacier, existing in secret for generations. Thea is determined to find a way to the Earth's surface. Peter is happily exploring his new environment. Slowly but surely, the two narratives move toward each other in a stunning climax. This is one of the most original and genuinely fun stories I've read in a long time.
Goodbye Stranger by Rebecca Stead
"Long ago, best friends Bridge, Emily, and Tab made a pact: no fighting. But it's the start of seventh grade, and everything is changing. Emily's new curves are attracting attention, and Tab is suddenly a member of the Human Rights Club. And then there's Bridge. She's started wearing cat ears and is the only one who's still tempted to draw funny cartoons on her homework. It's also the beginning of seventh grade for Sherm Russo. He wonders: what does it mean to fall for a girl—as a friend? By the time Valentine's Day approaches, the girls have begun to question the bonds—and the limits—of friendship. Can they grow up without growing apart?"
A Night Divided by Jennifer Nielson
Twelve-year old Gerta's lives in post war Berlin and finds her life turned upside down when the Berlin Wall goes up overnight. She, her mother and her brother Fritz live on the communist Eastern side and have been separated from their father and her other brother who had been searching for work on the West side and were unable to get back after the Wall. Life in the Eastern side is grim and terrifying, with soldiers watching over their every move and paranoia ruling everyday life. One day, Gerta spots her father on a viewing platform on the other side of the Wall doing a strange pantomiming movement. She soon realizes that he wants her to tunnel under the wall to the Western side. What follows is a tense, exciting thriller steeped in history.
The Crossover by Kwame Alexander
"'With a bolt of lightning on my kicks . . .The court is SIZZLING. My sweat is DRIZZLING. Stop all that quivering. Cuz tonight I'm delivering," announces 12-year old Josh Bell. He and his twin brother Jordan are awesome on the court. But Josh has more than basketball in his blood, he's got mad beats, too, that tell his family's story in verse, in this fast and furious middle grade novel of family and brotherhood from Kwame Alexander. Josh and Jordan must come to grips with growing up on and off the court to realize breaking the rules comes at a terrible price, as their story's heart-stopping climax proves a game-changer for the entire family."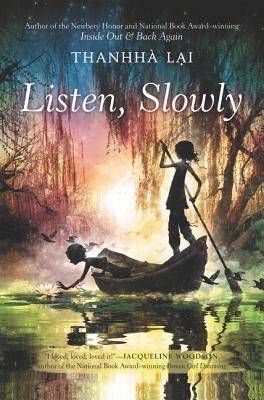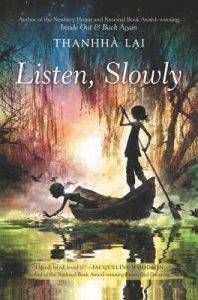 Listen, Slowly by Thanhha Lai
Born and raised in California, 12- year old Mai can't wait to spend the summer on the beach with her friends. When her parents tell her she will be spending the summer in Vietnam with their grandmother, she is beyond bummed. Her grandmother fled the country after the war and was never able to reunite with her husband, Mai's grandfather. She is determined to find out what happened to him and embarks on a search for answers. Grumpy Mai accompanies her and finds herself slowly warming to Vietnam. This book packs an emotional punch and makes for a very satisfying read. It is particularly wonderful on audio.
Revolution by Deborah Wiles
Twelve-year old Sunny lives in Greenwood, Mississippi in the summer of 1964, what came to be known as the Freedom Summer. As volunteers from the north move into the town to help register voters and establish schools, violence and tensions heat up. Meanwhile, Sunny struggles to accept her new stepmother and siblings, and chooses to spend most of her time roaming the streets. In a parallel narrative, we meet Raymond, an African American boy who is impatient for the pool, movie theater and baseball fields to be integrated. Sunny and Raymond cross paths again and again as the situation in their town gets worse. Deborah Wiles is a master at combining personal stories with historical detail. Excerpts from newspapers and advertisements from 1964 are sprinkled throughout, adding authenticity and realism to this emotional, important story. Also amazing on audio.
Some Kind of Courage by Dan Gemeinhart
Joseph Johnson has lost everything in his life that his dear to him: his parents, his sister and his home. When his beloved pony is taken from him too, Joseph decides to do everything in his power to get her back. He embarks on a thrilling and dangerous adventure across 1890s Washington state in pursuit of his pony. Although your emotions will most definitely be toyed with while reading or listening to this story, the emotionally satisfying conclusion makes it worth your time.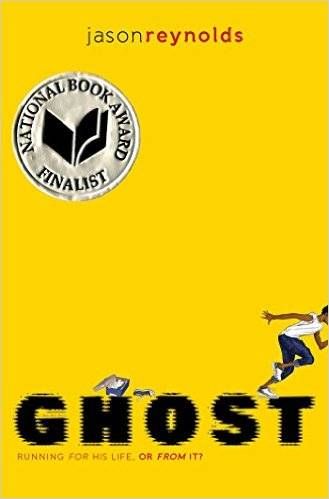 Ghost by Jason Reynolds
"Ghost. Lu. Patina. Sunny. Four kids from wildly different backgrounds with personalities that are explosive when they clash. But they are also four kids chosen for an elite middle school track team—a team that could qualify them for the Junior Olympics if they can get their acts together. They all have a lot to lose, but they also have a lot to prove, not only to each other, but to themselves."
Drama by Raina Telgemeir
"Callie loves theater. And while she would totally try out for her middle school's production of Moon over Mississippi, she can't really sing. Instead she's the set designer for the drama department's stage crew, and this year she's determined to create a set worthy of Broadway on a middle-school budget. But how can she, when she doesn't know much about carpentry, ticket sales are down, and the crew members are having trouble working together? Not to mention the onstage AND offstage drama that occurs once the actors are chosen. And when two cute brothers enter the picture, things get even crazier!"
See you at Harry's by Jo Knowles
"Twelve-year-old Fern feels invisible. It seems as though everyone in her family has better things to do than pay attention to her: Mom (when she's not meditating) helps Dad run the family restaurant; Sarah is taking a gap year after high school; and Holden pretends that Mom and Dad and everyone else doesn't know he's gay, even as he fends off bullies at school. Then there's Charlie: three years old, a "surprise" baby, the center of everyone's world. He's devoted to Fern, but he's annoying, too, always getting his way, always dirty, always commanding attention. If it wasn't for Ran, Fern's calm and positive best friend, there'd be nowhere to turn. Ran's mantra, "All will be well," is soothing in a way that nothing else seems to be. And when Ran says it, Fern can almost believe it's true. But then tragedy strikes- and Fern feels not only more alone than ever, but also responsible for the accident that has wrenched her family apart. All will not be well. Or at least all will never be the same."
Lions of Little Rock by Kristin Levine
"As twelve-year-old Marlee starts middle school in 1958 Little Rock, it feels like her whole world is falling apart. Until she meets Liz, the new girl at school. Liz is everything Marlee wishes she could be: she's brave, brash and always knows the right thing to say. But when Liz leaves school without even a good-bye, the rumor is that Liz was caught passing for white. Marlee decides that doesn't matter. She just wants her friend back. And to stay friends, Marlee and Liz are even willing to take on segregation and the dangers their friendship could bring to both their families."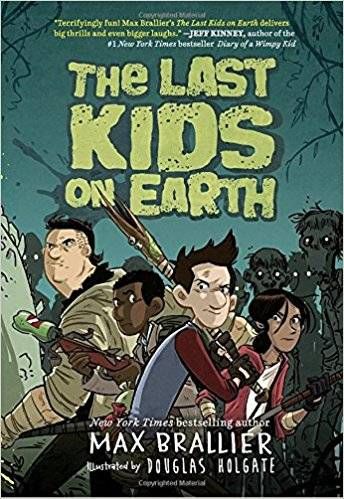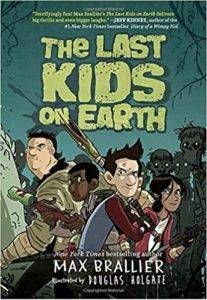 Last Kids on Earth by Max Brailler
There's been a monster apocalypse and thirteen-year old Jack Sullivan has been living alone in his tree house, armed to the teeth with home made catapults and various other weapons. He also has access to video games and a never ending supply of Oreos and Mountain Dew, which he looted from abandoned stores. Although he initially worries that it is just him and the monsters left in his little town, Jack soon reunites with his best friend Quint, the former school bully, Dirk, and his crush, June. Together, the four kids launch a plan to attack the monsters and stay alive. This hybrid graphic novel / chapter book is a great choice for reluctant readers.
Though mostly known for his sports books, Lupica has written a great stand alone superhero story in Hero. Fourteen-year old Billy Harriman has always idolized his father, a man trusted by presidents and deeply involved in international intrigue. When he goes missing missing during a mission, Billy decides to investigate what happened. At the same time, Billy learns that he has superpowers and that maybe his father did, too. A well written adventure story that will appeal to both fans of Lupica's sports novels and anyone who loves adventure stories.
The Thing About Jellyfish by Ali Benjamin
"Everyone says that it was an accident… that sometimes things "just happen". But Suzy won't believe it. Ever. After her best friend dies in a drowning accident, Suzy is convinced that the true cause of the tragedy was a rare jellyfish sting. Retreating into a silent world of imagination, she crafts a plan to prove her theory–even if it means traveling the globe, alone. Suzy's achingly heartfelt journey explores life, death, the astonishing wonder of the universe…and the potential for love and hope right next door."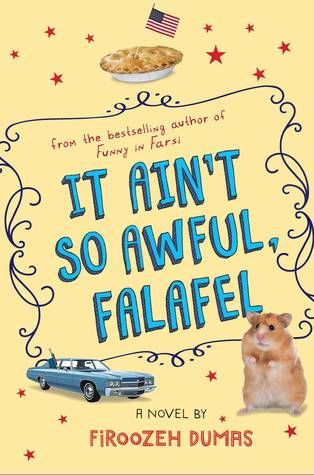 It Ain't So Awful, Falafel by Firoozeh Dumas
"Zomorod (Cindy) Yousefzadeh is the new kid on the block . . . for the fourth time. California's Newport Beach is her family's latest perch, and she's determined to shuck her brainy loner persona and start afresh with a new Brady Bunch name—Cindy. It's the late 1970s, and fitting in becomes more difficult as Iran makes U.S. headlines with protests, revolution, and finally the taking of American hostages. Even mood rings and puka shell necklaces can't distract Cindy from the anti-Iran sentiments that creep way too close to home. A poignant yet lighthearted middle grade debut from the author of the best-selling Funny in Farsi."
Under a Painted Sky by Stacey Lee
Fifteen-year old Samantha lives in St. Joseph, Missouri in 1849 with her kind father, who runs a successful dry goods store. When a tragic fire kills her father and ruins the store, she is left devastated and vulnerable. As a young chinese girl, she has few options and finds herself in the care of their sinister landlord who tries to take advantage of her. While defending herself, she accidentally kills him, an act that is witnessed by a runaway teenage slave who works for the landlord. The two join forces and decide to run away together. Disguised as cowboys, the two girls travel west to California, learning authentic cowboy tactics along the way. A wonderfully adventurous and empowering story.
Blackbird Fly by Erin Entrada Kelly
"Apple has always felt a little different from her classmates. She and her mother moved to Louisiana from the Philippines when she was little, and her mother still cooks Filipino foods and chastises Apple for becoming "too American." When Apple's friends turn on her and everything about her life starts to seem weird and embarrassing, Apple turns to music. If she can just save enough to buy a guitar and learn to play, maybe she can change herself. It might be the music that saves her . . . or it might be her two new friends, who show her how special she really is."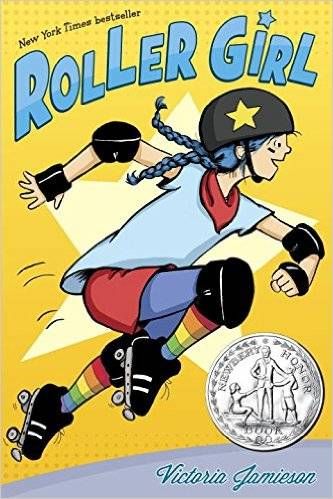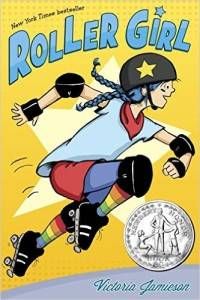 Roller Girl by Victoria Jamieson
Twelve year old Astrid and her best friend Nicole have done everything together for most of their lives. But when Astrid decides to try Roller Derby and Nicole chooses dance camp, Astrid must face a summer of changing friendships and new experiences. A sweet and realistic tale of the growing up and growing apart that often accompanies the shift from childhood to adolescence. Perfect for fans of Raina Telgemeier.
Awkward by Svetlana Chmakova
"On her first day at her new school, Penelope–Peppi–Torres reminds herself of these basics. But when she trips into a quiet boy in the hall, Jaime Thompson, she's already broken the first rule, and the mean kids start calling her the "nerder girlfriend." How does she handle this crisis? By shoving poor Jaime and running away! Falling back on rule two and surrounding herself with new friends in the art club, Peppi still can't help feeling ashamed about the way she treated Jaime. Things are already awkward enough between the two, but to make matters worse, he's a member of her own club's archrivals–the science club! And when the two clubs go to war, Peppi realizes that sometimes you have to break the rules to survive middle school!"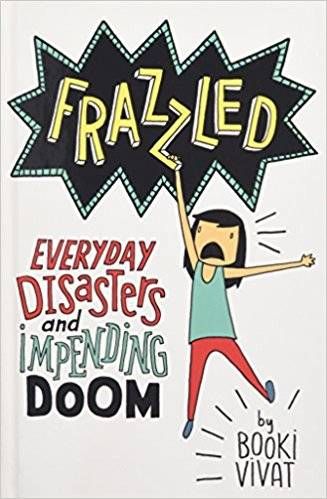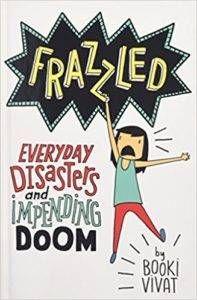 Frazzled by Booki Vivat
"Meet Abbie Wu. Abbie is in crisis—and not just because she's starting middle school or because she's stuck in a family that doesn't quite get her or because everyone seems to have a Thing except her. Abbie Wu is always in crisis.
From debut author and professional doodler Booki Vivat, Frazzled dives right into the mind of this hilariously neurotic middle school girl as she tries to figure out who she is and where she belongs. Akin to Smile by Raina Telgemeier, Frazzled is heavily illustrated, embarrassingly honest, and sure to appeal to anyone in the middle of figuring out how to survive the everyday disasters of growing up."