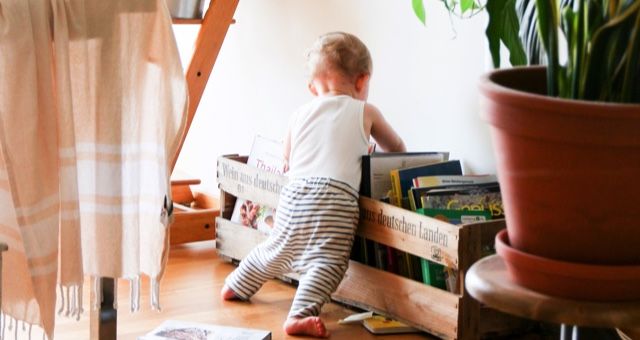 Children's
The Board Books I Could Read All Day Every Day
This content contains affiliate links. When you buy through these links, we may earn an affiliate commission.
When my baby was little more than a lump with limbs, reading aloud was great. I could read whatever I wanted to her, and she would be content to just listen to my voice. I'd read aloud whatever crime fiction novel I was in the middle of, I started reading Harry Potter to her, and we read some wonderful picture books—both classics I've loved for years like Possum Magic and The Gruffalo and newer discoveries like Baby Goes to Market.
Now, though, she's almost 19 months old and she has opinions about reading material. She chooses the books she wants me to read to her, and she will walk away if I start reading a book that she doesn't care for. And the best part is when I get to the end of a book and she demands 'More!'. So I go back to the beginning and start all over again. Rinse, repeat. My limit is five readings of a book in a row. And because these reading sessions occur multiple times throughout the day, I have sometimes literally read the same book about 40 times in one day. But amazingly, I still love some of these 40-a-day books! Below are the books that are the current favourite reads of my toddler and the ones she seems to always want 'more!' of.
A cute bedtime story about a sheep who really doesn't want to go to sleep. Parents everywhere will empathise will this one. There is humour in this that I think adults can really appreciate.
Baby Loves Coding by Ruth Shapiro, illustrated by Irene Chan
A great book from the Baby Loves Science series that introduces babies to computers and programming. I love how the books in this series break down complicated concepts into something that toddlers can understand without them feeling like they have been 'dumbed down'.
A really fantastic counting book with flaps. The flaps hide some unexpected surprises and this is my favourite toddler counting book. There isn't much of a story, but for some reason my toddler still loves it when I 'read' this one to her.
This one makes it on my list of top three children's books EVER. I love it so much and today alone I've already read it aloud three times (I think we're up to about 50 reads of this for the week so far). Wonderful book of 'I Spy' with nursery rhyme characters and lovely rhyming text makes it perfect for reading aloud.
This is a bit of a longer story than the others so far, but my toddler's attention span is long enough for it now. And long enough for multiple readings in one sitting! A tiger comes to tea with Sophie and her mummy and eats everything in sight. A charming story with lovely illustrations.
This and That by Mem Fox, illustrated by Judy Horacek
Two mice go on bedtime adventures, where the mummy mouse tells the baby mouse stories of this and that. They meet giraffes and magic chimps and kings and queens, and it all ends with a goodnight kiss. I love, love, love this book. Which is a good thing because I think I've read it hundreds of times.
Another great rhyming one from the Fox and Horacek power duo, this time with sheep! I like to think of this as a bit of a baby mystery book, as I suggest here. This is a book that many parents all over Australia have memorised and with good reason. I love the rhyme and rhythm of the text, and the bold and cheerful illustrations by Horacek.
Works of fine art are paired with lyrical prose all about love. My toddler has a favourite page: the painting of Slow Dance by Kerry James Marshall. Whenever she gets to that page she starts dancing and it's adorable.
A penguin is cold and is trying to find ways to warm up. There aren't many words (which makes it a short read-aloud book) and a lot of the story is actually told through the illustrations. This is a good one for pointing and discussion.