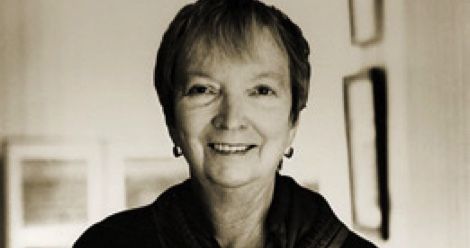 3 Biographies to Celebrate Madeleine L'Engle's 100th Birthday
November 29 marks Madeleine L'Engle's 100th birthday. I will be honest: she was not the seminal author of my childhood. I read and enjoyed A Wrinkle in Time, but I didn't really know enough to seek out the rest of the books in the series. (This is why this article isn't a guide to her fiction. You can read an excellent Reading Pathways for that.) It wasn't until recently that I started to be more interested in Madeleine L'Engle the person: the artist, the Christian thinker, the sci-fi writer, the children's book author. A college professor recommended Walking on Water in college, which was my first time learning about her nonfiction. When I attended the Festival of Faith & Writing earlier this year, I got the chance to meet L'Engle's granddaughters and hear them talk about their book, Becoming Madeleine. (And also to talk about other books and try not to geek out entirely and make a fool of myself. I did not succeed!)
So as L'Engle's 100th birthday approached, I started to seek out books that would show me just exactly who this person was, in as much as we can know a person from biographies. Here are three.
Becoming Madeleine by Charlotte Jones Voiklis and Léna Roy
Two of Madeline L'Engle's granddaughters wrote a biography of the author for middle grade readers. It includes never-before-seen photos, letters and more, and will give your 8–12-year-old a fuller picture of the child that became one of their favorite writers. Perfect for aspiring authors!
This kindly written biography examines the inner life of L'Engle through her letters, diaries, and interviews with her close family and friends. Sarah Arthur writes about L'Engle as though she were one of L'Engle's many mentees, and it makes the whole book seem almost like a conversation between friends. (And it does spend a lot of time delving into interviews with some of L'Engle's close friends, which helps that feeling.) It gives L'Engle her full due as a Christian thinker, while not shying away from some of her more controversial ideas. I walked away from this book feeling profoundly encouraged. (This is also one of my favorite covers of the year. Love those bokeh flares.)
Marcus takes the full life of Madeleine L'Engle and breaks it into six facets: her young life (Madeleine in the Making), Writer, Matriarch, Mentor, Friend, and Icon, and interviews important people from those parts of her life. He allows each of these people to tell their own story in their own words, giving the reader a sort of kaleidoscope to look through to see the author. Interviewees include Judy Blume, Mary Pope Osborne, Thomas Cahill, and more.