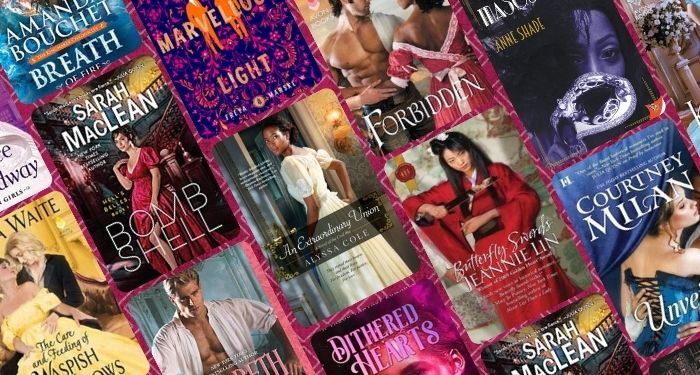 Lists
13 of the Best Steamy Historical Romance Novels to Blast You to the Past
This content contains affiliate links. When you buy through these links, we may earn an affiliate commission.
My first love, when it comes to reading romance, is steamy historical romance novels. Give me love interests taking down the patriarchy throughout history, all while getting in a good ride in a horse-drawn carriage. Show me lovers who will leave an entire Dukedom behind for love, and go down to spicy town for that love. Give me steamy scenes where each layer of clothing (so much clothing!) is slowly peeled away as the author builds up that oh-so-good tension. The books that blooded me in terms of romance were historicals, and some of my favorite, steamiest books are usually ones where those goddamn petticoats, trousers, and chemises are in the way (RIP THEM OFF, Love Interest!), but whoa baby, do they still find a way. And even better for me, if they're paranormal, steamy historical romance novels? That's it, take my money.
What Are Steamy Historical Romance Novels?
What do I define as "steamy"? The word might depend on the reader's preferences. One person's steamy might be another person's tame. Your mileage may vary. For the sake of this list, I define steamy as books with sex scenes that are fully described on the page. There are no fade to blacks, no did-they-or-didn't-they; they absolutely, without question, bang it out. Probably more than once, too. If you're looking for some of the best love scenes, or if you're trying to decide what steam you might prefer in a love scene, I highly recommend reading fellow Book Rioter Annika Barranti Klein's "The Best Love Scenes in Books."
Below is a list of some of my favorite steamy historical romances. I've included a few fantasy/paranormal historical romances as well, because that's how I roll. Many below are a part of series, and where each book stands in that series varies. However, each book below can stand on its own, as romances usually (but not always!) do. Hopefully this list will act as a jumping-off point for those looking for some excellent sexy times to pair with masterful historical love stories.
Some of the Best Steamy Historical Romance Novels
I've listed the below historical romance novels in alphabetical order by author.
Find Your Next Best Steamy Historical Romance Novel
As past Book Rioters have also said in their posts on romance novels, just because it's steamy, doesn't mean it's trashy, smutty, or dirty. Sex happens; it is an integral part of many relationships. Pleasure can be empowering, fun, and intimate. As I previously mentioned above, your mileage may vary on the amount of sex you prefer on the page in a romance novel. Perhaps you prefer none. All of that is valid, but don't yuck someone else's yum.
Whatever your preference, hopefully you found the above list enlightening, and may it lead you on a path to more beautiful books, different books, and even steamy books. Read on, my lovelies, and for more romances, check out this post on historical romance series.