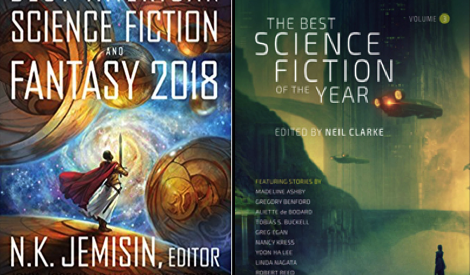 This content contains affiliate links. When you buy through these links, we may earn an affiliate commission.
If you dream of becoming a science fiction writer, it's extremely important to keep up with the field. A convenient way to do that is to read the various best-of-anthologies that come out during the year that collect the outstanding stories from the previous year. Get to know these anthology editors and the magazines they anthologize. Most of these editors write introductions that summarize the ins and outs of the genre for the past year. The publications of these anthologies are spread out over the year, with the earliest appearing in April and the last in December. Most of the 2018 books will collect stories that first appeared in print or on the web during 2017.
Each editor has their own taste in science fiction and fantasy, and a good portion of their annual anthology is a unique lineup of fiction. It helps to learn which editor you resonate with best. However, often some stories appear in more than one anthology. Truly exceptional stories sometimes appear in most of these collections. They are the real standout stories of the year. If you want to be a successful writer, study those stories closely. Often they are the Hugo and Nebula winners.
First out the door in 2018, at least on the Kindle, is The Best Science Fiction & Fantasy of the Year Volume Twelve edited by Jonathan Strahan. The paperback is due April 17th. Strahan edits fiction for Tor.com (a major book and short story publisher) and is the Review Editor for Locus.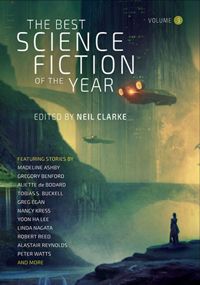 The first paperback, released April 3rd, is The Best Science Fiction of the Year Volume 3 edited by Neil Clarke. Its Kindle edition was released concurrently. Clarke is the editor of Clarkesworld magazine.
The long-running, The Year's Best Science Fiction: Thirty-Fifth Annual Collected by Gardner Dozois, is scheduled for July 3rd. Dozois was the editor of Isaac Asimov's Science Fiction Magazine for many years, and his massive anthology has been the pacesetter since 1984. See the Wikipedia entry for his extensive background in the genre. Dozois also reviews short fiction for Locus.
Nebula Awards Showcase 2018 edited this year by Jane Yolen is scheduled for August. Previous years came out in May. If you don't want to wait to see what this series is like get the Nebula Awards Showcase 2017 edited by Julie E. Czerneda.
Since Rich Horton's The Year's Best Science Fiction & Fantasy 2017 came out in October 2017, we assume we won't see his 2018 edition until autumn. Horton reviews short fiction for Locus and writes extensive reviews and historical commentary on science fiction at his blog Strange at Ecbatan.
October also seems to be the time we should expect The Best American Science Fiction and Fantasy 2018 edited by N.K. Jemisin and John Joseph Adams, since that was when The Best American Science Fiction and Fantasy 2017 edition appeared last year. The Best American series of annual anthologies have ignored science fiction and fantasy for decades, so these new volumes are a bit of literary respect. Adams was an editor at The Magazine of Fantasy and Science Fiction for many years and currently edits the online magazines Lightspeed and Nightmare. See his website for more information about all his anthology projects.
Finally, in December we hope to see The Long List Anthology Volume 4 edited by David Steffen, collecting all the stories nominated for the Hugo Awards. The Long List Anthology, The Long List Anthology Volume 2, and The Long List Anthology Volume 3 are still available. Steffen is a writer and publishes Diabolical Plots about the genre.
There are two audiobook series edited by Allan Kaster that come out during the year, but not on regular schedules. The Year's Top Short SF Novels 7 was just released in January 2018, and The Year's Top Ten Tales of Science Fiction 9 came out in June 2017. Kaster also started what might become a new series, The Year's Top Hard Science Fiction Stories, which came out in September 2017. Kaster's collections were mainly works I found at Audible.com, but recent editions have been showing up on Amazon as paper, CD, and Kindle editions too.
Most of the famous annual anthologies do not get audiobook editions. That depresses me. I love listening to short science fiction on audio, so I'm always hoping they will. Strangely, three of the five editors above have had one of their volumes produced on audio. They were:
Science Fiction: The Best of the Year 2006 edited by Rich Horton
The Best Science Fiction of the Year: Volume One edited by Neil Clarke
The Best Science Fiction and Fantasy of the Year Volume 11 edited by Jonathan Strahan
I must assume their publishers gave audio a try and it financially failed them. If you love short fiction, be sure to buy audiobooks editions when they do appear. I find listening to science fiction short stories on my phone a fantastic way to enjoy short fiction science fiction.
If you want to conduct an interesting experiment in how stories are put together, get both print and audio editions of an anthology. Read a story with your eyes carefully. Then listen to the story. A good narrator will bring out aspects of writing you might not have noticed just by reading.
Update: While researching "A History of the Annual Science Fiction Best-of-the-Year Anthology" for by blog I found two more current annual SFF anthologies: Wilde Stories 2018: The Year's Best Gay Speculative Fiction (assumed in August) and The Year's Best Military and Adventure SF 4 (June). That brings the total anthologies devoted to the best SFF of the year to eleven.