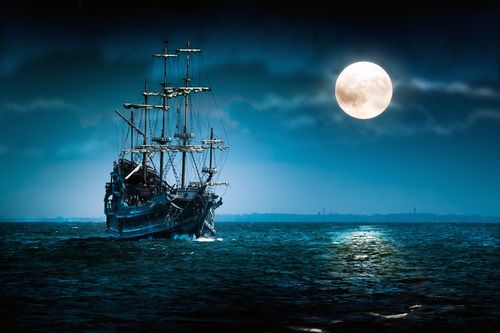 Lists
50 Pirate Books To Put Some YARRRRR MATEY In Your Life
This content contains affiliate links. When you buy through these links, we may earn an affiliate commission.
For as long as there have been pirates, there have been stories about their seafaring adventures. Today, new interpretations of fictional pirates like Captain Hook inspire new works, while less-known real-life figures like Grace O'Malley and Jean Laffite are being newly studied. Here are a selection of pirate books for pirate fans of all ages!
Classic Pirate Books
First published in 1724, this immensely readable history incorporates the author's celebrated flair for journalistic detail, and represents the major source of information about piracy in the early 18th century. Defoe recounts the daring and bloody deeds of such outlaws as Edward Teach (alias Blackbeard), Captain Kidd, Mary Read, Anne Bonny, many others.
First published in 1882, this novel captivates readers from the moment young Jim Hawkins first encounters the sinister Blind Pew at the Admiral Benbow Inn until the climactic battle for treasure on a tropic isle.
While the titular boy-who-won't-grow-up used to be the star of these stories, shows like Once Upon A Time have helped make the villainous pirate Captain Hook into a fan favorite. This book introduces other famous characters like Wendy Darling and Peter Pan…and a crocodile that ticks.
First published in 1922, this novel tells the story of Peter Blood, an Irish physician and soldier in England in the 1680s. After being wrongly convicted of treason and sentenced to indentured slavery in the Caribbean, Blood escapes and becomes the most feared pirate captain on the Spanish Main. But all the glory of his adventures cannot help him, for the woman he loves cannot love a thief and pirate.
Pirate books for children: nonfiction
Since he was a young boy, Jean longed to be a pirate, and with the help of his brothers and uncle, he became one when he was just a teenager. Soon the only life he knew was on the high seas—a life full of glory, riches, disaster, and revenge.
This swashbuckling book presents some of the most exhilarating pirate lore, including historical legends, such as William Kidd and Grace O'Malley. Fact boxes provide extra information about tales, while specially chosen images will truly captivate young buccaneers imaginations.
Step lively, pirate foes and fanciers! Prepare for a mesmerizing tale of the golden age of piracy—from storm-tossed sailing ships to tantalizing treasure islands, from pirates' flags and fashions to their wily weapons and wicked ways. An extraordinary find for pirateologists, here is a true and complete companion for the dedicated pirate hunter.
Designed as a hip time-travel journal into the pirate past, this compendium of the sea scoundrel's world includes all the detail of classic DK reference as well as excerpts from favorite piratical fiction—making Piratepedia a swashbuckling volume kids won't want to walk the plank without!
Discover such Artemisia, the Admiral Queen of Persia; Rachel Wall, who ran away from her strict upbringing to become a murderous pirate; and Grania O'Malley, daughter of an Irish chieftain. Here be a true and accurate account of the most low-down, scurviest—but the prettiest—black-hearted pirates you'll ever love to read about.
Pirate Books for children: picture books
Daniela dreams of becoming a pirate on the Blac Croc boat. But it seems that the pirates are a little chauvinist. Captain Choppylobe will make Daniela go through very difficult challenges. Will Daniela make it?
Once upon a seaworthy sloop lived three pirates: the big, pilfering Papa, the medium-sized, menacing Mama, and the small, bonny Baby, a pirate-in-training. Luckily for them, Goldenlocks happened along when they were out for a row in the harbor.
Pirate Girl by Cornelia Funke and Kerstin Meyer
Ferocious pirate Captain Firebeard THINKS that he and the ruthless crew of the "Horrible Haddock" rule the high seas. But Firebeard and his band meet their match when they kidnap a small but feisty girl named Molly.
Pirate Princess by Sudipta Bardhan-Quallen and Jill McElmurry
Princess Bea isn't like other princesses—she prefers pirate ships above tea parties, the salty sea over silly dolls. But what's a landlocked princess to do?
Bad Bart is the biggest, burliest boy pirate in the Atlantic. Mean Mo is the maddest, mightiest girl pirate in the Pacific. When they meet in the middle, it's a no-holds-barred contest to see who is the best pirate in the world.
Grab your peg leg and your parrot—and don't forget the underpants! This wacky picture book pairs pirates and underwear in an uproarious adventure.
The captain of this brave and bumbling pirate crew has ordered them to capture the entire alphabet—and they'll walk the plank if they're missing a single letter!
Can Small Saul show these ruffians that despite his gentle spirit, he's worth his weight in gold? With treasure chests of laughs, Small Saul's high-seas adventure is a light-hearted celebration of individuality, perseverance and being true to one's self.
Gary the Stegosaurus wants to be a pirate. But then he gets the chance, things do NOT work out. Getting seasick is the least of Gary's worries once he's on that ship! This delightful picture book includes discussion questions, an interactive look-and-find fact section, and dinosaur facts.
Boris von der Borch is a mean, greedy old pirate—tough as nails, through and through, like all pirates. Or is he? When a young boy sneaks onto Boris's ship, he discovers that Boris and his mates aren't quite what he expected.
Pirate books for children: Chapter Books
Hook's Revenge by Heidi Schulz and John Hendrix
Captain Hook's feisty daughter hits the high seas to avenge her father's death at the jaws of the Neverland crocodile in Heidi Schulz's spirited middle-grade debut.
Hilary has always dreamed of being a pirate. There's only one problem: The Very Nearly Honorable League of Pirates refuses to let any girl join their ranks of scourges and scallywags. Hilary answers a curious advertisement for a pirate crew and suddenly finds herself swept up in a seafaring adventure.
Set sail for fun and adventure on a pirate ship full of puppies in this first book of the Puppy Pirates series! Two perennial kid favorites—dogs and pirates—combine in this new chapter-book series perfect for fans of the Rainbow Magic series and all things piratey.
Can the worst pirate ever win the Pirate of the Year Award…? All Blunderbeard has to do is fight an enormous sea monster, beat his oh-so-brilliant brother at something, and find the legendary treasure that no one has ever found EVER in the history of EVER.
Polly is caught between the prim-and-proper boarding school set she's grown up with and the legendary legacy of the Pirate Queen that she never knew she was a part of! But which is the cruel, cold world and which is the care-free paradise? And does it even matter when there's a dashing pirate prince involved? Hoist the sails and batten the hatches on this brand new adventure!
Pirate Books for teens
Life as a ship's boy aboard HMS Dolphin is a dream come true for Jacky Faber. Gone are the days of scavenging for food and fighting for survival on the streets of eighteenth-century London. Instead, Jacky is becoming a skilled and respected sailor as the crew pursues pirates on the high seas. There's only one problem: Jacky is a girl.
James Matthew bears little resemblance to his starched-collar, blue-blooded peers at Eton. For James, sword fighting, falling in love with an Ottoman Sultana, and challenging the Queen of England are all in a day's skullduggery. But when he sets sail on a ship with a mysterious mission, James's dream of discovering a magical island quickly turns into an unimaginable nightmare.
Sent on a mission to retrieve an ancient hidden map—the key to a legendary treasure trove—seventeen-year-old pirate captain Alosa deliberately allows herself to be captured by her enemies, giving her the perfect opportunity to search their ship. But she hadn't counted on the unexpectedly clever and unfairly attractive first mate, Riden.
Join Will Turner and Elizabeth Swann in another exciting adventure as they travel the seven seas in search for Captain Jack Sparrow. With Captain Barbossa at their side, they navigate treacherous waters to find Davy Jones' Locker and free Sparrow, but can they escape the Chinese pirates after them as well?
Nancy Kington, daughter of a rich merchant, suddenly orphaned when her father dies, is sent to live on her family's plantation in Jamaica. Disgusted by the treatment of the slaves and her brother's willingness to marry her off, she and one of the slaves, Minerva, run away and join a band of pirates.
Raven is ready to set out on her quest for revenge against her brothers. They've stolen everything that should be hers and now she's going to get it back. But first, she needs a crew. Share the laughs, action, and adventure as Raven assembles the fearless crew of awesome queer ladies who will help her get her revenge.
Learn about what everyday life was like for some of the fiercest pirates of all time. This full-colour nonfiction book includes highlighted glossary terms, informative sidebars, over 50 colour illustrations and historical photographs, an index, and recommended further reading.
When Annalisa's ship is set upon by pirates, she begs crewman James Sterling not to take her necklace—it is all she has left of her mother. He accepts a kiss in exchange for the necklace, but the crew takes all of her father's treasure.
A year later, Annalisa is intent on hunting down the wretched Sterling and reclaiming her father's treasure. But now she's in danger of him stealing something far more vulnerable this time: her heart.
A clever, romantic novel based on the true story of a girl who disguised herself as a boy to sail with the infamous pirates Anne Bonny and Calico Jack—and fell in love with Anne Bonny.
Pirate Books for grown-ups: fiction
This entry in the Malory Novel series reveals the tempestuous story of Jacqueline Malory whose furious desire for revenge leads to a confrontation with the handsome pirate who abducted her—and sparks a much steamier kind of desire.
A galleon filled with pirates heads to the Caribbean city of Port Royal, secretly planning to mutiny. Superstition is rife among seamen and the presence on board the Atlantis of two women—one a high-born French stowaway Catherine and the other a Jamaican slave-born "cabin boy" Serafine—will only be a bad omen if they are discovered.
Cat Meadows is a smuggler who's built her reputation on the backs of unsuspecting souls. Lily Exquemelin has been left nothing by her father but his troubles and his treasure map. Forced to make a desperate escape, they each find themselves on a Trans-Atlantic adventure that will pit them against pirates, mutineers, lost treasure, and each other!
This novel shares the story of real-life Irish chieftain and pirate Grace (Grania) O'Malley. This magnificent sixteenth-century heroine had a spirit and passion unlike any other. Her story is entwined with the story of Ireland's fight for solidarity and survival.
Ananna abandons ship when her parents try to marry her off to an ally pirate clan. She wants to captain her own boat, not serve as second-in-command. But her escape has dire consequences when she learns that her fiancé's clan has sent an assassin after her. Reluctantly allying, the two must escape their enemies while coming to terms with their growing romantic attraction.
In 1775 New Orleans, Maribel Cordova is determined to seek the man who holds the key to finding her father's lost treasure. Attorney Jean-Luc Valmot has buried his past life so deep that no living person will ever find it—or so he hopes. But the daughter of an infamous pirate threatens all he holds dear. Can Maribel and Jean-Luc compromise so they both can hold onto what they most desire?
Jamaica in 1665 is a rough outpost of the English crown, a minor colony holding out against the vast supremacy of the Spanish empire. Port Royal, Jamaica′s capital, a cut-throat town of taverns, grog shops, and bawdy houses, is devoid of London′s luxuries; life here can end swiftly with dysentery or a dagger in your back. But for Captain Charles Hunter it is a life that can also lead to riches, if he abides by the island′s code.
Lady Abigail Rutland craves a more exciting life than the mannered arranged marriage she has set before her. Rescued from a dangerous situation by a privateer who mistakes her for a cabin boy, she joins him on the high seas and must maintain her disguise despite her growing attraction to the captain.
Pirate Books for grown-ups: nonfiction
The story of the most famous female pirate in history provides a remarkable personal odyssey from a time when women were almost powerless and at the lowest level of the social order on both sides of the Atlantic. This new biographical work fills considerable gaps in Anne Bonny's life beyond her mythology to rescue an actual person for posterity.
The Barbary corsairs first appeared to terrorize shipping at the end of the fifteenth century. These Muslim pirates sailed out of the ports of North Africa, in an area known in Europe as the Barbary Coast. Acting as officers of the sprawling Ottoman Empire, these pirates plundered the trading routes of the Mediterranean.
Presenting dramatic accounts of the pirate's very effective tactics and his reputation for cruelty, the author offers a fascinating examination of the life and business of piracy and the lure of this brutal and bloody trade.
With surprising tales of vicious mutineers, imperial riches, and high-seas intrigue, Black Flags, Blue Waters vividly reanimates the "Golden Age" of piracy in the Americas.
Henry Morgan challenged the greatest empire on earth with a ragtag bunch of renegades—and brought it to its knees. Empire of Blue Water is the real story of the pirates of the Caribbean.
In a page-turning tale brimming with adventure, author Richard Sanders tells of the remarkable exploits of Bartholomew Roberts (better known as Black Bart). During two-and-a-half-years as a pirate captain, he captured four hundred prizes and brought trade in the eastern Caribbean to a standstill.
Illustrated throughout with artifacts, documents, and prints of the time as well as modern reconstructions, this lively and engaging manual provides answers to all the questions readers may have wondered about—did they really walk the plank, keep parrots, or bury treasure and mark it with an X on the map?
Captain William Kidd was no career cut-throat; he was a tough, successful New York sea captain who was hired to chase pirates. His three-year odyssey aboard the aptly named Adventure galley pitted him against arrogant Royal Navy commanders, jealous East India Company captains, storms, starvation, and, above all, flesh-and-blood pirates.
This book tells the story of women, both real and legendary, who through the ages sailed alongside—and sometimes in command of—their male counterparts. These women came from all walks of life but had one thing in common: a desire for freedom.
Can't get enough pirate books? Check out our list of 3 on a YA theme: arrrr, thar be pirates!