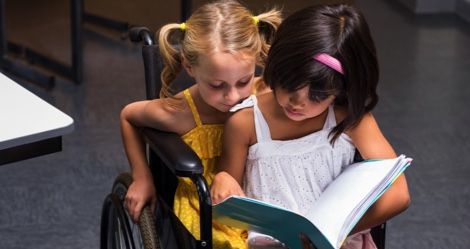 Children's
The More You Know: 21 Best Nonfiction Books for Kindergarten
This content contains affiliate links. When you buy through these links, we may earn an affiliate commission.
There are currently a lot of brilliant nonfiction books for kindergarten aged kids. Most of the time, they should balance information with a narrative; the art should be enthralling while the book's writing dispenses easy-to-digest knowledge. These 21 nonfiction books for kindergarten have done this very well and can be read over and over as either a story or information book. Over the last two years, working mostly in the children's library, I've actually begun to default to younger children's nonfiction for my own knowledge-seeking needs. The art! The accessibility! The get-to-the-point-and-get-out!
Here are some choices split by topics: STEM, animals, sharks, bugs, dinosaurs, history, and toys/books. For rad nonfiction about fearless females, see this list. If you are interested in some nonfiction books for older kids, there's a Must Reads right here.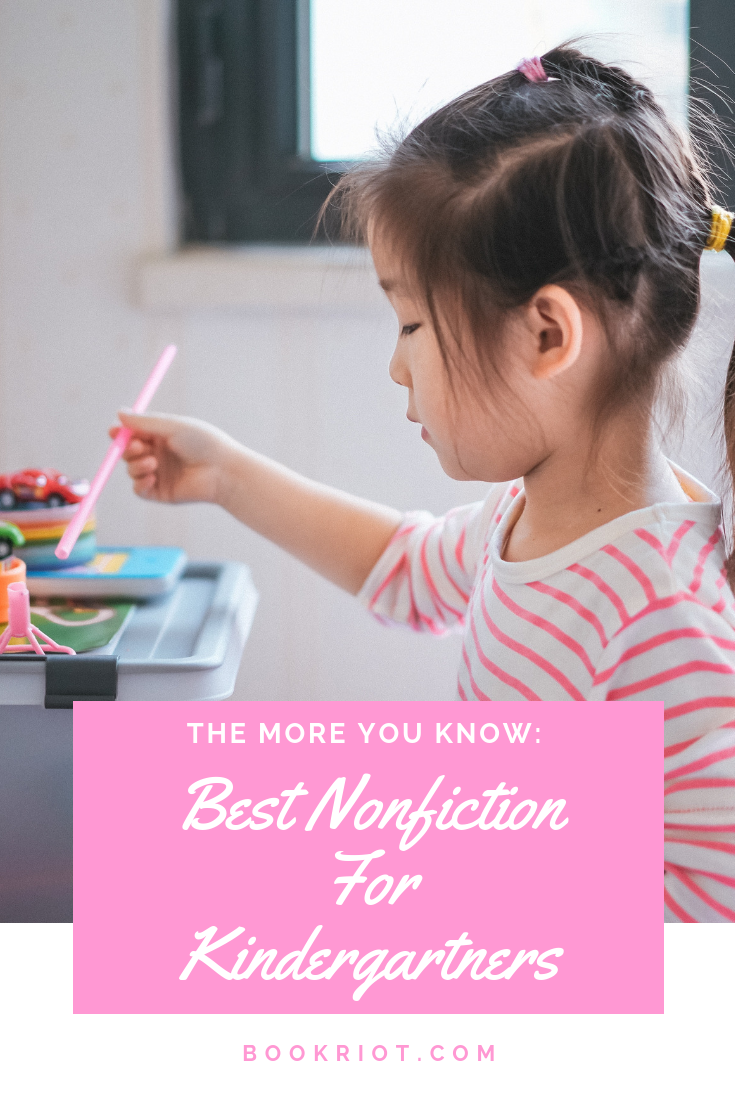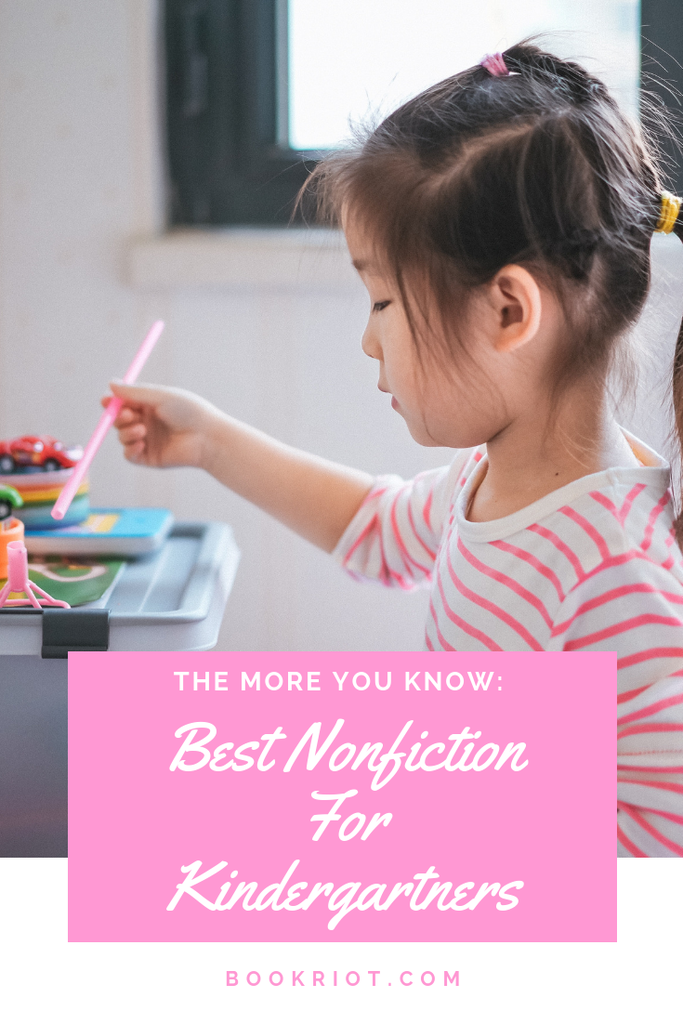 STEM Books For Kindergarten
Power Up by Seth Fishman and Isabel Greenberg
This book is doubly awesome, with its interesting science facts plus a self-esteem boosting message: "Look at your pinkie. That little finger has enough energy to light up one of the biggest cities in the world for an entire day". A perfect mix of science concepts and exciting illustrations, the book is a follow up to A Hundred Billion Trillion Stars.
Award-winning author and illustrator Portis's latest features a young girl's growing realization that water is everywhere and can take many forms (tears and snowmen, for instance). The book also contains information about water cycles and conservation.

A cute STEM-focused picture book about a bunny named Charlotte. The forest animals have fallen sick, and Charlotte wants to help her friends get better. She sets about deducing the mysterious illness plaguing the forest, but no one seems to be taking her very seriously. Will Charlotte let that stop her? (Spoiler alert: no.)
Easy-to-follow facts meet adorable space art. In Earth!, the facts told by the Earth itself are informative and witty, with jokes that will make the book a fun read for families to discuss together.
Animals Nonfiction Books for Kindergarten
First of all: the cuteness. Such adorable illustrations! Animals are grouped together by common traits: colors, stripes, etc. The end is filled with animals names and includes information about extinction levels. A good way to explain to children about the importance of animal conservation!
Can a porcupine whine (and other noise-related animal questions)? It's true that animals make plenty of weird sounds, and this book encourages loud, silly times as it describes the various grunts and barks of familiar and strange animals.
History Books For Kindergarten
An immigrant mother and child struggle to fit in to their new home of San Francisco until they discover the local library and all its benefits. The art is gorgeous, a collage of styles and images, and the writing is poetic while still grounded in information. Also, the incorporation of Spanish phrases was nicely worked in.
Jenkins's incredible paintings bring to life the story of 18-year-old Langston Hughes dreaming up his famous poem, "The Negro Speaks of Rivers." This is a poetic, first-person exploration of creativity.
A primer to the Civil Rights Movement and to activism in general; here is the story of Clara Luper, the Oklahoma City teacher who inspired her students to use nonviolent protest as they battled segregation.
This one is an award-winning nonfiction book that will send readers looking for more info. Living as a slave, Dave formed incredible clay pottery and inscribed each piece with a short poem. It's a very moving account of a man mostly lost to history; he is known as Dave the Potter because, as a slave, his last name was taken away from him.
Sharks & Other Watery Creatures
Eugenie Clark has never been afraid of sharks; in fact, her love led to studying them. In Shark Lady, written by zoologist Jess Keating, shark facts combine with the story of a woman pursuing science despite people's biases against women in the field.
Sharks shouldn't be seen as scary, and Williams uses a family boat trip to teach readers about the essential role that sharks fill in the ocean ecosystem.
Originally recommended to me by a marine biologist, readers won't soon forget clever Inky. Montgomery's book has vibrant illustrations, interesting facts and an exciting story about an adventurous, squiggly octopus who escaped from an aquarium.
Dinosaurs Books For Kindergarten
Sure to delight dino fans of all ages, the information is simple — Microraptors were smaller than the average chicken — and the illustrations are cute and slightly silly.
Based on the true story of a dinosaur fossil's (Diplodocus longus) journey from Utah to the Smithsonian National Museum of Natural History in Washington, D.C.
How are dinosaur fossils found and assembled? Barton's book is about six paleontologists, and describes their job accessibly.
Bugs
A Beetle Is Shy by Dianna Hutts Aston and Sylvia Long
From the font to the colourful art, Aston and Long's work will catch the eye of future entomologists. Beetle facts are surprisingly fascinating. Along with this title, the author/illustrator duo has a series of similar science books (An Egg is Quiet, A Rock is Lively, etc).
The Honeybee by Kirsten Hall and Isabelle Arsenault
Isabelle Arsenault's whimsical illustrations accompany Kirsten Hall's minimalist text in this informative book. The Honeybee has a poetic flow, but will still give science fans some interesting bug knowledge.
Toys and Books
Everyone loves a slinky! Here we have the story of Richard James, an engineer who created the slinky with the help of his wife Betty. Ford's art is unusual – a mix of paper doll figures, two-dimensional drawings, and three-dimensional objects – and contains a buoyancy that is well-matched to the story.
Planting Stories: The Life of Librarian and Storyteller Pura Belpré by Anika Aldamuy Denise and Paola Escobar
Pura Belpré, New York City's first Puerto Rican librarian, championed bilingual literature. This inspiring, beautifully illustrated biography comes in a Spanish-language edition as well — Sembrando historias: Pura Belpré: bibliotecaria y narradora de cuentos.
An award-winning children's biography about Peter Mark Roget, creator of the thesaurus. Roget was shy and awkward when he was younger, seeking comfort in books and lists. He continued making them for many years, his indexes of related words becoming larger and more in-depth. In this story of Roget's Thesaurus, big and small language lovers will find an enthralling story brought to life by illustrator Sweet's multimedia artwork.
---
What do you think are the best nonfiction books for kindergarten libraries? Hit the comments to share your favorites!