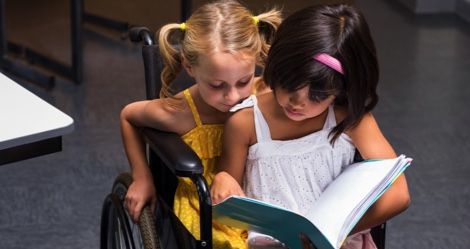 Children's
50 Must-Read Historical Fiction Picture Books
This content contains affiliate links. When you buy through these links, we may earn an affiliate commission.
"Why are you doing this to us?" one of my second grade students lamented while listening to me read Pink and Say by Patricia Polacco aloud. Set during the Civil War, the story concerns two soldiers, one white and one black, and the events that transpire after one saves the other. My students endured this book in order to learn about the horrors of slavery and to find the human element in a monumental, historical event. I read a section of the book, stopped, and asked them to write a response in their black and white speckled composition books. The story enraptured the students and they, in turn, wrote some of the most passionate and zealous responses I have read by second graders.
That is the power of historical fiction. It transports readers to other points in time, while explaining important events through stories and illustrations. Here is a list of 50 must read historical fiction picture books.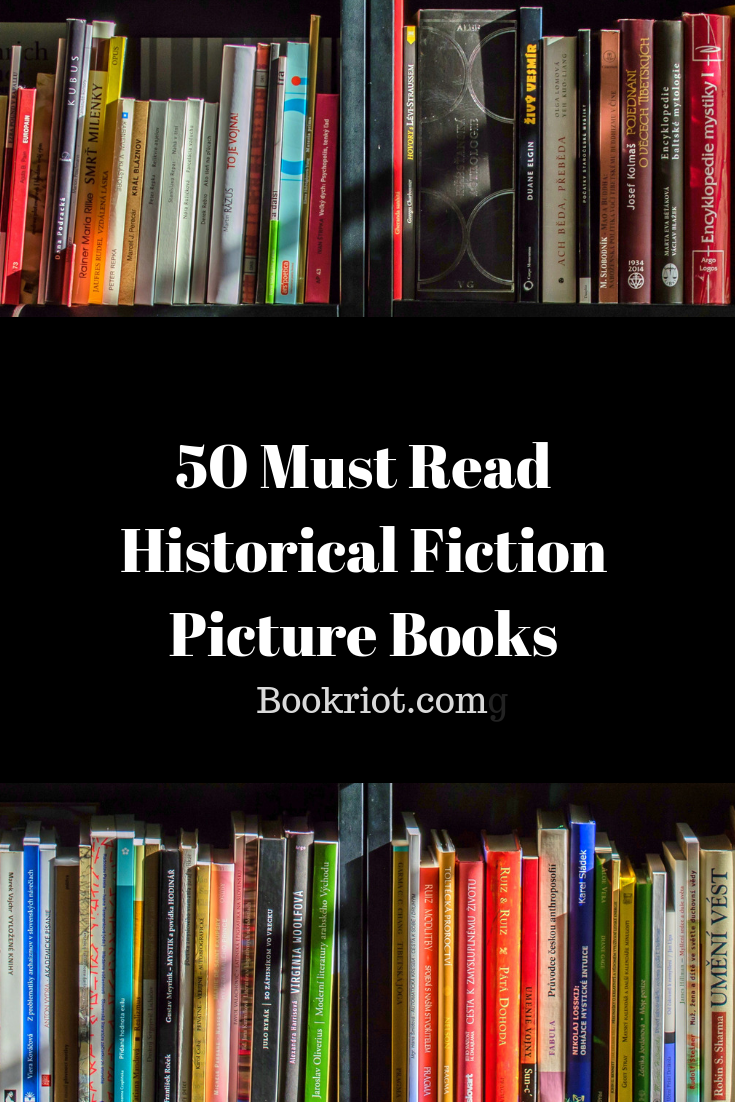 Prehistoric Fiction
Though only Boy shares his dream, the old man leaves the tribe to search for what the world may hold. Boy does the old man's work in his absence and watches hopefully for his return…
American History: Pre-Civil War and Westward Expansion
It is 1790, the year of the very first U.S. census. Phineas Bump must deliver a count that is "fair and true" of every citizen in his territory. But folks in the town of Tunbridge don't want to be counted! So, when the determined Bump knocks on their doors, he finds…much more than he counted on! Will Tunbridge go down in history as the town that tricked the tallyman? You can count on it!
When Papa decides to pull up roots and move from Iowa to Oregon, he can't bear to leave his precious apple trees behind. Or his peaches, plums, grapes, cherries, and pears. Oh, and he takes his family along too. But the trail is cruel—first there's a river to cross that's wider than Texas…and then there are hailstones as big as plums…and there's even a drought, sure to crisp the cherries. Those poor pippins! Luckily, Delicious (the non-edible apple of Daddy's eye) is strong—as young 'uns raised on apples are—and won't let anything stop her father's darling saps from tasting the sweet Oregon soil.
Thus begins a lyrical journey through the days and weeks, the months, and the changing seasons in the life of one New Englander and his family. The oxcart man packs his goods—the wool from his sheep, the shawl his wife made, the mittens his daughter knitted, and the linen they wove. He packs the birch brooms his son carved, and even a bag of goose feathers from the barnyard geese.
He travels over hills, through valleys, by streams, past farms and villages. At Portsmouth Market he sells his goods, one by one—even his beloved ox. Then, with his pockets full of coins, he wanders through the market, buying provisions for his family, and returns to his home. And the cycle begins again.
Life in an eighteenth-century one-room schoolhouse might be different from today—but like any other pair of siblings, brothers Peter and John Paul get up to plenty of mischief! Readers follow the two as they work with birch-bark paper and hornbooks, play tricks on each other, get in trouble, and celebrate when John Paul learns to read and write.
Simple rhyming text presents the everyday life of a young girl, living on a Pennsylvania farm in the early eighteenth century, who is quickly outgrowing her dress.
Embarking on a new life, Zoe and her family journey west to the Nebraska Territory in the 1800s. When Zoe and her family arrive at their claim, nothing distinguishes it from the miles and miles of surrounding prairie. Even after they build their soddie, the home can't be seen from any distance. Zoe has never seen Papa so happy or Mama so sad. But when she takes a trip to the small prairie town with Papa, Zoe sees something that might make a difference to their new soddie, and to Mama's life, too.
Slavery and the American Civil War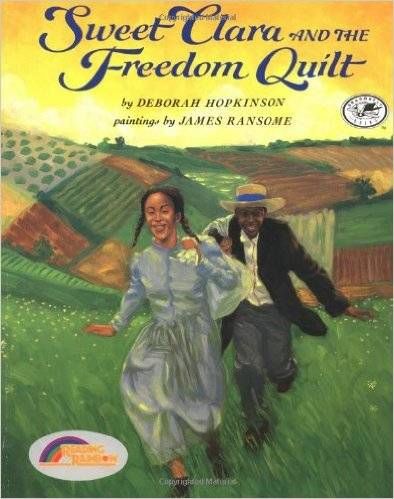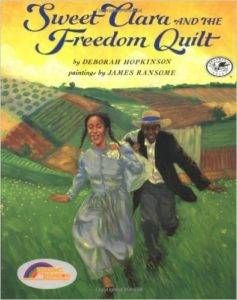 Clara, a slave and seamstress on Home Plantation, dreams of freedom—not just for herself, but for her family and friends. When she overhears a conversation about the Underground Railroad, she has a flash of inspiration. Using scraps of cloth from her work in the Big House and scraps of information gathered from other slaves, she fashions a map that the master would never even recognize…
He was wounded in a fierce battle and left for dead in a pasture somewhere in Georgia when Pinkus found him. Pinkus's skin was the color of polished mahogany, and he was flying Union colors like the wounded boy, and he picked him up out of the field and brought him to where the black soldier's mother, Moe Moe Bay, lived. She had soft, gentle hands and cared for him and her Pink.
But the two boys were putting her in danger, two Union soldiers in Confederate territory! They had to get back to their outfits. Scared and uncertain, the boys were faced with a hard decision.
Ella May lives on a plantation but she doesn't live in the great house. She is a slave. It's dark in the morning when Ella May heads to the fields to pick cotton. And it's sunset when she comes home. But her day isn't done, not yet. Ella May still has important work to do. She's got to listen. Each night Ella May and her friends secretly listen outside the windows of their master's house. The children listen in the hopes of gleaning information about their fates and those of their loved ones. Who will be sold? Who will stay? The lives of slaves depended on the inclinations of their owners. They had no control over their daily lives or futures. But they could dream. And when the promise of freedom appears on the horizon, the children are the first to hear it.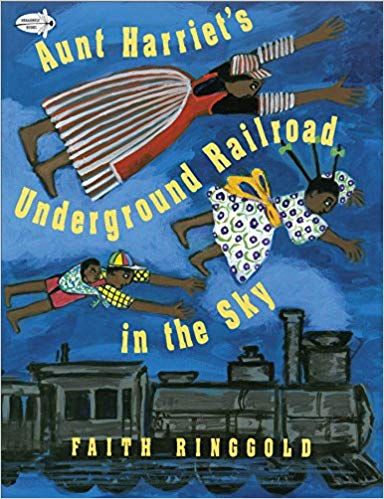 Cassie, who flew above New York in Tar Beach, soars into the sky once more. This time, she and her brother Be Be meet a train full of people, and Be Be joins them. But the train departs before Cassie can climb aboard. With Harriet Tubman as her guide, Cassie retraces the steps escaping slaves took on the real Underground Railroad and is finally reunited with her brother at the story's end.
12. Hope's Gift by Kelly Starling Lyons
It's 1862 and the Civil War has turned out to be a long, deadly conflict. Hope's father can't stand the waiting a minute longer and decides to join the Union army to fight for freedom. He slips away one tearful night, leaving Hope, who knows she may never see her father again, with only a conch shell for comfort. Its sound, Papa says, echoes the promised song of freedom. It's a long wait for freedom and on the nights when the cannons roar, Papa seems farther away than ever. But then Lincoln finally does it: on January 1, 1863, he issues the Emancipation Proclamation, freeing the slaves, and a joyful Hope finally spies the outline of a familiar man standing on the horizon.
"THAT DADBLAMED COW!" She follows her owner into the Union army and then straight on south to fight in the war. She needs unstomped grass to eat, she gets stuck in the mud, and she's just plain DANGEROUS in battle. But this peculiar cow also gives the weary soldiers some surprising comforts. Based on stories and newspaper reports from the Civil War and full of lively illustrations, this is a heartwarming tale of one wonderfully dadblamed PERSISTENT cow.
Immigration and Ellis Island
In this warm, poignant and highly praised story, a little girl hears how, long ago, another little red-haired girl—her great-grandmother—sailed across the sea with her older brother to join their immigrant parents in a strange new land called America.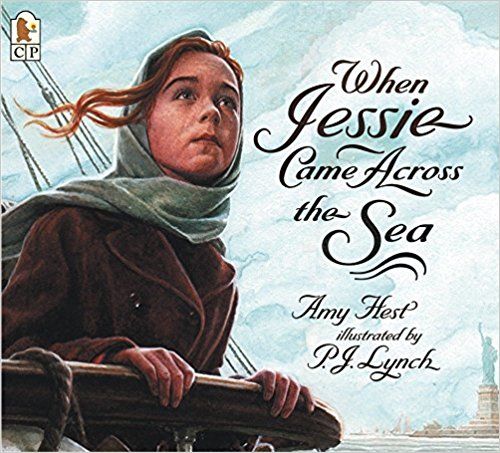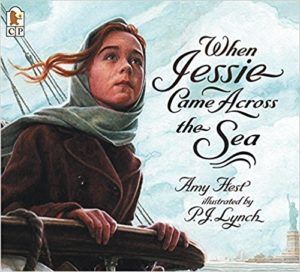 When a young girl from a poor eastern European village learns that she must leave her beloved grandmother for a new life—and a new love—in America, they both feel that their hearts will break. The sure and inspired narrative by award-winning author Amy Hest is paired with paintings by P.J. Lynch that glow with warmth and carefully observed detail, creating an unforgettable tribute to the immigrant experience.
When a little girl visits her great-grandfather at his curio-filled home, she chooses an unusual object to learn about: an old cigar box. What she finds inside surprises her: a collection of matchboxes making up her great-grandfather's diary, harboring objects she can hold in her hand, each one evoking a memory. Together they tell of his journey from Italy to a new country, before he could read and write—the olive pit his mother gave him to suck on when there wasn't enough food; a bottle cap he saw on his way to the boat; a ticket still retaining the thrill of his first baseball game.
An immigrant boy's tattered woolen coat helps secure his entrance to America in this thoughtful picture book. Grisha, whose parents have died, now lives with his cousin Rachel's boisterous family in a Russian shtetl. Grisha misses his parents terribly, though he finds comfort in playing storytelling games with Rachel ("they were the best of friends") and in wearing the now-ragged coat sewn by his mother. But after cossacks terrorize the Jews of the shtetl, Rachel's family flees to America. At Ellis Island an inspector notes a scratch on Grisha's eye and marks his coat, indicating that he is rejected. Luckily, quick-thinking Rachel turns Grisha's coat inside out, allowing him to pass with the rest of the family.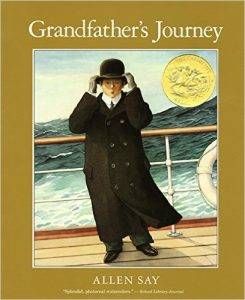 Lyrical, breathtaking, splendid—words used to describe Allen Say's Grandfather's Journey when it was first published. At once deeply personal yet expressing universally held emotions, this tale of one man's love for two countries and his constant desire to be in both places captured readers' attention and hearts. Winner of the 1994 Caldecott Medal, it remains as historically relevant and emotionally engaging as ever.
This is the story of Peppe, who becomes a lamplighter to help support his immigrant family in turn-of-the-century New York City, despite his papa's disapproval. Peppe's family is very poor, and though he is just a boy he needs to find work. Being a lamplighter is not the job his father had dreamed of for Peppe, but when Peppe's job helps save his little sister, he earns the respect of his entire family.
World War I
Mikey's dad has left home to fight overseas during World War I, and Mikey wants to do something BIG to help. When his teacher suggests that the class participate in a knitting bee in Central Park to knit clothing for the troops, Mikey and his friends roll their eyes—knitting is for girls! But when the girls turn it into a competition, the boys just have to meet the challenge. Based on a real "Knit-In" event at Central Park in 1918, Knit Your Bit shows readers that making a lasting contribution is as easy as trying something new!
In August 1914, when war breaks out in Europe, Canadians rush to join the army to fight with the Allies, expecting to be home by Christmas. Everyone thinks the war will be over in a few months. But by the time the war ends in 1918, nearly 10 million soldiers and 13 million civilians are dead. The especially brutal conditions the soldiers face are portrayed in a spare, straightforward style that neither glorifies war nor dwells on the horror. No one reading this book will come away with anything other than sorrow for the tragedy and futility of "the war to end all wars."
Based on a true account of a soccer game played between the German and English troops in no-man's land on Christmas Day in 1914 during World War I, this book tells the story of four young men who have recently enlisted and have found that war is not as glamorous as they had once thought. The young men get to realize their dream of playing soccer for England when the English and German sides hold a ceasefire on Christmas Day and they play a friendly game against one another.
Women's Suffrage
An inspiring story of the fight for women's suffrage, based on the experiences of a real girl. All Bessie wants is to go hiking with her father and brothers. But it's 1896, and girls don't get to hike. They can't vote either, which Bessie discovers when Susan B. Anthony comes to town to help lead the campaign for women's suffrage. Stirred to action, Bessie joins the movement and discovers that small efforts can result in small changes—and maybe even big ones. Inspired by the diary of the real Bessie Keith Pond, a ten-year-old girl who lived in California during the suffrage campaign, author Claire Rudolf Murphy and illustrator Stacey Schuett offer a thought-provoking introduction to the fight for women's rights. A story of hope and determination, Marching with Aunt Susan reminds readers that society cannot evolve unless people—even young people—dare to take a stand.
The Great Depression
Christmas always comes to Nella's house, but Santa Claus brings gifts only once in a while. That's because it's the Depression and Nella's family is poor. Even so, Nella's hoping that this year she and her two sisters will get a beautiful Baby Betty doll. On Christmas morning, the girls are beside themselves with excitement! There is Baby Betty, in all her eyelash-fluttering magnificence. "Mine!" Nella shouts, and claims the doll for herself. But soon she discovers that Baby Betty isn't nearly as much fun as her sisters. Would it be more fun to share this very best gift with them after all?
Lydia Grace Finch brings a suitcase full of seeds to the big gray city, where she goes to stay with her Uncle Jim, a cantankerous baker. There she initiates a gradual transformation, bit by bit brightening the shop and bringing smiles to customers' faces with the flowers she grows. But it is in a secret place that Lydia Grace works on her masterpiece—an ambitious rooftop garden—which she hopes will make even Uncle Jim smile. Sarah Stewart introduces readers to an engaging and determined young heroine, whose story is told through letters written home, while David Small's illustrations beautifully evoke the Depression-era setting.
It's 1932 and hard times are everywhere. But life isn't all bad. America still loves baseball, and Babe Ruth is the star of the game. And two boys are about to discover that with some creativity, hard work, and a little help from the Babe himself, they can do their part to help out their own team!
Cal is not the readin' type. Living way high up in the Appalachian Mountains, he'd rather help Pap plow or go out after wandering sheep than try some book learning. Nope. Cal does not want to sit stoney-still reading some chicken scratch. But that Book Woman keeps coming just the same. She comes in the rain. She comes in the snow. She comes right up the side of the mountain, and Cal knows that's not easy riding. And all just to lend his sister some books. Why, that woman must be plain foolish—or is she braver than he ever thought?
World War II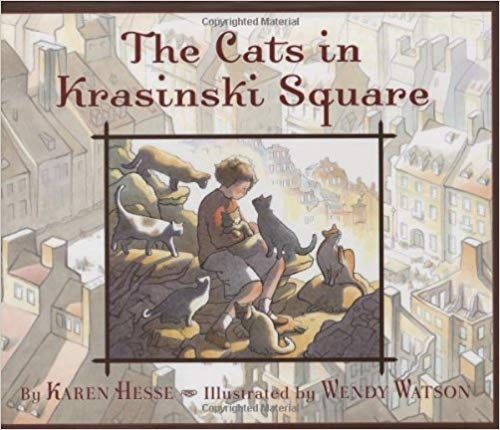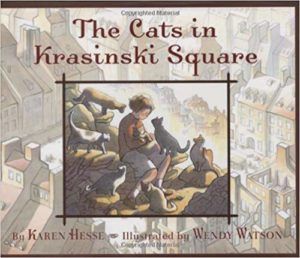 When Karen Hesse came upon a short article about cats out-foxing the Gestapo at the train station in Warsaw during WWII, she couldn't get the story out of her mind. The result is this stirring account of a Jewish girl's involvement in the Resistance. At once terrifying and soulful, this fictional account, borne of meticulous research, is a testament to history and to our passionate will to survive, as only Newbery Medalist Karen Hesse can write it.
Blending fact with legend, Deedy tells of Denmark's King Christian X's simple act of rebellion and courage, which served to unite his people against the Nazis. It is the king's custom to ride through the streets of Copenhagen unguarded, counting on the love of his people to protect him. When the Nazis circulate the order that all Jews must wear yellow stars on their clothing, the king devises a way to protect them. He makes his morning rounds as is his custom, but wears a yellow Star of David on his finest suit. The final illustrations depict shopkeepers, policemen, and others, all following their monarch's lead. "And, once again, in the country of Denmark, there were only Danes."
A neighborhood cat observes the changes in German and Jewish families in Berlin during the period leading up to Kristallnacht, the Night of Broken Glass. This cat's-eye view introduces the Holocaust to children in a gentle way that can open discussion of this period.
For one family the traditional Hanukkah celebration has a deeper meaning. Amidst the food and the festivities, Grandma and Great-Aunt Rose begin their story—the one they tell each year. They pass on to each generation a tale of perseverance during the darkest hours of the Holocaust, and the strength it took to continue to honor Hanukkah in the only way they could. Their story reaffirms the values of tradition and family, but also shows us that by continuing to honor the tragedies and the triumphs of the past there will always be hope for the future.
After World War II there is little left in Katje's town of Olst in Holland. Her family, like most Dutch families, must patch their old worn clothing and go without everyday things like soap and milk. Then one spring morning when the tulips bloom "thick and bright," Postman Kleinhoonte pedals his bicycle down Katje's street to deliver a mysterious box—a box from America! Full of soap, socks, and chocolate, the box has been sent by Rosie, an American girl from Mayfield, Indiana. Her package is part of a goodwill effort to help the people of Europe. What's inside so delights Katje that she sends off a letter of thanks—beginning an exchange that swells with so many surprises that the girls, as well as their townspeople, will never be the same.
This inspiring story, with strikingly original art, is based on the author's mother's childhood and will show young readers that they, too, can make a difference.
Tucky Jo was known as the "kid from Kentucky" when he enlisted in the army at age fifteen. Being the youngest recruit in the Pacific during World War II was tough. But he finds a friend in a little girl who helps him soothe his bug bites, and he gets to know her family and gives them some of his rations. Although the little girl doesn't speak English, Tucky Jo and Little Heart share the language of kindness. Many years later, Tucky Jo and Little Heart meet again, and an act of kindness is returned when it's needed the most in this touching picture book based on a true story.
"Shorty" and his family, along with thousands of other Japanese Americans, have been forced to relocate from their homes to a "camp" after the attack on Pearl Harbor, Hawaii. Fighting the heat, dust, and freezing cold nights of the desert, Shorty and the others at the camp need something to look forward to, even if only for nine innings. So they build a playing field, and in this unlikely place, a baseball league is formed. Surrounded by barbed-wire fences and guards in towers, Shorty soon finds that he is playing not only to win, but to gain dignity and self-respect as well.
Inspired by actual events, this moving story of hope and courage in a Japanese American internment camp during World War II reveals a long-hidden and ugly part of the American past.
Emi and her family are being sent to a place called an internment camp, where all Japanese-Americans must go. The year is 1942. The United States and Japan are at war. Seven-year-old Emi doesn't want to leave her friends, her school, her house; yet as her mother tells her, they have no choice, because they are Japanese-American. For her mother's sake, Emi doesn't say how unhappy she is. But on the first day of camp, when Emi discovers she has lost her heart bracelet, she can't help wanting to cry. "How will I ever remember my best friend?" she asks herself.
Civil Rights and The Great Migration
Nine-year-old Booker works with his father and brother at the saltworks but dreams of the day when he'll be able to read.
If a bus could talk, it would tell the story of a young African-American girl named Rosa who had to walk miles to her one-room schoolhouse in Alabama while white children rode to their school in a bus. It would tell how the adult Rosa rode to and from work on a segregated city bus and couldn't sit in the same row as a white person. It would tell of the fateful day when Rosa refused to give up her seat to a white man and how that act of courage inspired others around the world to stand up for freedom.
In this book a bus does talk, and on her way to school a girl named Marcie learns why Rosa Parks is the mother of the Civil Rights movement. At the end of Marcie's magical ride, she meets Rosa Parks herself at a birthday party with several distinguished guests. Wait until she tells her class about this!
Joe and John Henry are a lot alike. They both like shooting marbles, they both want to be firemen, and they both love to swim. But there's one important way they're different: Joe is white and John Henry is black, and in the South in 1964, that means John Henry isn't allowed to do everything his best friend is. Then a law is passed that forbids segregation and opens the town pool to everyone. Joe and John Henry are so excited they race each other there…only to discover that it takes more than a new law to change people's hearts.
You could blame Abbey Finch. If she hadn't come back from town with tales of a fountain bubbling with "colored" water, LuLu and Jelly would not have needed to go see for themselves. But it's not Abbey's fault. It's the early 1960s and colored water isn't the fruit-flavored Technicolor wonder that LuLu and Jelly are expecting. And having a drink doesn't come without a price.
There's a sweet, sweet smell in the air as two young girls sneak out of their house, down the street, and across town to where men and women are gathered, ready to march for freedom and justice. Inspired by countless children and young adults who took a stand, two Coretta Scott King honorees offer a heart-lifting glimpse of children's roles in the civil rights movement.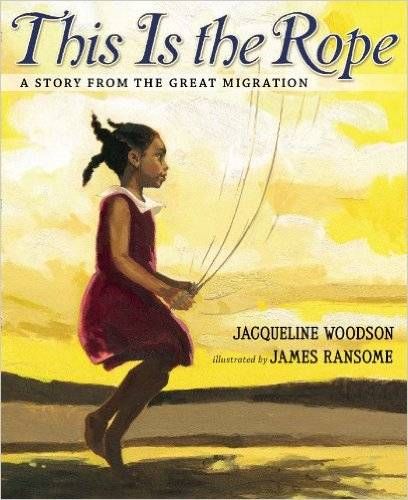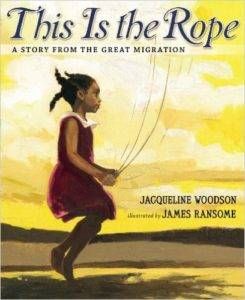 During the time of the Great Migration, millions of African American families relocated from the South, seeking better opportunities. The story of one family's journey north during the Great Migration starts with a little girl in South Carolina who finds a rope under a tree one summer. She has no idea the rope will become part of her family's history. But for three generations, that rope is passed down, used for everything from jump rope games to tying suitcases onto a car for the big move north to New York City, and even for a family reunion where that first little girl is now a grandmother.
The Cultural Revolution
When Tai Shan and his father, Baba, fly kites from their roof and look down at the crowded city streets below, they feel free, like the kites. Baba loves telling Tai Shan stories while the kites—one red, and one blue—rise, dip, and soar together. Then, a bad time comes. People wearing red armbands shut down the schools, smash store signs, and search houses. Baba is sent away, and Tai Shan goes to live with Granny Wang. Though father and son are far apart, they have a secret way of staying close. Every day they greet each other by flying their kites—one red, and one blue—until Baba can be free again, like the kites.
Canadian Historical Fiction
When a young girl helps tend to her grandmother's garden, she begins to notice things that make her curious. Why does her grandmother have long, braided hair and beautifully coloured clothing? Why does she speak another language and spend so much time with her family? As she asks her grandmother about these things, she is told about life in a residential school a long time ago, where all of these things were taken away. When We Were Alone is a story about a difficult time in history, and, ultimately, one of empowerment and strength.
The story of the beautiful relationship between a little girl and her grandfather. When she asks her grandfather how to say something in his language—Cree—he admits that his language was stolen from him when he was a boy. The little girl then sets out to help her grandfather find his language again. This sensitive and warmly illustrated picture book explores the intergenerational impact of the residential school system that separated young Indigenous children from their families. The story recognizes the pain of those whose culture and language were taken from them, how that pain is passed down, and how healing can also be shared.
Books Inspired by Historic People
Little ballerinas have big dreams. Dreams of pirouettes and grande jetes, dreams of attending the best ballet schools and of dancing starring roles on stage. But in Harlem in the 1950s, dreams don't always come true—they take a lot of work and a lot of hope. And sometimes hope is hard to come by.
But the first African-American prima ballerina, Janet Collins, did make her dreams come true. And those dreams inspired ballerinas everywhere, showing them that the color of their skin couldn't stop them from becoming a star.
From battling toothaches while fighting the British, to having rotten teeth removed by his dentists, the Father of His Country suffered all his life with tooth problems. Yet, contrary to popular belief, he never had a set of wooden teeth. Starting at the age of twenty-four, George Washington lost on average a tooth a year, and by the time he was elected president, he had only two left! In this reverentially funny tale written in verse and based on Washington's letters, diaries, and other historical records, readers will find out what really happened as they follow the trail of lost teeth to complete tooflessness.
Marie Antoinette was one of the most celebrated queens in history…but she was once a little girl, too. As told by her vain but devoted dog, Sebastian, here is the story of the young princess's life—from her childhood in Austria, to the elaborate preparations leading to her marriage to Louis XVI; from her unhappy rise to power in turbulent times, to the birth of her own children. Lynn Cullen's spirited text sheds light on a side of Marie Antoinette few have seen—that of a vulnerable young girl thrust into a role much bigger than she could have imagined. Stunning illustrations by Amy Young capture the grandeur of life in 18th century Versailles and the touching intimacy of a child's lasting love for her pet.
A goose named Willoughby visits London, meets a friendly actor-playwright named Shakespeare, and helps make literary history.
In the 1840s, there was a real vounteer firefighter named Mose Humphreys whose bravery was renown throughout New York City. Plays about him began being performed on Broadway in 1848 and over the years his strength and heroics took on larger-than-life proportions, much like those of Paul Bunyan. Mary Pope Osborne has honed down the legends about him to a brief, dramatic, sometimes comical, but ultimately moving text of picture book length. Steve Johnson and Lou Fancher's stunning paintings capture this 8-foot-tall superhero rushing into burning buildings, saving babies and bankers, and wolfing down the feasts bestowed upon him by the grateful citizens of old New York—until the one big hotel fire after which he was never seen again. The author has included a historical note about the origins of this tall tale, and the book is dedicated to the 343 New York City firefighters who gave their lives to save others on September 11, 2001.
Master of the historical fiction picture book Deborah Hopkinson takes us back to late eighteenth-century America and the discombobulated home of Mrs. Bean, mother of six strapping sons, who simply can't manage—until Amelia Simmons arrives and puts things in order. And how well she cooks—everything from flapjacks to bread pudding to pickled cucumbers! She even invents new recipes using American ingredients like winter squash. Best of all, she can bake, and to honor the brand-new president, George Washington, she presents him with thirteen Independence Cakes—one for each colony. "Delicious!" he proclaims. Author's Note and original recipe included!
So Much More Historical Fiction Picture Books!
This was an incredibly hard list to put together. There are so many amazing historical fiction picture books based on a myriad of time periods! Ask the children in your life what historical event or era they would like to know more about, and there is almost definitely a historical fiction picture book that will draw them in.
Have older kids at home? Try these historical fiction YA books!