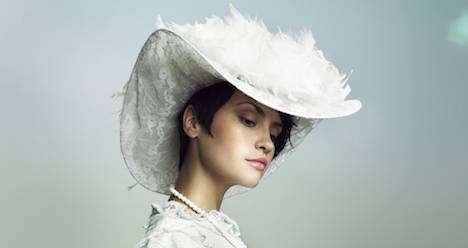 This content contains affiliate links. When you buy through these links, we may earn an affiliate commission.
My love for historical fiction began when I was a tiny budding reader and my mom read the Little House on the Prairie books to me (problematic, I know, as Rioter Kelly has written about, but it was what I had). As soon as I could read myself, I devoured every historical novel I could get my hands on. I love the genre because not only is it incredibly varied, but it often focuses on characters and people you don't always see in the history texts–girls, for example. YA historical fiction offers even more exciting perspectives and experiences from all over the world, dating back many centuries.
For the purposes of keeping this list manageable, I've defined historical fiction here as a novel that explores the experiences of teen characters pre-1980. (Yeah, we can make an argument that books set 1980-2000 are technically historical fiction, but I choose not to here because that makes me feel old.) I've also focused on realistic historical fiction (i.e. you won't see Libba Bray on this list, even though she writes some pretty awesome historical fantasy), but I've made exceptions for magical realism and instances of magical thinking. I've also excluded alternative history, but I've included books that insert fictional characters into significant historical events. I did include books that allow for some anachronisms for the sake of story, as long as the book stayed true to the spirit of the era.
Finally, books that are the first in a series are denoted with a +!
All right! Buckle up, readers! We're going back in time!
Accidents of Nature by Harriet McBryde Johnson
Annie, Between the States by L.M. Elliot
The Astonishing Life of Octavian Nothing, Traitor to the Nation: The Pox Party by M.T. Anderson+
Audacity by Melanie Crowder
Before We Were Free by Julia Alvarez
Belle Epoque by Elizabeth Ross
Berlin Boxing Club by Robert Sharenow
Between Shades of Grey by Ruta Sepetys
A Big Dose of Lucky by Marthe Jocelyn
Black Dove, White Raven by Elizabeth Wein
Blood Secret by Kathryn Lasky
Bloodline by Katy Moran
Bloody Jack by L.A. Meyer+
Boston Jane by Jennifer L. Holm+
A Break with Charity by Ann Rinaldi
A Brief History of Montmaray by Michelle Cooper+
Burn Baby Burn by Meg Medina
Cate of the Lost Colony by Lisa Klein
Cinders & Sapphires by Leila Rasheed+
Cleopatra Moon by Vicky Alvear Shecter
Climbing the Stairs by Padma Venkatraman
Code Name Verity by Elizabeth Wein
Code Talker by Joseph Bruchac
Copper Son by Sharon Draper
Curses and Smoke by Vicky Alvear Shecter
Darkest Hour by Caroline T. Richmond
Daughter of Xanadu by Dori Jones Yang
Daughters Unto Devils by Amy Lukavics
A Death-Struck Year by Makiia Lucier
Deadly by Jennifer Chibarro
Dreams of Significant Girls by Cristina Garcia
The Evolution of Evelyn Serrano by Sonia Manzano
Faithful by Janet Fox+
Fallen Angels by Walter Dean Myers
Fever, 1793 by Laurie Halse Anderson
Finding My Place by Traci L. Jones
Fire from the Rock by Sharon Draper
The Fire Horse Girl by Kay Honeyman
Flygirl by Sherri L. Smith
Girl in the Blue Coat by Monica Hesse
The Girl is Murder by Kathryn Miller Haines
A Golden Web by Barbara Quick
Good Fortune by Noni Carter
The Hired Girl by Laura Amy Schlitz
Honey Girl by Lisa Freeman
Hush by Donna Jo Napoli
In the Shadow of the Lamp by Susanne Dunlap
Invasion by Walter Dean Myers
Jazmin's Notebook by Nikki Grimes
Josephine by Beverly Jenkins
The Kite Rider by Geraldine McCaughrean
Lies We Tell Ourselves by Robin Talley
The Lightning Dreamer by Margarita Engle
Like Water on Stone by Dana Walrath
Manor of Secrets by Katherine Longshore+
Mare's War by Tanita S. Davis
Meaning of Consuelo by Judith Ortiz Cofer
A Northern Light by Jennifer Donnelly
Out of Darkness by Ashley Hope Perez
Out of the Easy by Ruta Sepetys
Outrun the Moon by Stacey Lee
Paper Hearts by Meg Wiviott
Passion of Dolssa by Julie Berry
Pharaoh's Daughter by Julius Lester
Pirates! by Celia Rees
Prisoner of Night and Fog by Anne Blankmen+
Purple Daze by Sherry Shahan
The Queen's Daughter by Susan Coventry
The Red Necklace by Sally Gardner
Riot by Walter Dean Myers
The Rock and the River by Kekla Magoon+
Rose Under Fire by Elizabeth Wein
Ruby in the Smoke by Philip Pullman+
Salt to the Sea by Ruta Sepetys
Sammy and Juliana in Hollywood by Benjamin Alire Saenz
Silhouette of a Sparrow by Molly Beth Griffin
The Smell of Other People's Houses by Bonnie Sue Hitchcock
A Song for Summer by Eva Ibbotson
A Spy in the House by Y.S. Lee+
StarCrossed by Linda Collison+
Strings Attached by Judy Blundell
Summer of My German Soldier by Bette Green+
Tales of the Madman Underground by John Barnes
Ten Cents a Dance by Christine Fletcher
A Time to Dance by Padma Venkatraman
These Shallow Graves by Jennifer Donnelly
Three Rivers Rising by Jame Richards
A Tyranny of Petticoats, ed. by Jessica Spotswood
Under a Painted Sky by Stacey Lee
Velvet Undercover by Teri Brown
Vengeance Road by Erin Bowman
Violins in Autumn by Amy McAuley
What I Saw and How I Lied by Judy Blundell
What We Hide by Marthe Jocelyn
Wildthorn by Jane Eagland
Willow by Tonya Cherie Hegamin
Witch of Blackbird Pond by Elizabeth George Spear
X: A Novel by Ilyasah Shabazz and Kekla Magoon
The Wicked and the Just by J. Anderson Coates