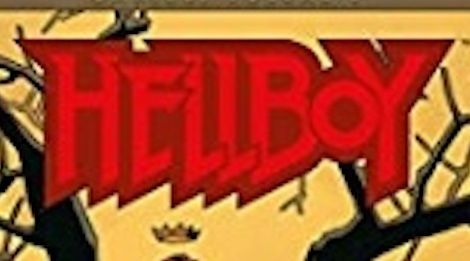 This content contains affiliate links. When you buy through these links, we may earn an affiliate commission.
A couple of months ago, I was lured by the siren's song of yet another Kickstarter tabletop game full of miniatures (that I'll likely never paint). I've backed probably half a dozen of these at this point, but this one is different: it's based on the demon-punching, self-loathing, cigar-chomping, rockabilly, arcane mythos–inspired hero, Hellboy.
As the campaign wore on, and the creators started getting deep with their cuts into the Hellboy back catalog of characters, I realized there was a sizable gap in my knowledge. Hellboy in Mexico? Hellboy in Hell? How did I miss these?
So I did what any rational person would do and took advantage of a timely Comixology sale to buy the entire Hellboy catalog. The subsequent binge of the best Hellboy comics actually took longer than the campaign itself, but I emerged with a deeper appreciation of ol' Hornhead and the satisfying stories creator Mike Mignola and his associates have told.
If you haven't read Hellboy yet (or you're coming back to it after a hiatus), you're in for a treat. Despite the dark magic and occult themes, the entire Hellboy catalog is a surprisingly easy read. For the best experience, I'd recommend picking up the Hellboy Omnibus collections and reading them in order, since there is an overarching story being told.
Hellboy Omnibus Volume 1: Seed of Destruction: The first volume on any Hellboy list should be the first, and this collection bundles together the two essential stories that establish the entire Hellboy mythos Seed of Destruction and Wake the Devil. With these two stories we get everything that makes Hellboy what he is—there's undying Russian mystics, Nazi mysticism (and Nazi cyborgs), reality-ended prophecy, the Greek goddess of witchcraft, fish men, fire starters…it's…it's a lot. The other stories in this collection were originally found in The Chained Coffin and Other Stories. The Wolves of St. August is a sequel to Wake the Devil, but can be read as a one-off. It doesn't really build much on the Hellboy mythology, but it's a fantastic comic. The Chained Coffin gives us even more insight into Hellboy's origins and Almost Colossus explores the origin of one of the B.P.R.D.'s most beloved members, Roger the homunculus.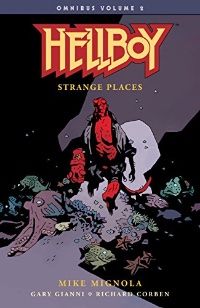 Hellboy Omnibus Volume 2: Strange Places: "That monkey's got a gun!" If you take one thing from this collection, let it be this perfect, perfect line. The first story Conqueror Worm continues the Ragnarok storyline and brings even more Nazis, more of the nine-headed beast, the WWII vigilante Lobster Johnson, and…aliens? This is Hellboy at its meatiest and a great way to set up the rest of the collection. The Third Wish and The Island (originally collected in Hellboy: Strange Places) as well as Into the Silent Sea give us deep backstory as well as further examination of Hellboy as a character as he goes on a vision quest, exhausted and unsettled from the events of Conqueror Worm. The Right Hand of Doom and Box Full of Evil (part of Hellboy: The Right Hand of Doom) dive deeper, providing us with the exact origin of Hellboy's enormously destructive stone hand. We also get a glimpse at the origin of another B.P.R.D. member in Being Human, focusing on the ectoplasmic Johann Kraus.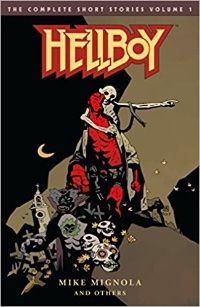 Hellboy: The Complete Short Stories 1: Before you power ahead into the third omnibus, I'd recommend pumping the brakes and reading the collected short stories. Some of the best parts of Hellboy are the one-off short stories that Mignola adapted from folktales. Short Stories 1 is a must-read if for no other reason than it includes Pancakes, the greatest two-page comic of all time. The Corpse is a satisfying read full of gallows humor and the kind of grave-dirt grime that makes a story a Hellboy story. This is also where you can find all of the Hellboy in Mexico stories (believe me, you haven't truly enjoyed Hellboy until you've read luchadore Hellboy). Other interesting bits include The Midnight Circus (which gives us a rare glimpse of Hellboy as a young boy, running away from home to join a circus…haunted, of course) and The Nature of the Beast (an early tale where Hellboy's nature is tested by meddling academics) and The Penanggalan which draws on Malaysian mythology. (The less said about The Crooked Man, also included in this volume, the better.)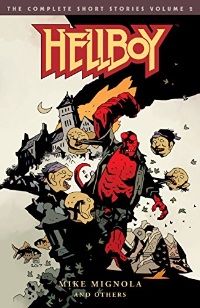 Hellboy: The Complete Short Stories 2: It's hard to top the first collection (Pancakes, I'm telling ya), but the second omnibus is just as good as the first. Heads, a faithful adaptation of a Japanese folktale, is the highlight here—if for no other reason, than we get to see Mignola tackling Japanese architecture and landscapes with his signature style. It's a little predictable, but still enchanting. The Hydra and the Lion is one of my favorites as well—seeing Hellboy go up against the foes of Hercules is never not dull. There's also troll witches, Baba Yaga (again), puppet ghouls, jumping vampires, haunted basements, and so much more your head will be spinning by the time you get to the end. It's a double-barreled shotgun of Hellboy shorts that will make you wish Mignola would trot out Big Red one more time.
Hellboy Omnibus Volume 3: The Wild Hunt: By the time you get through the short stories, you'll be ready to move ahead and get more of the core Hellboy story. Unfortunately, with the third omnibus, we get the closest to a "muddy middle" as the Hellboy series gets. Without the B.P.R.D. team to for Hellboy to riff off of, and burdened by the enormous weight of the mythology layered on in previous volumes, the series still has to move Hellboy's story forward while addressing his ties to the fae folk of England and Ireland, Russia's Baba Yaga, Arthurian legend, and all of the world's witches. Gone are the cybernetic Nazi gorillas and luchadores that kept Hellboy's story, if not light, at least fun. At the same time, it's a thrilling series of stories. No doubt, this omnibus is the toughest to get through…but also the most rewarding as everything that's been left dangling in the previous collections comes to a very final, very satisfying conclusion.
Hellboy Omnibus Volume 4: Hellboy in Hell: So you've killed off your main character without him fulfilling his destiny…The final omnibus collection follows Hellboy as he comes to grips with his death and what that means for him in terms of finally having to address his oft-prophesied destiny. Collecting Hellboy in Hell Volume 1 and Hellboy in Hell Volume 2, it reads more like a coda to the main series. Mignola, in his desire to wrap things up, is spare with the little details and curious asides that pepper the rest of Hellboy. Mostly because, instead of drawing on folklore and mythology, Mignola is drawing to a close the unique mythos that he crafted out of those collective tales. The result is a quieter Hellboy story than what we're used to (though that doesn't mean there isn't punching…plenty of punching). At times a "greatest hits" as Hellboy encounters characters he's defeated throughout his life, at times an epic struggle of destiny vs. free will, Hellboy in Hell will be on your mind long after you read the final panel.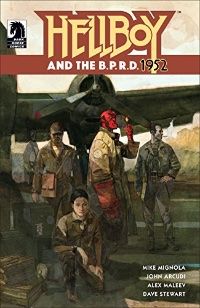 Hellboy and the B.P.R.D. 1952: But even the Omnibus collections don't tell the entire story! This graphic novel is the first of an ongoing series that gives us tales of Hellboy when he first joined the B.P.R.D. as a teenager in the '50s. It's got a very Buffy the Vampire Slayer feel in that there is a core cast of agents, with Hellboy as the heavy hitter, a rotating gallery of rogues (monkeys and Nazis and demons, oh my!), and lots of little clues dropping constantly that make you suspect that everyone has entire foot lockers full of skeletons in their closets. The ongoing comic is up to 1956, but you can pick up Hellboy and the B.P.R.D. 1953, Hellboy and the B.P.R.D. 1954, and Hellboy and the B.P.R.D. 1955 to catch up. You don't have to read this at all to get the "core story" of Hellboy, but you'll be missing out on some really fun tales.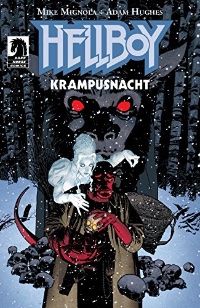 Hellboy: Krampusnacht: Then there's this little nugget at the end of the reading list. I wasn't sure what to expect when I picked up the title, but this oddball holiday themed one-shot ends up feeling like a rehash of stories that have already been told. It's still fun and the art is still wonderful, but if you skip it, you won't miss out on anything.
Now to start on that B.P.R.D. graphic novel binge…
What do you think are the best Hellboy comics?