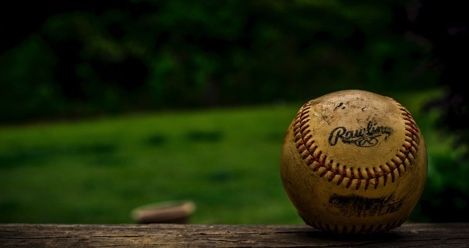 Lists
Batter Up! 30 of the Best Baseball Books
This content contains affiliate links. When you buy through these links, we may earn an affiliate commission.
When legendary Yankees manager Joe Torre was inducted into the Baseball Hall of Fame, he closed out his speech with a thought I always go back to whenever I'm asked why I love the game: "There is a power to both patience and persistence. Baseball is a game of life. It's not perfect, but it feels like it is. That's the magic of it."
There's so much truth in this statement, and it sums up why I love baseball so much. Any team can win on any day, no matter what the statistics say. The same team can win a blowout one afternoon and lose by a score of 1–0 the next day against the same opponent. There's a lot of failing in baseball and overcoming those failures together. There is no time clock, no uniform field dimensions, players have to deal with the quirks of the ballpark, the personalities of the umpires and players, the energy of the crowd. And it's no different playing baseball or softball in the backyard, at the little league field, or for your high school or college team—baseball is indeed a game of life. Whether you're at the sandlot or a major league park, it's a long, humbling, but nevertheless rewarding season for players and fans alike.
So, what do you do when you love something this much? Read more about it, of course! Here are some of the best baseball books out there, whether you're looking for a history lesson, some tips about understanding the game, novels to get lost in, or books for kids.
This is by no means a comprehensive list of all the many baseball books out there, so feel free to drop your favorites in the comments section.
Best Baseball books: NonFiction
"Baseball is a sport with its own ling—a colorful patois that's developed over the years and millions of games. In The Baseball Thesaurus, a fascinating compendium of baseball terms, Jesse Goldberg-Strassler—broadcaster, storyteller, talker, voice—explains what baseball terms mean and how they came to be."
"Disapproving scolds. Sexist condescension. Odd theories about the effect of exercise on reproductive organs. Though baseball began as a gender-neutral sport, girls and women of the nineteenth century faced many obstacles on their way to the diamond. Yet all-female nines took the field everywhere. Debra A. Shattuck pulls from newspaper accounts and hard-to-find club archives to reconstruct a forgotten era in baseball history."
"Using an 'Everyman' player as his narrator, Kadir Nelson tells the story of Negro League baseball from its beginnings in the 1920s through the decline after Jackie Robinson crossed over to the majors in 1947. Illustrations from oil paintings by the author."
"From the time she was a girl growing up in the shadow of Lexington Park in Saint Paul, Minnesota, Toni Stone knew she wanted to play professional baseball. There was only one problem—every card was stacked against her. Curveball tells the inspiring story of baseball's 'female Jackie Robinson,' a woman whose ambition, courage, and raw talent propelled her from ragtag teams barnstorming across the Dakotas to playing in front of large crowds at Yankee Stadium. Toni Stone was the first woman to play professional baseball on men's teams."
"The perfect game is one of the rarest accomplishments in sports. No hits, no walks, no men reaching base. In nearly four hundred thousand contests in more than 130 years of Major League Baseball, it has only happened twenty times. On June 2, 2010, Armando Galarraga threw baseball's twenty-first perfect game. Except that's not how it entered the record books. That's because Jim Joyce, a veteran umpire with more than twenty years of big league experience, the man voted the best umpire in the game in 2010 by baseball's players, missed the call on the final out at first base. 'No, I did not get the call correct,' Joyce said after seeing a replay. But rather than throw a tantrum, Galarraga simply turned and smiled, went back to the mound and took care of business. 'Nobody's perfect,' he said later in the locker room."
"Making My Pitch tells the story of Ila Jane Borders, who despite formidable obstacles became a Little League prodigy, MVP of her otherwise all-male middle school and high school teams, the first woman awarded a baseball scholarship, and the first to pitch and win a complete men's collegiate game. After Mike Veeck signed Borders in May 1997 to pitch for his St. Paul Saints of the independent Northern League, she accomplished what no woman had done since the Negro Leagues era: play men's professional baseball. Borders played four professional seasons and in 1998 became the first woman in the modern era to win a professional ball game."
"The Immaculate Inning shines a light on the miracle of baseball's endless possibility—the way that on any given day, someone (maybe a star, or maybe a scrub) could perform the rarest of single-game feats or cap off a seemingly unobtainable chase for a record. Covering a selection of the most unusual, significant, and rare feats in baseball history, both in the context of single-day (and sometimes even single-play) events and those that require a longer streak or a full season's excellence to reach or complete, the book clearly defines how each task is amassed, provides historical background, and tells riveting stories of the ballplayers that did the unthinkable."
"The Kansas City Monarchs. The Chicago American Giants. The St. Louis Stars. The Newark Eagles. The Birmingham Black Barons. The Homestead Grays. The Cuban X Giants. For over 50 years, they were the Yankees, Cardinals, and Red Sox of black baseball in America. And for over a decade beginning in the mid-1940s, umpire Bob Motley called balls and strikes for their games, earning the opportunity to work with such legends as Satchel Paige, Hank Aaron, Ernie Banks, and Willie Mays. Today, Motley is the only living Negro League arbiter, and Ruling Over Monarchs, Giants & Stars is his revealing, humorous memoir."
"In this honest and insightful memoir, Jim Abbott reveals the insecurities of a life spent as the different one, how he habitually hid his disability in his right front pocket, and why he chose an occupation in which the uniform provided no front pockets. With a riveting pitch-by-pitch account of his no-hitter providing the ideal frame for his story, this unique athlete offers readers an extraordinary and unforgettable memoir."
"The hit 1992 film A League of Their Own made the All-American Girls Professional Baseball League famous. But the players' stories remain largely untold. The 600 women who played for the AAGPBL through the 1940s and 1950s enjoyed a rare opportunity to lead independent lives as well-paid professional athletes. Their experiences in the league led many to education and careers they never imagined. As teachers, coaches and role models, they strove to broaden the horizons of girls and young women. Many continued to be involved in athletics, supporting the efforts leading to Title IX and the women's sports revolution. Today, they are dedicated to preserving the history of women in baseball and creating opportunities for girls to play."
"With fresh (and sober) eyes, Dwight Gooden, who tallied a mountain of strikeouts while leading the 1986 bad-boy New York Mets to a World Series win, shares the most intimate moments of his successes and failures, from endless self-destructive drug binges to three World Series rings."
"Bengie and his two brothers—Jose and six-time All-Star Yadier—became famous catchers in the Major Leagues and have six World Series championships among them. Only the DiMaggio brothers can rival the Molinas as the most accomplished siblings in baseball history. Bengie was the least likely to reach the Majors. He was too slow, too sensitive, and too small. But craving his beloved father's respect, Bengie weathered failure after deflating failure until one day he was hoisting a World Series trophy in a champagne-soaked clubhouse. All along he thought he was fulfilling his father's own failed dream of baseball glory—only to discover it had not been his father's dream at all."
Best Baseball books: Fiction
"'If you build it, he will come.' These mysterious words, spoken by an Iowa baseball announcer, inspire Ray Kinsella to carve a baseball diamond in his cornfield in honor of his hero, the baseball legend Shoeless Joe Jackson. What follows is both a rich, nostalgic look at one of our most cherished national pastimes and a remarkable story about fathers and sons, love and family, and the inimitable joy of finding your way home."
"Miko Kings is set in Indian Territory's queen city, Ada, Oklahoma, during the baseball fever of 1907, but moves back and forth from 1969, during the Vietnam War, to present-day Ada. The story focuses on an Indian baseball team but brings a new understanding of the term 'America's favorite pastime.' For tribes in Indian Territory, baseball was an extension of a sport they'd been playing for centuries before their forced removal to Indian Territory."
"Danny's tall and skinny. Even though he's not built, his arms are long enough to give his pitch a power so fierce any college scout would sign him on the spot. Ninety-five mile an hour fastball, but the boy's not even on a team. Every time he gets up on the mound he loses it. Set in the alleys and on the ball fields of San Diego County, Mexican Whiteboy is a story of friendship, acceptance, and the struggle to find your identity in a world of definitions."
"Ted Fullilove, aka Mr. Peanut, is not like other Ivy League grads. He shares an apartment with Goldberg, his beloved battery-operated fish, sleeps on a bed littered with yellow legal pads penned with what he hopes will be the next great American novel, and spends the waning malaise-filled days of the Carter administration at Yankee Stadium, waxing poetic while slinging peanuts to pay the rent. When Ted hears the news that his estranged father, Marty, is dying of lung cancer, he immediately moves back into his childhood home, where a whirlwind of revelations ensues. The browbeating absentee father of his youth is living to make up for lost time, but his health dips drastically whenever his beloved Red Sox lose. And so, with help from a crew of neighborhood old-timers and the lovely Mariana—Marty's Nuyorican grief counselor—Ted orchestrates the illusion of a Sox winning streak, enabling Marty and the Red Sox to reverse the Curse of the Bambino and cruise their way to World Series victory. Well, sort of."
"How much is a father's love worth? Jason Thibodeaux has a $42 million contract to pitch for the Colorado Rockies and a romantic bachelor lifestyle when the son he lost in a searing custody battle reappears in his life. Home, Away follows Thibodeaux's colorful rise to the pinnacle of Major League Baseball and his agonized decision to quit in the prime of his career to care for his troubled son. Their evolving relationship and resulting confrontations—on the baseball field and off—test the limits of loyalty and the meaning of fatherhood itself."
"Nine-year-old Trisha McFarland strays from the path while she and her recently divorced mother and brother take a hike along a branch of the Appalachian Trail. Lost for days, wandering farther and farther astray, Trisha has only her portable radio for comfort. A huge fan of Tom Gordon, a Boston Red Sox relief pitcher, she listens to baseball games and fantasizes that her hero will save her. Nature isn't her only adversary, though—something dangerous may be tracking Trisha through the dark woods."
"For seventeen-year-old Danny Boles, a 5'5″ shortstop out of Tenkiller, Oklahoma, the summer of 1943 would be a season to remember. The country's at war, and professional baseball needs able-bodied men. Danny's headed for Highbridge, Georgia—home of the Goober Pride peanut butter factory and the Highbridge Hellbenders, a Class C farm club in the Chattahoochee Valley League. He's a scrappy player with one minor quirk: a violent encounter on the train to Georgia has rendered him mute, his vocal cords tied up in knots. Danny's idiosyncrasy, however, is nothing compared to that of his new Hellbender roommate, an erudite seven-foot giant by the name of Jumbo Hank Clerval. With his yellow eyes, strangely scarred face, and sausage-sized fingers, Hank seems to have been put together in a meat-packing plant. But he plays a mean first base and can hit the ball a mile. With the Hellbenders in a pennant race as hot as the relentless Georgia sun, the eloquent Clerval forms a special kinship with the speechless kid from Oklahoma."
"J. Henry Waugh immerses himself in his fantasy baseball league every night after work. As owner of every team in the league, Henry is flush with pride in a young rookie who is pitching a perfect game. When the pitcher completes the miracle game, Henry's life lights up. But then the rookie is killed by a freak accident, and this 'death' affects Henry's life in ways unimaginable. In a blackly comic novel that takes the reader between the real world and fantasy, Robert Coover delves into the notions of chance and power."
"September 1953. Dancer Stonemason is three days away from his major league debut with the St. Louis Cardinals. With his wife and son cheering him on, he pitches the greatest game of his life. And then he loses everything."
Best Baseball books FOr Kids
"Stephen Satlow is an eight-year-old boy living in Brooklyn, New York, which means he only cares about one thing—the Dodgers. Steve and his father spend hours reading the sports pages and listening to games on the radio. Aside from an occasional run-in with his teacher, life is pretty simple for Steve. But then Steve hears a rumor that an African American family is moving to his all-Jewish neighborhood. It's 1948 and some of his neighbors are against it. Steve knows this is wrong. His hero, Jackie Robinson, broke the color barrier in baseball the year before. Then it happens—Steve's new neighbor is none other than Jackie Robinson! Steve is beyond excited about living two doors down from the Robinson family. He can't wait to meet Jackie. This is going to be the best baseball season yet! How many kids ever get to become friends with their hero?"
The Contract b
y
Derek Jeter
and Paul Mantell
"Derek Jeter is a legend in professional sports and a role model for many youth around the country. While leading the New York Yankees to five World Series Championships and achieving a myriad of milestones and accomplishments on and off the field, including thirteen All-Star nods and membership in baseball's exclusive 3,000-hit club, Jeter has established a reputation of unparalleled character, credibility, dedication, and excellence. When Jeter was a boy, he had the dream of becoming the shortstop for the New York Yankees. Inspired by his childhood, this start to a middle grade series is about a boy who sets high goals for himself and makes his dreams come true through hard work, teamwork, and determination."
"Shorty and his family, along with thousands of Japanese Americans, are sent to an internment camp after the attack on Pearl Harbor. Fighting the heat and dust of the desert, Shorty and his father decide to build a baseball diamond and form a league in order to boost the spirits of the internees. Shorty quickly learns that he is playing not only to win, but to gain dignity and self-respect as well."
"Amy's dad is away, fighting in World War II, and her mama must take a job. But it's no ordinary job—Amy's mother becomes a baseball player in the first professional women's league! Amy cheers louder than anyone at all of the home games. And while Mama's team travels, Amy works on a secret project—a surprise for her dad when he is finally back home."
"This inspiring memoir from a girl who learned to play baseball with the boys and rose to national stardom before beginning eighth grade will encourage young readers to reach for their dreams no matter the odds. Mo'ne's story is one of determination, hard work, and an incredible fastball."
"In the late 1940s, the minor league Milwaukee Brewers are foundering yet again and manager Arthur Murphy is desperate. When he sees seventeen-year old Mickey Tussler throwing apples into a barrel, he knows he has found the next pitching phenom. But not everyone is so hopeful. Mickey's autism—a disorder still not truly understood even today—has alienated the boy from the world, and he is berated by other players and fans. Mickey faces immense trials in the harsh and competitive world of baseball while coping with the challenges inherent to his disorder."
"Despite his impulsive and curious nature, twelve-year-old Leon is determined to follow the Emperor's rules—to live with an American family, study hard, and return home to modernize China. But he also must keep the braid that shows his loyalty—and resist such forbidden American temptations as baseball. As Leon overcomes teasing and makes friends, his elder brother becomes increasingly alienated and disturbed. Eventually, Leon faces a tough decision, torn between his loyalty to his birth country—and his growing love for his new home. The Forbidden Temptation of Baseball is a lively, poignant, and nuanced novel based on a little-known episode from history, when 120 boys were sent to New England by the Emperor of China in the 1870s. This story dramatizes both the rigid expectations and the wrenching alienation felt by many foreign children in America today—and richly captures that tension between love and hate that is culture shock."
"Twelve-year-old Chinese American Peter Lee and his family always shared a passion for baseball, bonding over backlot games and the Pittsburgh Pirates. But when a devastating tragedy strikes, the family flies apart and Peter's mom becomes paralyzed by grief, drifting further and further from her family. Hoping to lift his mother's spirits, Peter decides to try out for Little League. But his plans become suddenly complicated when his strict and serious father volunteers to coach the team. His dad's unconventional teaching methods rub some of Peter's teammates the wrong way, and Peter starts to wonder if playing baseball again was the right idea—and if it can even help his family feel less broken. Can the game they all love eventually bring them back together, safe at home?"
"You had to be really, really good to play in the 1946 championship game between the Racine Belles and the Rockford Peaches. Sitting in the stands, Margaret thrills to every crack of the bat. Someday she hopes to join her heroes like Sophie 'the Flash' Kurys and Betty 'Moe' Trezza. As the ball hurtles toward the plate, Margaret can almost feel what it would be like to be in that batter's position, arms tensed, bat held high. As we see this historic game in the annals of the All-American Girls Professional Baseball League through the eyes of a fictional young girl."
Still feeling bookish about baseball? Try some of these on for size:
Hit the comments to share what you think the best baseball books are!