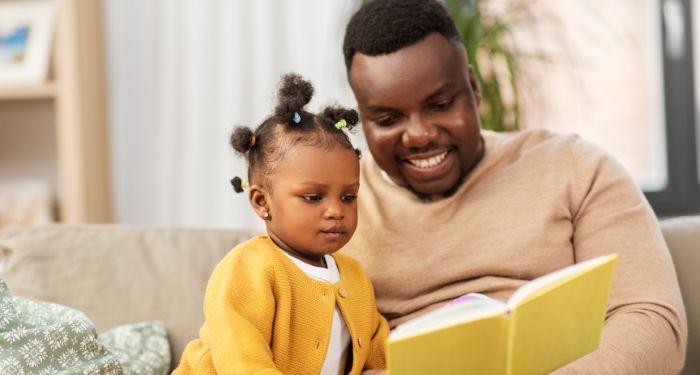 Children's
The Best Baby Christmas Books to Read and Gift
This content contains affiliate links. When you buy through these links, we may earn an affiliate commission.
One of the traditions I started with my baby is picking out a themed book or two about each holiday and gifting them to her. She's got a nice little collection of various celebrations now, including an impressive Halloween book selection. This year, since it'll be her second Christmas, I am looking to add even more baby Christmas books to her stash, alongside other winter holiday titles. We aren't religious, though we practice a mix of Christmas traditions and Jewish Hanukkah traditions because of our families, alongside several of our own making, including the traditional Texas tamales (and yes, even in my part of Illinois, you can buy tamales from the woman known in her former Mexican town for having the best ones and those are bought from her at her home, not in the grocery store). Reading baby Christmas books together is one way I hope to expose her to the traditions of some of her more devout peers and help her understand various cultural references.
This roundup of baby Christmas books focuses on board books that are perfect for those newborns to three year olds who love handling, tossing, and chewing what they're reading. I believe books are for use, so every time my kid destroys a book because she's been reading it so enthusiastically — and she is an intense reader — I feel like the book has more than done its job.
I've stuck primarily to baby Christmas books, including baby's first Christmas and some personalized options, but I have added a few broader "winter" and winter holiday themed books, too, to offer a range of options. Because these are board books and many are developed inside publishing houses, as opposed to created by individual authors, it is challenging to know how diverse this list truly is. So I'm conscious of making sure the books themselves feature a range of illustrations, showcasing a range of families. It is a priority for me to get diverse books into my own kid's hands, and despite the barriers to figuring out who has written or illustrated some of the titles, what's not hard is perusing through the images to ensure they don't represent a single type of person.
Most of these books are not part of a franchise, though a couple are part of a well-known series and/or by beloved authors.
---
Want more holiday books for children and babies? Check out: