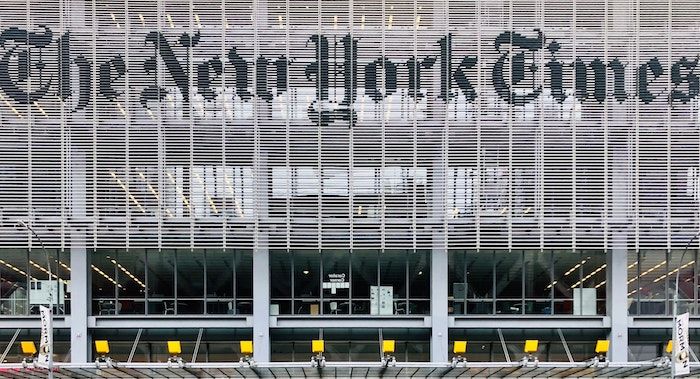 News
Authors Sign Open Letter to New York Times Calling Out Anti-Trans Coverage
The New York Times has a history of opining on the side of the oppressor. This is not my opinion, nor is it based on feelings, but is a fact. In 1922, they published their first article about Adolph Hitler, in which they fawned over his "uncanny control over audiences" and claimed that his antisemitism was "not so violent or genuine as it sounded." It was not their last article that failed to identify the danger he posed. In 1986 they published an opinion essay by William F. Buckley suggesting that every person who is HIV+ should be forcibly tattooed on the upper arm and buttocks to identify themselves as such (this was a mere three years after the Times finally deigned to acknowledge the AIDS epidemic in 1983, years after it began). In 2016 they published as many cover stories about Hillary Clinton's email "scandal" over six days as they did about actual policy in the 69 days prior to the election. And last Thursday they ran an opinion piece by Pamela Paul, former editor of the New York Times Book Review, defending J.K. Rowling, who has called herself a TERF, from being called a TERF.
This essay, the latest in a long run of violently anti-trans pieces in their pages, appeared less than 24 hours after GLAAD delivered a letter to the editors signed by over 130 organizations and leaders, many of them queer-focused and all of them acting as LGBTQ+ allies. In the letter, human rights organizations, celebrities, and authors asked the Times to: "Stop printing biased anti-trans stories"; "Hold a meeting with transgender community members and leaders, and listen throughout that meeting"; and "Genuinely invest in hiring trans writers and editors, full time on your staff."
The same day as the GLAAD letter (Wednesday, February 15), a group of Times contributors (currently numbering over 1000) including Roxane Gay, Alexander Chee, Alice Wong, Cathy Park Hong, Nina LaCour, Samin Nosrat, and Jami Attenberg, among many other authors, wrote an open letter to Philip B. Corbett, the associate managing editor for standards. Among other receipts, they cite Tom Scocca's article in which it is estimated that 15,000 words have been published on the front page of the Times in the past eight months, all of them suggesting that trans kids should not be getting healthcare. The letter itself gives a better overview of the situation than I can summarize, and I urge you to read it. In addition to the Times contributors, more than 20,000 readers and supporters signed (including myself).
The New York Times responded by publishing Paul's piece on Rowling (the timing could, admittedly, be a coincidence) and sending an internal memo claiming that their coverage is "deeply reported, and sensitively written." They also seem to suggest that there was only one letter, which they later clarified was two letters, both delivered by GLAAD (the second letter was not delivered by GLAAD). In a memo to NYT staff, they further claimed to welcome "constructive criticism from colleagues who care, delivered respectfully and through the right channels" but then immediately said that they will not tolerate "participation by Times journalists in protests organized by advocacy groups."
Hmm.