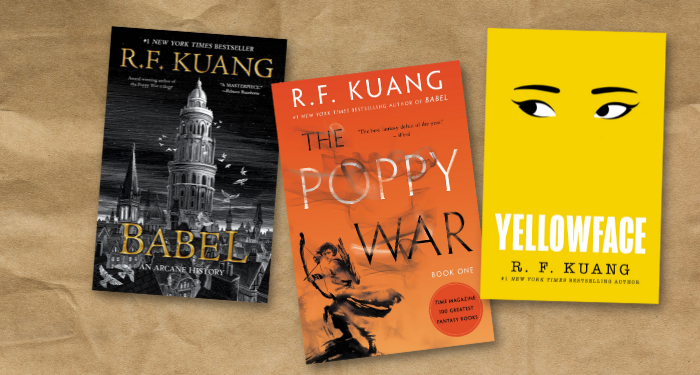 This content contains affiliate links. When you buy through these links, we may earn an affiliate commission.
Ever since I read The Poppy War, R.F. Kuang became one of my all-time favorite authors. So of course I marathon read the whole trilogy and was left with a gaping hole in my heart until her next novel was released. Babel is now one of my favorite fantasy books of all-time, and I cannot wait to read Yellowface next, which is out soon! The thing with us voracious readers is that we devour these stories too quickly. And when our favorite authors are "newer" and don't have extensive backlists, we're left waiting for their latest book. That's actually a great thing! Because now we have time to explore new stories and look for more books similar to the ones we already love. So, if you're like me and can't wait to dive into Kuang's next story, today I'm talking about eight incredible authors like R.F. Kuang!
With the release of Yellowface, R.F. Kuang has jumped across genres. That novel is a thrilling literary fiction set in the publishing world — which is very different from her previous works. But because she's predominantly a fantasy writer, this list will also focus on fantasy authors like R.F. Kuang.
But what does that mean exactly? It's hard to pinpoint what makes her books so unique. Most of them blend the lines between some aspect of society (or history) and fantasy to create the most incredible stories. She loves writing SFF because "nothing else allows us to distort large issues to look at them better." Another important aspect of Kuang's writing is her use of East Asian culture, identity, history, and traditions. Her academic specialties lie in Chinese Studies, and her knowledge and research of the subject help shape stories like The Poppy War Trilogy and Babel.
So without further ado, let's take a look at these eight unputdownable authors like R.F. Kuang!
---