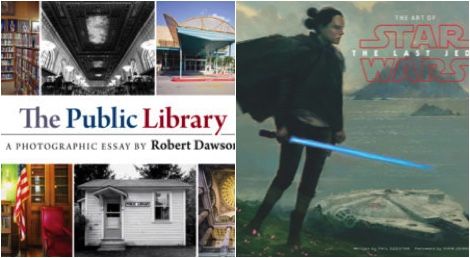 Nonfiction
Exchange Your Unwanted Gifts for These 8 Art Books
This content contains affiliate links. When you buy through these links, we may earn an affiliate commission.
They try, they really do. Family, friends, kids. Sometimes, they score you the perfect gift. Sometimes…not so much. Rather than wearing an ugly sweater unironically or using the gift certificate for the shady nail place down the street and ending up on antibiotics, why not swap "thanks for the effort" out for something you really love? Say, one of the myriad gorgeous art books floating around in the world, waiting to be found by someone who will love it as it so rightfully deserves?
There may be one you saw in the museum gift shop or one you've had your eye on for a while but haven't want to spend the money on. But you have found funds, dear friend, and how often does that happen?
If you don't have anything specific in mind, may I make some recommendations?
The Public Library by Robert Dawson (with additional text by Bill Moyers, Ann Patchett, Isaac Asimov, Barbara Kingsolver, Anne Lamott, Philip Levine, Dr. Seuss, Charles Simic, Amy Tan, E.B. White, and others) (Princeton Architectural Press)
This is a favorite in my coffee table/art book collection. Within are Dawson's photographs of public libraries across the country from Brooklyn, New York to Monowi, Nebraska. Some, like the Main Branch of the Carnegie Library of Pittsburgh, are ornate cathedrals of learning, part of sprawling complexes including lecture halls, concert spaces, and museums; others are dilapidated trailers in rural New Mexico. Some encourage patrons to come to them while others make their way to patrons. Despite their differences, however, all of these places have a few things in common: books, patrons who love those books, and those willing to fight to save them. Dawson's book reminds us that, no matter what they may look like on the outside, they are all libraries and we need the knowledge and stories they have to impart now more than ever.
I love the Star Wars concept art books. I always have. Ralph McQuarrie was the first such artist about whom I ever learned and his work fascinates me to this day. I love seeing the evolution of aliens and magical creatures and costumes and space craft. I love discovering which designs remained close to the originals and which evolved so far from the first sketches you'd never know they were related but for having been told (have you ever seen the original design for Chewbacca? No. Google it. And then take a look at Zeb from Star Wars: Rebels. Nothing ever dies, it just goes into the Lucas vault for later). The Star Wars art books are particularly lovely because they contain artist commentary, giving the reader insight into the thought process behind the choices of colors and shapes, shoes and the placement of scars. Why some droids are round and some are square. Why certain ships belong with certain characters, why Leia's hair is braided a particular way, and how the graphics folks achieved the duochrome effect on the surface of Crait. The Art of Star Wars: The Last Jedi is the most comprehensive Star Wars art book thus far, sharing minute details and insight from director, Rian Johnson, along with that of the artists and designers. The more digital art becomes, the more we fans get to see, which, in a universe as vast as this one, is a boon and enhances our voyages into and through it.
If ever there was a mind I wanted a peek inside, it's Guillermo del Toro's. His ability to combine fantasy and beauty and romance and horror in perfect balance is a skill I can never hope to achieve, but I can sure as hell try, and this glimpse into his inspirations and the way in which they have informed his works from Pan's Labyrinth to Hellboy to Crimson Peak is both fascinating and illuminating. He also writes about his family and his childhood in Mexico here: being ostracized due to having blonde hair and blue eyes, the ways in which his life changed when his father won the lottery and bought four year old Guillermo and his siblings a proper library (containing a wide range of books from Hunchback of Notre Dame, Poe, The Family Health and Medical Encyclopedia, and How to Look at Art), and how the combination of his experiences created a certain artistic body terror that is evident in his work even to this day. A horror reader from the age of seven and a film-maker from age eight, del Toro says Ray Bradbury once told him "never throw away anything you love," which led to del Toro finding a home in which he could keep all such things from art by others to props from his own movies and a life-sized statue of H.P. Lovecraft. Included in the book are the director's own drawings and notes in Spanish and English (he writes in fountain pen, BTW), storyboards, and stills from various projects alongside his original conceptions for characters and places and minute things. I can only hope to be a quarter so interesting one day.
I had no idea so much went into creating wands for the Harry Potter films. How much thought, how much time, how much meaning. How each character, and the actor portraying her, was considered by an entire crew of artists before the final designs were confirmed and produced, and the way in which individuals would wield them as well. Consider the collective size of the casts of all eight movies and the number of named characters therein. Conceiving? Cool. Each of those named characters has a wand different from that of any other named character or any other wand in any of the films. And some of them (like Ron and Luna) have two. Each wand receives its due in this book, accompanied by a character portrait and a brief, entirely delightful, actor interview. A must for any Potter fan.
The movie was gorgeous. The book is equally so. I adore this one for many of the same reasons I love Last Jedi but, Ragnarok is even more detailed and shows tons of possible realizations of each major character (and some of the minor characters), from initial digital rendering to fully painted incarnations more than worthy of framing. Ragnarok also has some amazing architecture and landscape renders in different media, including several of Sakaar, which are riotous and colorful and Kirbyesque and it's just incredible to me that the art crews and Waititi did them such perfect justice on film. Not only am I using this book as a source for cosplay, I pull it out and look at it almost every day just because it makes me so damn happy to immerse in Watiti's vision at will and for however long I wish. Small snippets from various actors and artists, such as Tom Hiddleston and Andy Park, contribute additional insight and fun commentary that makes me want to sit with the book, and see the movie, over and over and over and provably over, again.
This slim volume is a little different from the others on the list because it contains an actual story—an account of the life and work of a fictional cryptozoologist named Dr. Spenser Black—and so has more text. It's a bit creepy and the drawings are anatomical renderings of fictional creatures like angels and merfolk; they're not in any way grisly but they are scientific and detailed, so if that squicks you out, best to avoid this one. For anyone with an interest in a macabre tale and cryptozoology, however, this book is a fabulous combination of the two. My kids have used it as the basis for their own creature-design projects as well, so the The Resurrectionist is a resource as well as a pleasurable read.
The Wines of Gala by Salvador Dalí (Taschen)
The Wines of Gala is actually a reissue; the original was published by Dalí in 1977 as Les Vins da Gala. Dalí is an admittedly problematic favorite of mine: a divine artist who was a fascist sympathizer, I've enjoyed him with a measure of guilt since making the latter discovery in college art history. He's less problematic than others in that he's…well, dead and therefore reaping no reward from my purchase of this massive, bizarre, fascinating tome. It's full of reproductions of Dalí's sketches and drawings and paintings (as well as those of others), poetry, maps, history (both of men and wines), and the artist's commentary on his favorite fermented grape beverage from various parts of the world. There's a certain amount of codebreaking involved in reading The Wines of Gala (the wines are categorized by such names as "Wines of Purple, Wines of Veils, Wines of the Impossible," and so on), and Dalí's musing on each wine is…well, they're definitely something and like his art often defy description. In short, this book is totally bananapants and I'm not entirely sure what I'm going to do with it but, at the same time, I am overjoyed to have it.
Happy exchanging to all, and to all, the books you desire!