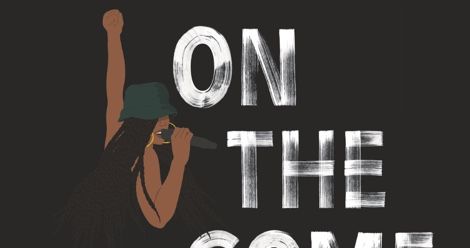 This content contains affiliate links. When you buy through these links, we may earn an affiliate commission.
Shortly after The Hate U Give passed 100 weeks atop the New York Times bestseller list, Angie Thomas released her highly anticipated follow-up: On the Come Up. In her sophomore novel, which already has a movie adaptation in the works, an aspiring young rapper named Bri Jackson must find her voice and rise up from poverty, despite the mounting odds against her.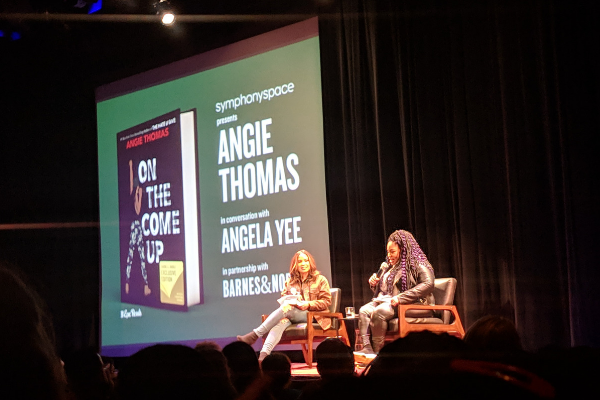 Thomas launched her book tour at New York City's Symphony Space. Dominique Fishback—who plays Kenya in The Hate U Give movie—opened the event, introducing Bri by performing an excerpt from one of the character's rap battles. "The best have heard about me," Fishback rapped, "You can only spell 'brilliant' by first spelling Bri!"
In On the Come Up, readers return to Garden Heights, the same neighborhood where The Hate U Give's Starr Carter witnessed a white police officer shoot her friend Khalil. With this, Thomas aimed to explore the aftermath of the tragedy—what happens in a community when the riots end and the news cameras leave? She also wanted to challenge stereotypes about black kids by creating a second protagonist from the same place who is completely different from Starr. The two don't even know each other.
Starr is a quiet girl from a wholesome, traditional family—which many readers told Thomas they adored. Bri, on the other hand, is an outspoken teen from a dysfunctional family living below the poverty line. Her dad was shot and killed when she was young, her mom is a recovering addict eight years clean, her brother's a college graduate working at a pizza shop, and her Aunt Pooh is a gang member and a dealer. With all her characters, though, Thomas challenges stereotypes, attempting to humanize even those who the reader may be tempted to cast off as villains.
While her protagonists are wildly different, each must find her voice—Starr as an activist, and Bri as a rapper.
Thomas discussed how Bri's story mirrors the story of hip-hop. Just as the genre emerged from the Bronx burning in the 1970s, the young rapper's career begins in the wake of police brutality in her neighborhood.
The incident lingers in the collective consciousness of Garden Heights's residents and works its way into one of Bri's raps: "Unarmed and dangerous / but America, you made us / only time we famous / is when we die and you blame us."
At school, Bri is characterized as being "argumentative," "frequently aggressive," and having "behavioral issues." In other words, she's stereotyped as an "angry black girl," disproportionately punished for speaking up in class or making an offhand remark. Thomas talked about how black girls are often seen as either too much or not enough—never in the middle. Like so many others, Bri has "to work twice as hard to be considered half as good."
"Be loud, black girl, be angry when you want," Thomas said, to Bri and to any young girls in the audience who saw themselves in her character. "Find your voice. Use it. Make some noise, even when it makes others uncomfortable."
Thomas said that Garden Heights is based on where she grew up in Jackson, Mississippi, the city where she continues to live—and which gives Bri her surname. Like her protagonist, she also experienced poverty in her youth; Thomas got her own come up in 2016 when she landed a major two-book deal with HarperCollins.
"To know where you're going, you have to know where you come from," Thomas said, a sentiment which applies to her upbringing in Jackson and her and Bri's shared love of hip-hop, a movement that, "in so many ways was built on the backs of women."
She discussed hip-hop classics like "Rapper's Delight," which launched the genre into the mainstream, and "The Message," both of which are on the official On the Come Up playlist on Spotify.
Though she refrained from rapping for us in New York, here's a clip of her reciting one of Bri's raps—and killing it!—at an event in Atlanta.
"This is the first event where I've been able to talk about something other than racism and police brutality," Thomas said midway through the evening. "So thank you."
In discussing the need for diverse books, Thomas cited the work of educational theorist Rudine Sims Bishop, who wrote that books are either mirrors, windows, or sliding glass doors. They can reflect our own experiences, give us a glimpse into someone else's life, or invite us in.
During the Q&A, several audience members shared how this was their experience with Thomas's books. One after another, young black women thanked her for writing a character who they could genuinely identify with for the first time. One woman mentioned how The Hate U Give helped her explain her experiences with everyday racism to her white boyfriend.
"You have a Chris!" Thomas said, referencing Starr's white boyfriend.
Thomas also took the opportunity to recommend further reading by other black women excelling in YA literature, including Tiffany D. Jackson (Monday's Not Coming), Dhonielle Clayton (The Belles), and Nic Stone (Dear Martin and Odd One Out).
"At the end of the day, as long as a black girl picks up a book and sees herself, that's all that matters."
She ended the Q&A by teasing her next book, which will also be set in Garden Heights.
"The main character is someone readers will know," she added. Let the fan theories begin.
If you want a signed copy of On the Come Up, they're available from Angie's favorite indie bookstore: Lemuria Books in Jackson, Mississippi—they ship internationally. 😉