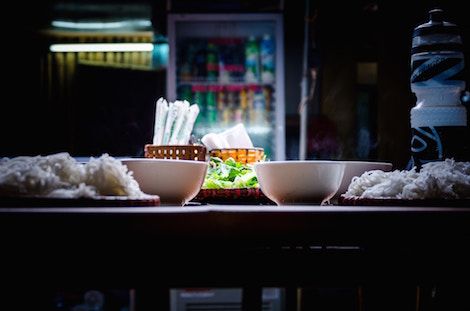 Lists
Air Fryer Cookbooks: 6 of the Best for Beginners, Experts, and Everyone in Between
This content contains affiliate links. When you buy through these links, we may earn an affiliate commission.
Whether you are brand new to the world of air fryers or you've mastered the basics and are ready to move on to advanced recipes, we have all the best air fryer cookbooks that can boost your culinary prowess while reducing your fat intake.
Though its use today is newish, the air fryer is, at its core, just another kitchen appliance that uses a mechanism that has been popular for years: Convection. Air fryers work by circulating hot air via fans at very high speeds around the food. The result is a crispy layer not unlike what you get when you deep fry a food, but using up to 80% less fat.
Unlike convection ovens, which are very hot and generally fairly large, air fryers are small and give off less heat, making them a great option for hot days. As we did with instant pot cookbooks, we have compiled some of the best air fryer cookbooks for everyone.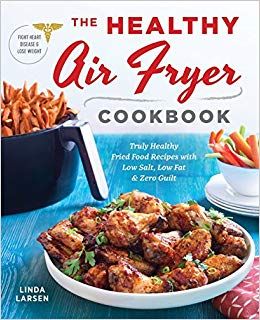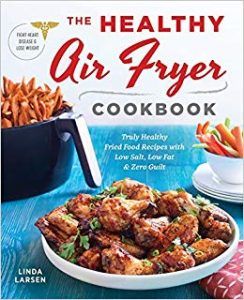 Larson holds both a B.A. in Biology and a B.S. in Food Science and Nutrition so it would follow that she knows a thing or two about both the science behind air fryers and creating unique recipes. She holds that there is nothing an air fryer can't do. Yes, it can fry food but it can also grill, bake, roast, etc. – and she's ready to tell you all about it.
Her aim was to create one of the best air fryer cookbooks that would showcase how simply it is to use this appliance.
Pros
Currently free on Kindle Unlimited
More than 100-healthy recipes
Complete nutrition info that follows the American Heart Association guidelines
Recipe callouts that show you how much salt and fat you're not using because you are not deep fat frying
Many gluten-free recipes
Simple recipes
Cons
Some recipes may be too simple for advanced cooks
There is only one picture per chapter
Sanders graduated from culinary school and worked her way up through the culinary world, eventually earning the status of sous chef at Restaurant Gordon Ramsay. Her goal was to be among the air fryer cookbooks that showcase how to use air fryers to their full potential.
The long list of recipes in this book include those for desserts, breakfast, veggies, appetizers, pork, lunch, lamb, dinner, beef, side dishes, poultry, fish, seafood, and much more.
Pros:
More than 150 vegan recipes
Easy-to-follow directions
Recipes are less than a page long
Cons:
Readers report that the table of contents is difficult to use
There is no index
Poorly organized
Some recipes are repeated numerous times with just a few minor ingredient changes
The only photo is on the cover of the cookbooks
Pros:
Many recipes are based on popular restaurant dishes like beer battered onion rings and French fries
Offers unique recipes you don't see in many air fryer cookbooks such as Boston cream donut holes and crab cakes
In addition to recipes, there are instructions on making bacon, toasting nuts, and roasting garlic
Includes information on how to "fry" frozen foods
More pictures than most air fryer cookbooks
Easy instructions
Very well structured
Cons:
Readers report that the cooking times listed in this book are often much longer than necessary
Most recipes do not have nutritional information
Not necessarily a great choice for beginners as it does not include general instructions
Some recipes require unique ingredients that are hard to find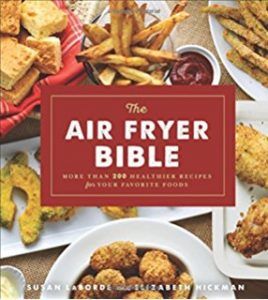 Both authors of The Air Fryer Bible live in Shreveport, Louisiana where they prepare food ranging from fundraiser meals for hundreds to tea parties for just a few.
Pros:
Affordable recipes
Comprehensive
Easy to understand and follow recipes
Includes a host of tips for things like reheating and batch cooking
Recipes go beyond some of the simple options included in most air fryer cookbooks
Cons:
Does not include many photos
Does not include much information on cooking frozen foods
Some readers felt that too many of the recipes focused on unhealthier foods
Pros:
Great for beginner users
Includes many recipes for every-day foods that many people eat
Comes with a PDF file with pictures
Cons:
Does not include photos in the cookbooks itself
There is no alphabetical index
Some recipes are not clear – including recipes that call for "beans" without specifying what type of beans and recipes that call for "steak" without specifying what kind of steak, how much it should weigh, etc.
Recipes are listed by meal rather than grouped by protein, type of food, etc.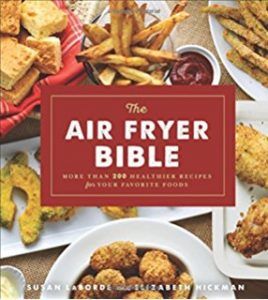 White is a registered dietitian and nutrition consultant and nutrition expert for FoodNetwork.com. Her specialty is combining nutrition with recipe development.
Pros:
A good starter book for newbies
Most recipes call for ingredients that are likely readily on hand
The wide variety of recipes means that just about anyone can find something they like
Includes comparisons of calories and fat used via this method and with traditional frying
Good pictures
Cons:
Some readers have reported that the formatting makes the recipes hard to follow
The desserts include full fat and sugar which has led some readers to question the use of "healthy" in the title
Have you used any of these air fryer cookbooks? Do you have any to recommend?