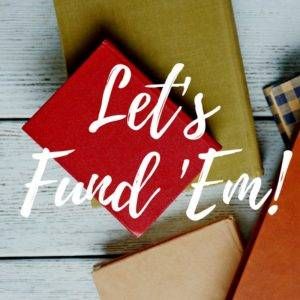 Late last year, librarian Angie Manfredi took to Twitter with a challenge: How many classrooms in need could the book community fund over the course of one day? Other librarians and bloggers and authors and industry folk joined in, and it quickly became apparent that there were a whole lot of people out there just itching to do some good, whether by spreading the word or opening their wallets or both.
On Inauguration Day, we (we being Kelly Jensen and Leila Roy) put together a list of classrooms in need, with a focus on classrooms that served immigrant, refugee, and ESL communities. With the help of Book Twitter, every single one of those classrooms was fully funded by the end of the day. Since then, every Friday, we've continued to highlight and advocate for similar classrooms, and again and again Book Twitter has come through.
Now, we're bringing our Fund 'Em Fridays to you, the Book Riot Community. Please boost, donate if you can, or even pick out a classroom to personally champion!
And now, our classrooms of the week! Both classrooms are seeking class libraries with inclusive books and both are serving highest poverty populations.
Don't Stop Reading, Central, South Carolina
A rich and diverse classroom library will provide opportunities for my students to get lost in reading. In order to enjoy reading students need more choices, more challenges, and access to books. I want my classroom to be a place discovery and engagement. I teach a wide variety of students, and I really want to add variety to my classroom library.
Creating a rich classroom library will create lifelong readers.
My students will benefit from a classroom library that has books for every reader. Finding a love for books can be as easy as finding the right book, so I want to provide access for my students to a wide variety of texts. I believe that all people love a great story, and this project could help my students find their favorite.
The Best of The Best for Our High School Book Club, San Francisco, CA
Our students are bright, ambitious, and eager to learn, but they face many hurdles. Over 60% are economically disadvantaged, one in three are English language learners, and 10% have an identified learning disability. Many of our students represent the first generation of their family to attend high school in the United States.
Our high school is located in one of the few working class neighborhoods left in San Francisco, and we are proud to educate our very diverse group of students.