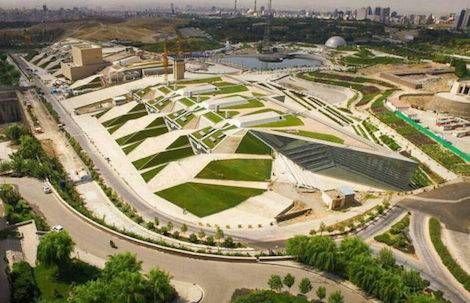 Murmurings about the death of physical bookstores haven't stopped the people of Iran from building the largest book-related building in the world. After years of planning and construction, the Tehran Book Garden finally opened in July.
There are many large bookstores out there—The Strand in New York City covers two city blocks—but the Book Garden in Tehran is something else entirely. It covers around 65,000 square meters (about 700,000 square feet) and it has space for millions of books, 400,000 of which are specifically intended for children.
Rather than focus solely on books, the site is designed to cultivate the growth of knowledge in many forms. In addition to its traditional library shelves, the Book Garden contains a book therapy clinic, an art gallery, a robotics club, four research departments for professors and university students, two amphitheaters for plays and other performances, and six assembly halls.
The architects also sought to integrate nature with the space. As a result, over 45,000 square meters of open grounds surround the structure and include an artificial lake.
The book community has pulled together some wonderful images of the book garden in Tehran, and I'm eyeing them jealously!
Tehran Book Garden opened this week. Biggest book center (110k sqm) in region. Has bookshops, art gallery, children's halls, theatres. #Iran pic.twitter.com/jtyTlBUKrk

— iranmilitaryvlog 🇮🇷 (@irmilitaryvlog) July 7, 2017
https://twitter.com/katayoun__/status/888665656983519232
The huge Book Garden center just opened in Tehran. https://t.co/Zzh1tBwMNU pic.twitter.com/aFyeDYeoER

— Cincy Library (@cincylibrary) July 11, 2017
https://twitter.com/real_iran/status/882145389092241409
(Want even more beautiful bookish spaces?)