36+ Great Middle Grade Sports Reads Chosen by You
This Riot Recommendation of great middle grade sports books is sponsored by Houghton Mifflin Harcourt Books for Young Readers, publisher of Kwame Alexander's Rebound.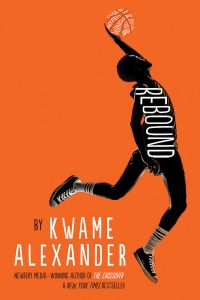 From the New York Times bestselling author Kwame Alexander comes Rebound, the prequel to his Newbery Award-winner, The Crossover. Before he's Chuck "Da Man" Bell, proud father of Jordan and Josh Bell, Charlie is a kid who dreams of basketball glory. In his mind, he can steal, jump, dunk, and make the crowd go wild just like a pro-baller. But when tragedy strikes, Charlie can't help but make all the wrong moves. Will a series of missteps keep him benched, or can he learn how to rebound?
---
Sports can be a thrilling subject. All the more so in middle grade, when the stakes of the big game are always high and every competition is a defining moment. We love losing ourselves in middle grade sports books, especially when we can read them along with the kids in our lives. So what are your favorites of the genre? That was the question, and below you'll find just a smattering of your answers!
Million Dollar Goal series by Dan Gutman
Breaking the Ice by Gail Nall
Night Hoops by Carl Deuker
The Toilet Paper Tigers by Gordon Korman
Braced by Alyson Gerber
Double Dutch by Sharon M. Draper
Ten: A Soccer Story by Shamini Flint
Gabby Garcia's Ultimate Playbook by Iva-Marie Palmer
Last Shot by John Feinstein
The Boy Who Saved Baseball by John Ritter
Junior Lifeguards: The Test by Elizabeth Doyle Carey
Soccer Chick Rules by Dawn Fitzgerald
Sugar and Ice by Kate Messner
Millicent Min, Girl Genius by Lisa Yee
Travel Team by Mike Lupica
In the Year of the Boar and Jackie Robinson by Bette Bao Lord
Planet Middle School by Nikki Grimes
Gold Dust by Chris Lynch
The Way Home Looks Now by Wendy Wan-Long Shang
The Unlikely Story of a Pig in the City by Jodi Kendall
My 13th Season by Kristi Roberts
Keeping Score by Linda Sue Park
Vilonia Beebe Takes Charge by Kristin L. Gray
House of Sports by Marisabina Russo
Step Up to the Plate, Maria Singh by Uma Krishnaswami
One-Handed Catch by MJ Auch
Golden Girl by Mari Mancusi
Roller Girl by Victoria Jamieson
Tangerine by Edward Bloor
The Mean Girl Meltdown by Lindsay Eyre
The Girl Who Threw Butterflies by Mike Cochrane
Heat by Michael Cadnum
Ultra by David Carroll
Track series by Jason Reynolds
Open Court by Carol Clippinger
Kick series by Alex Morgan
We're giving away a custom book stamp for your personal library. Go
here to enter for a chance to win
, or just click the image below. Good luck!