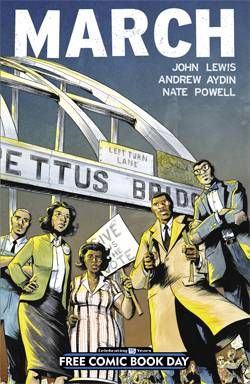 It's that time of the year again: Free Comic Book Day is upon us! Saturday, May 7th, 2016 you'll be able to stroll into any participating comics shop and check out some free stuff. It's a great opportunity to try something new, whether it's a new genre or art style or character. If it's your first time attending, I wrote a handy guide last year that you can read up on, too. But the bottom line is this: have fun.
There are 50 books that'll be available here and there, so I'm just going to highlight a selection of them. The beauty of FCBD is there's something for everyone, so I'm sure you'll find something you like or want to try!
DC Super Hero Girls #1 by Shea Fontana, Yancey Labat, Monica Kubina, and Janice Chiang. The graphic novel DC Super Hero Girls: Finals Crisis is going to be released this summer, and this FCBD issue will feature two stories from that book. The general storyline here is that finals are coming up and everyone's trying to gear up for them while also learning to, yanno, be super and stuff. It looks great.
While you're waiting, you could also head to the DC Super Hero Girls website and see the all the cool content there, including webisodes featuring all our favorite DC super ladies. Really – it's super cute and worth a watch.
Love and Rockets by Gilbert Hernandez and Jaime Hernandez. This series is being rebooted this summer (July is pretty busy, eh?), so on FCBD you'll be able to grab a sampler that should serve as a good introduction to the stories and characters. Love and Rockets follows a few different storylines, but also features one-shots and other fun stuff. A lot of it is realistic and some of it magical, there's romance and just plain daily life sort of things. It deals with social issues as well. If you like reading comics that are a reflection of true life, give this one a shot.
Science Comics by Jon Chad and Maris Wicks. First Second is publishing some super awesome SCIENCE! books, and they're sharing some of the stories on FCBD. Maris Wicks presents How A Cartoonist Got Her Gills, in which she talks about how she became a cartoonist while also exploring coral reefs. Jon Chad's story is called Volcanoes Can Save Us and it's… well, about volcanoes, why they're essential, and the history of the study of them. Both are fascinating and worth your time. Of course, these stories are also perfect for any kid.
BOOM! Studios Summer Blast. Of course, I have to mention this sampler which includes loads of short stories including Mouse Guard, Jim Henson's Labyrinth, Lumberjanes, and more. There's even a preview of a new series called Goldie Vance.
Grumpy Cat (and Pokey!) by Royal McGraw, Ken Haeser, and others. I feel like I probably don't need to go too into detail here. If you're a fan of Grumpy Cat, you'll want to keep an eye out for this fun-looking comic chronicling some of her (mis)adventures and interactions with her brother Pokey. All-ages and suitable for any cat-loving pal or relative.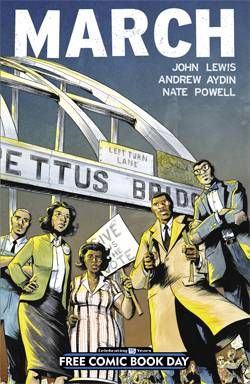 March by John Lewis, Andrew Aydin, and Nate Powell. If you haven't had a chance to read the excellent March trilogy, of which Book One and Book Two have been released already (Book Three is coming this summer), this is a great way to get acquainted. This FCBD edition contains excerpts from all three parts, so even if you've read the first two, there'll be new material to check out. March is about John Lewis' experiences during the US Civil Rights Movement. For more Panelteer perspective on this title, you can also listen to our podcast episode on March: Book One.
Lady Mechanika #0 by Joe Benitez and Peter Steigerwald. If steampunk and badass ladies are more your jam, this is worth checking out. This zero issue is a one-shot you can enjoy without any prior knowledge of the story. Mechanical limbs, Victorian England, and a search for truth. This release also includes some excerpts in case you're hungry for more.
Oddly Normal by Otis Frampton. This FCBD release is a reprint of the first chapter of Frampton's fun series about Oddly, a half-witch who doesn't quite fit in and makes an ill-advised wish on her 10th birthday that makes her parents disappear. I've read the first volume and I should warn you: Oddly is super charming.
Spectrum #0 by Pj Haarsma, Alan Tudyk, and Sarah Stone. I haven't watched Con Man, but the nice thing about this comic is that doesn't really matter. It's directly in continuity with a planned 4-issue series, of which this is the very beginning. For real – this issue ends with "continued in issue #1…" (or similar). Spectrum follows Captain James Raaker and a few other characters, including a mysterious, but powerful female in an Earth ravaged by alien attacks. Stone's artwork alone is gorgeous, and the story altogether is fast-paced and action-packed. Definitely worth a read if you're a fan of sci-fi TV like Firefly.
What will you be picking up this Free Comic Book Day?