This content contains affiliate links. When you buy through these links, we may earn an affiliate commission.
As a bright-eyed, black-swaddled baby goth, much of my early sub-cultural reading came in the form of comics, and most of these comics were indie.
I had always taken an interest in subversive media, having been weaned on Liquid Television and MTV's Oddities, watching Æon Flux and The Maxx as a child. And years after those shows ended, when I had grown my industrial strength rivethead wings, I found Nickelodeon's Invader Zim to fill in some of that gap. In college, I gained a gaggle of gothy, nerdy peers, and, from them, learned that Zim's creator, Jhonen Vazquez, was also a comics creator. I found Johnny The Homicidal Maniac after ransacking my then boyfriend's bookshelf and tore through the comic in minutes.
And so a new door opened and I fell into its black, gaping maw.
Of course, many dark indie comics came before and have been produced since then. Here are some oldies and some new picks to get you started.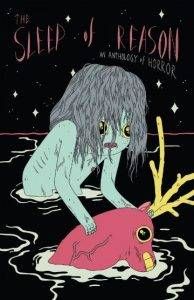 The Sleep of Reason Edited by C. Spike Trotman
It's a scientifically proven fact that goths love they some horror. This newish collection from Iron Circus Comics came to us courtesy of a Kickstarter campaign. The anthology brought together about 32 comics creators, including the anthology's editor, to produce 368 pages of black-and-white horror. If you regard played out monsters and tired macabre with the same contempt we all reserve for water-soluble kohl, you've found your comic. This anthology presents a reservoir of titillating unpredictability. It may even be the electric shock your jaded spirit needs.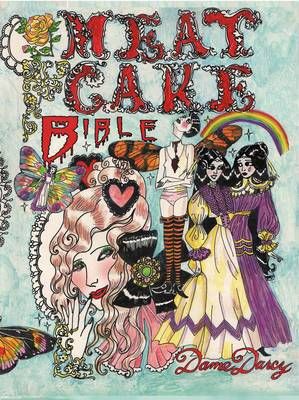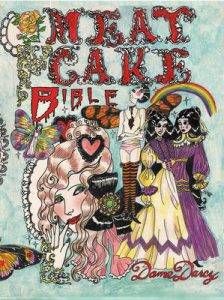 The Meat Cake Bible by Dame Darcy
The first time I came across Dame Darcy's name was in Gothic & Lolita Bible Vol. 14. The Meat Cake comic published in that volume was translated to Japanese, so I had no idea what was going on, but I knew I loved it, whatever it was. Darcy is the writer and artist of this delightfully bizarre neo-Victorian collection, which pulls together all 17 issues of the Meat Cake comics published by Fantagraphics. This business is Salad Fingers weird and just as unforgettable with characters like Effluvia the Mermaid and Stregapez who speaks through her bloody pez throat. You won't be lacking for strange and unusual here.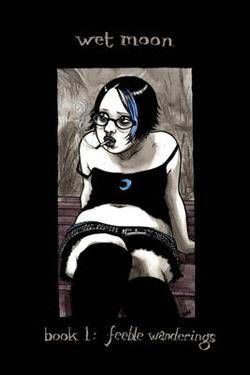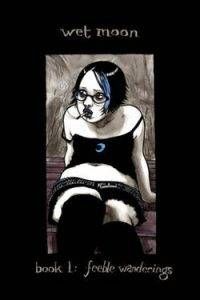 Wet Moon by Sophie Campbell
Wet Moon is gothic two ways. The story takes place in a swampy South full of malcontents and rednecks. It's the perfect pick for those late teen goth years when you can't sigh enough and the angst is crippling. Campbell's comic features a rangy and diverse cast of punks, goths, and weirdos. Here are the friends I wish I had and from whom I would probably grow apart. In the first volume of Wet Moon, Cleo Lovedrop brings a troubling history with her as she enters art school and a world of roommates, gossip, love problems, sexual issues, the works. And, guys, this comic gives us a goth club called The House of Usher and it's set in a mansion. What more do you need?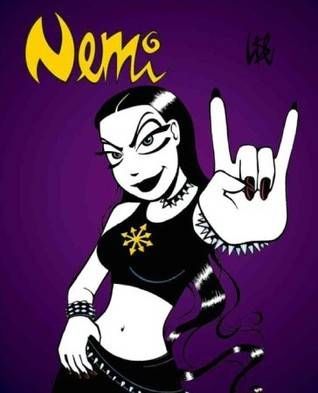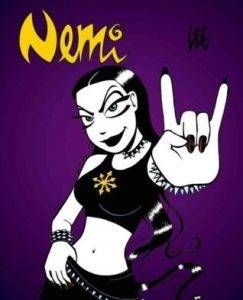 Nemi by Lisa Myhre
Nemi is old school–as in created in the 90s. Written and drawn by Myhre, a Norwegian comics creator, the strip first took off and became hugely popular in Norway and the UK. Nemi is a 25-year-old goth with vegetarian leanings and a confrontational bent. She's opinionated, listens to heavy metal, looks a bit like Maila Nurmi, and dates a guy who might be the lovechild of Danzig and Nathan Explosion/George "Corpsegrinder" Fisher. With her dark humor, her reckless (drunk) abandon, and her fear of growing up, you can't help but fall in love with this character as so many already have.
All The SLG Publishing Comics! Seriously, SLG has so many gothy comics, I could only pick two for my typing fingers' sake. But you can basically go to their site, close your eyes, and pick something.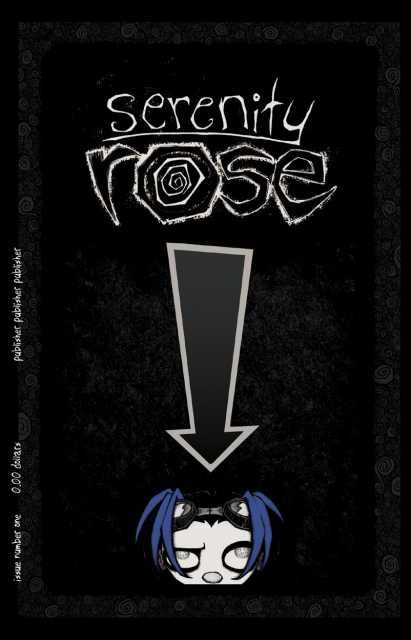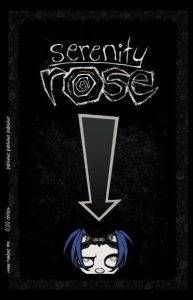 Serenity Rose by Aaron Alexovich
My friends and I read a lot of the same gothy comics over the years, but Serenity Rose was like my little secret. As a new goth, I was so proud to have discovered something everybody didn't already know about, and that I absolutely fell head over heels for as well. That was a long, long time ago, when Serenity was exclusively a web comic, and I can't tell you how overjoyed I was when I got my copy of Serenity Rose: 10 Awkward Years a couple years ago. Sera is a sometimes crotchety, impossibly shy, 4'10 super-talented witch and resident of Crestfallen, the "spookiest little town in the U. S. of A." Being a witch means having the ability to fly and do cool magical crap, but it also means fighting bad witches and horrible creatures, and dealing with your everyday human aggravations and complications on top. The comic has a Tim Burton feel about it. It makes me wish every day was Halloween, and that it's written as Sera's diary comic makes it so much fun. (Psst…you can sample it here.)
I Feel Sick by Jhonen Vasquez
Obviously I wasn't going to leave out Vasquez. But, instead of Johnny, I chose his survivor, Devi. Devi might be losing her mind or maybe she just needs to get out more as her friend, Tenna, keeps telling her. True to the goth cause, Devi is an introverted and reclusive artist, but she also talks to herself or, rather, to a creepy doll called Sickness. She might be suffering from Johnny's same brand of lunacy, and she's definitely suffering from a wretched dating history. The styling and content of this comic is redolent of Vasquez, complete with that crazy hypercolor drear and that perfect balance of absurdity and wit.