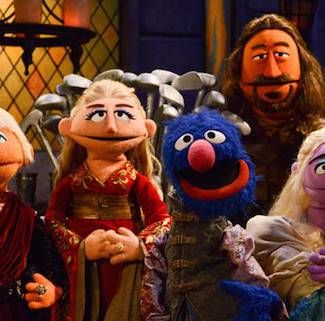 Pop Culture
6 Great Bookish Parodies from Sesame Street
While we at the Riot are taking this lovely summer week off to rest (translation: read by the pool/ocean/on our couches), we're re-running some of our favorite posts from the last several months. Enjoy our highlight reel, and we'll be back with new stuff on Wednesday, July 8th.
This post originally ran April 15, 2015.
_________________________
Since I'm not the parent of small children and therefore don't spend a lot of time keeping up with kids television programming, I had no idea how good Sesame Street actually could be. We all got a reminder last week when the show helped celebrate the return of Game of Thrones with a spot-on parody called "Game of Chairs" where Robb, Cersei, Joffrey, and Daeneyrus compete to see who will sit on the Iron Throne of Jesteros.
Watching that video led me to a whole world of bookish parody videos from the folks at Sesame Street. Here are a few of my favorites:
Lord of the Crumbs
Cookie Monster must remember the recipe for "one dessert to rule them all" in order to save all of the cookies on Monster Earth.
Furry Potter and the Goblet of Cookies
In order to win the Goblet of Cookies, Furry Potter needs to listen to directions to complete his quest. I sense that cookies are a strong theme in these parodies. Yum.
The Hungry Games: Catching Fur
Cookiness Evereat must work with her friends Finnicky, Tick Tock Lady and Pita to win the second Hungry Games. The muppet for Effie Trinket is my favorite thing.
Les Mousserables
"Jean Bon-Bon is a very sad French guy in pursuit of cookies dans les rues de Paris (in the streets of Paris)." I can't beat that description.
True Mud
The opening of this one is so reminiscent of the real opening for the True Blood series that I had to include it, even if the bookish connection is twice removed. Plus, Muppet vampires (err, Grouches)!