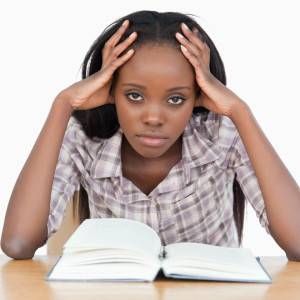 How To
5 Ways to Get Over A Book Hangover
This is a guest post from Kelly Anderson. Kelly has been involved with book reviewing online for eight years. She writes for Barnes and Nobles' Sci-Fi and Fantasy Blog and maintains her own book blog, ShouldaCouldaWouldaBooks. She can also be found on twitter gushing and nattering about various obsessions at @giddythings.
____________________
Once a year, if I am very lucky, I experience a book hangover. Yeah, I know, anything with the word "hangover" in it probably doesn't sound like something that one would be lucky to experience. But in this case, I wish I had more of them, as it usually means that I have overindulged in the best way: in devouring books. Sometimes it's actually a whole series of them (oh man, that time I first discovered Nancy Drew–so many flashlights under the covers, so few homeworks completed), sometimes it's the entire catalogue of an author (my current Elena Ferrante obsession), but what it always is is amazing.
But then there's the hangover, where you finish the series, and there are no more! (Or you're waiting for a year for the next, oh no!) This is the part where no other book really works for you- the other histories seem dull, the mysteries seem obvious, other characters seem fake and the writing insincere. That's not what I want! you cry, like a child deprived of its favorite toy.
Been there, fellow readers! Here are five ways I have tried, in the past, to drink my book electrolytes and get over it:
The Hair of the Dog Cure: The whole "well, if you liked that, then I know this thing that is just like it….." is the first thing that people always try to recommend. And a lot of the time, it does not work. Whatever it is is too close to whatever you were infatuated with, which means mostly what's going to stand out to you is all the glaring ways it's not like that thing you really want to have. Occasionally it does, if you're after more of a genre, rather than an author or character, but I'd mostly avoid this one.
The Antidote Cure: I have found more success with going to the opposite end of the spectrum. If I've just read an amazing fantasy novel, next I try a thick biography of Amelia Earhart. If I've just read a psychological thriller, it's time for some meditative naturalist writing. Make a 180 degree turn! It just might set you off on a totally new and just as fascinating course.
The Five Star Cure: Time to check back in on Mt. To-Read! I'm sure your bookish friends have been raving about something universally for months and years that you've never gotten to. We all have those books on our list. In fact, we have to-be-read piles that are monstrosities because of this very thing. Time to start tackling Everest!
The Re-Read Cure: Sometimes you've just gotta dive back in one more time to get it out of your system. Why not? Eventually you'll probably run up against that "too much of a good thing" issue and be ready to move on, but in the meantime, you're getting exactly what you wanted!
The Cold Turkey Cure:

Just stop reading. Yup. That's right. I said it. Sometimes you gotta get drastic and try, well, everything else that you love for a bit. Go hiking. Ride a bike. Watch that thing you've had queued on Netflix for months. By the time you've exhausted that list, usually you'll be ready for the thing we bibliophiles always realize at one point or another: Oh right, this is why I read.
Book hangovers, like actual hangovers, can take a little while to really shake off. But relax: we're bibliophiles. We're the ultimate loveaholic optimists: We know we'll find our next book infatuation soon enough and start the cycle all over again!