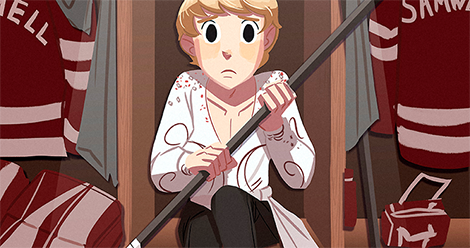 Looking to get hooked on a nice long juicy story arc with fantastic characters and great art? Hoping for heaps of backlog, worldbuilding, and bonus art to dig into? Ready to wait in agony between updates for the latest cliffhanger to get resolved? Of course you are! From college hockey to feline gangsters, these wonderful ongoing webcomics will pull you in and keep you hitting the refresh button for months or even years to come.
1. Check, Please! by Ngozi Ukazu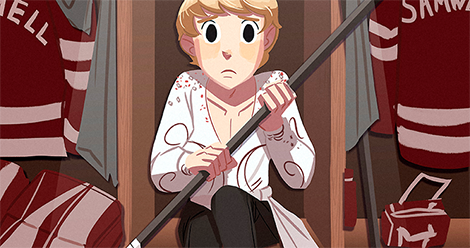 Although it has the shortest backlog of any of the comics on this list, Check, Please! manages to squeeze a heck of a lot of sports, angst, and shenanigans into just a few dozen updates. Pie-baking figure skater Eric "Bitty" Bittle has no idea what he's in for when he starts college and joins the hockey team as part of his scholarship. It turns out hockey has checking–which is not fun. And a lot of bros–who are actually quite a lot of fun. And a famous, angst-ridden captain–who is actually quite hot. If you're still trying to figure out how all the baking, boy kissing, and Beyoncé come into this, check out Ngozi's handy Powerpoint-style primer to the comic. Then grab a slice of pie and settle in for a large dose of All The Feels.
Check, Please updates sporadically, usually with 3-5 updates in a week-long burst every 1-2 months. The first page is here.
2. Strong Female Protagonist by Brennan Lee Mulligan, art by Molly Ostertag
I thought I was tired of superhero comics. I was wrong. Strong Female Protagonist is a nuanced and in-depth examination of what it might be like to become to a superhero at age 14, only to publicly take off the mask four years later and learn to live with the consequences. Alsion Green might be invincible and super-strong, but she believes there has to be another way to use her powers to save the world. One that leaves time for her to be a normal person who goes to college, makes friends, and falls in love. Ali is a smart and lovable protagonist, and the conversations she has with other characters about ethics, power, and life are consistently on-point.
SFP updates every Tuesday and Friday. The first page is here.
3. Gunnerkrigg Court by Tom Siddell
Antimony "Annie" Carver has a busy time at school. Apart from doing homework and dealing with classmates, she and her best friend Kat Donlan have their hands full trying to unravel the magical and technological mysteries that surround Gunnerkrigg Court–mysteries that their own parents seem to have become tied up in. What began as a typical story about two girls going to school, building robots, and befriending demons has since developed into a lush and complex story full of technology, mythology, humor, and heart. If you're at all on the fence about webcomics, or don't know where to begin, you'd be hard pressed to find a better comic to ease you into the medium than Gunnerkrigg. It's truly one of the best.
Gunnerkrigg Court updates every Monday, Wednesday, and Friday. The first page is here.
4. Lackadaisy by Tracy Butler
First page here. Updates sporadically, 1-3 pages per month
Lackadaisy is set in prohibition-era St. Louis, in a world of speakeasies, gangsters, flappers, smugglers, jazz players, and gunslingers. Oh–and they're all cats. At times ominous and dramatic, at other times just plain silly, Lackadaisy is perfect if you're looking for some lighthearted murder and mayhem drawn in a beautiful style with some of the coolest–er, wackiest–cats you'll ever meet. Be sure to check out the Gallery section of the website too–Butler has stealthily amassed quite a pile of short tie-in and Q&A comics to flesh out the main storyline and characters.
Lackadaisy updates somewhat sporadically, usually about 1-3 pages per month, but they're well worth the wait. The first page is here.
5. The Meek by Der-shing Helmer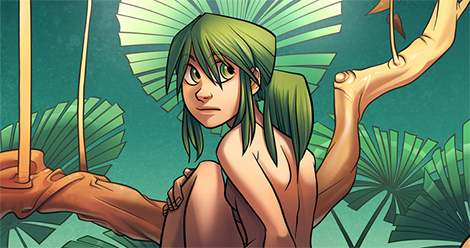 Let's see. There's an uneasy ruler preparing to meet with ambassadors from the country that has been at war with his nation for decades. There's a pair of outlaws dodging the law and stealing science books. And there's a naked girl with green hair running through the jungle with an alcoholic mapmaker, trying to reunite with her grandfather. Oh–and she's destined to save mankind. Maybe. The Meek is epic in scale, and though it's been running for several years now, Helmer seems to have only scratched the surface of the greater story she's preparing to tell. That said, the backlog is currently at the perfect length to get caught up without feeling overwhelmed, so there couldn't be a better time to dive in and find out what. Is going. To happen.
The Meek updates Wednesdays and some Fridays. The first page is here.