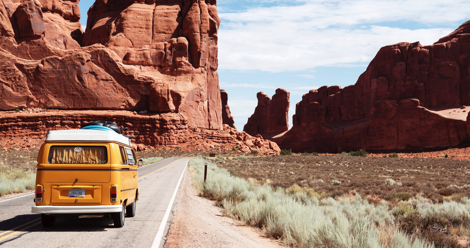 This Riot Recommendation is sponsored by Penguin Random House Audio.
The summer months are a great time for road trips with the whole family, but the car ride can get old…quick. Listen to an audiobook the whole family can enjoy and your destination will arrive in no time! Visit TryAudiobooks.com/Family-Travel for suggested listens and for a free audiobook download of MY FATHER's DRAGON!
---
The "are we there yets," the constant bathroom stops, the close quarters, the songs and games–there's nothing like a road trip to bring family closer together and test the limits of one's patience. Treats from that roadside beef jerky joint won't ensure a carload of happy travelers, but you can count on audiobooks to pull your fam out of a road trip slump.
We asked you to tell us your favorite books for a long road trip and you responded. Here are more than 45 of your favorites!
The Lion, the Witch, and the Wardrobe by C.S. Lewis
Madame Bovary by Gustave Flaubert, Margaret Mauldon (Translator)
IT by Stephen King
Pride and Prejudice by Jane Austen
All The Bright Places by Jennifer Niven
The Alchemist by Paulo Coehlo
Gangsta Granny by David Walliams, Tony Ross (Illustrator )
Charlie and the Chocolate Factory by Roald Dahl
Jane Eyre by Charlotte Brontë
The Emerald Atlas (The Books of Beginning #1) by John Stephens
The Way of Kings by Brandon Sanderson
The Children of the New Forest by Frederick Marryat
American Gods by Neil Gaiman
Yes Please by Amy Poehler
Lord of the Rings Trilogy by J.R.R. Tolkien
A Walk in the Woods by Bill Bryson
I Can't Make This Up by Kevin Hart
All Souls Trilogy by Deborah Harkness
The Lightning Thief by Rick Riordan
One More Thing: Stories and Other Stories by B.J. Novak
All I Really Need to Know I Learned in Kindergarten by Robert Fulghum
And Then There Were None by Agatha Christie
The Big Over Easy by Jasper Fforde
Hard Times by Charles Dickens
The Pillars of the Earth by Ken Follett
The Nix by Nathan Hill
The Stand by Steven King
The Prince of Tides by Pat Conroy
Cape High series by R.J. Ross
Harry Potter series by J.K. Rowling
Big Little Lies by Liane Moriarty
Hillbilly Elegy by J.D. Vance
Born a Crime by Trevor Noah
Under the Udala Trees by Chinelo Okparanta
The Hobbit by J.R.R. Tolkien
Blue Highways by William Least-Heat Moon
The Gates by John Connolly
The Way of Kings by Brandon Sanderson
Finding Audrey by Sophie Kinsella
A Game of Thrones by George R.R. Martin
Me Talk Pretty One Day by David Sedaris
Big Magic: Creative Living Beyond Fear by Elizabeth Gilbert
Career Of Evil by Robert Galbraith
The More Than Complete Hitchhiker's Guide (Hitchhiker's Guide to the Galaxy #1-4 & short stories) by Douglas Adams
Tales of Known Space by Larry Niven
Desperation by Stephen King
The Book Thief by Markus Zusak
Save
Save
Save